Chamber Members Tour Newest IFA Ferry
By Marie L. Monyak
May 09, 2006
Tuesday AM

Ketchikan, Alaska - The members of the Greater Ketchikan Chamber of Commerce attending last week's luncheon on Wednesday were treated to a tour and delicious lunch aboard the newest Inter-Island Ferry, the M/V Stikine. Funded by federal and state grants and built by Dakota Creek Industries in Anacortes, Washington, the Stikine cost $17 million; several more than its sister ship the M/V Prince of Wales. The higher cost of steel and additional features accounted for the difference in costs; the most noticeable is the enclosed bridge wings which will allow for safer docking and undocking. A third generator and more powerful bow thruster are the other upgrades on the Stikine.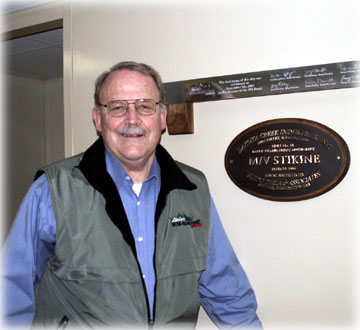 IFA General Manager Tom Briggs standing next to name plaque from Dakota Creek Industries in Anacortes, Washington, builders of the Stikine.
Photograph by Marie L. Monyak ©2006



The Inter-Island Ferry Authority (IFA) is a joint effort between Wrangell, Petersburg and four communities on Prince of Wales Island (POW); Craig, Klawock, Coffman Cove and Thorne Bay who formed a public corporation under Alaska's Municipal Port Authority Act. The goal of the IFA is to provide the much needed transportation between the island communities in Southeast Alaska. When the M/V Prince of Wales came on-line in 2002 it ran a scheduled route from Hollis to Ketchikan. Beginning May18th, the new M/V Stikine will operate between Coffman Cove, Wrangell and Petersburg thereby providing service to all the communities in the coalition.

The special lunch unexpectedly drew a large crowd that included elected officials, and various management staff from both the Alaska Marine Highway System and the Inter-Island Ferry Authority. It was obvious the staff of the IFA was pleased to see the business community of Ketchikan show such an interest in their operation.

Dennis Watson, Chairman of the IFA spoke briefly at the luncheon reflecting the sentiments of many people in these island communities when he said, "We're going to be happy to be able to run over to Wrangell or Petersburg from either Ketchikan or POW at will, so it's going to be a great thing."

IFA General Manager Tom Briggs also spoke to the large group, "First I'd like to recognize our friends from the Alaska Marine Highway System (AMHS), they've been helpful along the way and we're kind of brothers in marine transportation." At that he introduced Deputy Commissioner Robin Taylor of the AMHS and several of their managers and directors.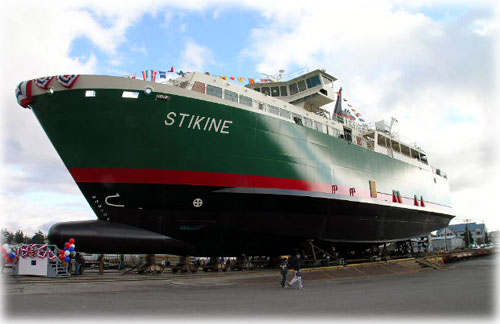 Launching of the Stikine on January 21, 2006
at Dakota Creek Industries shipyard in Anacortes, Washington.
Photograph by Dave McNary ©

Briggs continued, "I'd like to say just one thing since this is a Chamber dinner, we've been tracking the economic impact of the IFA on Ketchikan and we've been able to establish that on a per year basis, for the last two years, we've spent about $1.5 million of direct money in Ketchikan. Using the economic multiplier 3, I think that's conservative, you're looking at about a total contribution to the Ketchikan Borough of $6 million per year. With the advent of the Stikine, we're hopeful that it will bring some economic benefit to the communities of Wrangell and Petersburg as well as the northern communities of POW."
Last but certainly not least, Briggs introduced Ray and Karen Howard, owners of Craig's Dockside Diner and concessionaires for both IFA ferries. It's the Howard's that provided the lunch and desert for the gathering and as Briggs stated, "Karen is the inventor of Karen's famous pies and we're very happy that they live in Craig!"

Speeches were kept short to allow time for a tour of the ship. The group in attendance was much larger than expected and although pleased, the IFA management had to devise a plan to get everyone through the ship in an orderly fashion. Breaking up into three groups, the tour included the forward observation lounge, reading room, the quiet room used for transporting medical patients, crew day room and most impressive, the wheelhouse with all it's modern electronics.

Leading one of the groups, Briggs pointed out the fire and rescue equipment in the crew day room and explained, "We can carry 190 passengers, 5 crew and 5 galley workers and we have the ability to evacuate all 200. We have fire training, fast rescue boat and chute deployment on a regular basis." To everyone's shock, Briggs continued, "It cost $3500 every time we do a chute deployment because we have to send it South to have it repacked."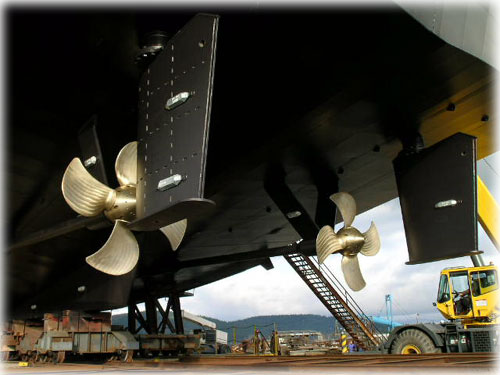 Launching of the Stikine on January 21, 2006
at Dakota Creek Industries shipyard in Anacortes, Washington.
Photograph by Dave McNary ©

Briggs also explained the modern reservations system the IFA uses, "All of our reservations are done with a scan card so you have a bar code when you get your ticket, you come on board, they scan it and we immediately have an updated manifest. We know who's on board, how many people and how many vehicles." With all the security issues of the day this is a tremendous improvement over handwritten tickets and manifests.

Once in the wheel house, Briggs discussed the problem caused by the increasing cost of fuel. "We originally budgeted for $1.90 a gallon and now we're at about $2.32. We really have to sharpen our pencils and find other ways to save," he advised. According to Briggs, the Stikine burns about 600 gallons of fuel per day which adds up to approximately $1400 a day at current prices. Briggs said, "There's day's we don't make that much but we make it up on other days and we don't get any subsidies at all so we have to assess a fuel surcharge that I believe will be 6% and it will be on everything; passengers and vehicles. We change the surcharge every month depending on the fuel quote we receive."

As the impressed group found its way back to the dining room to sample Karen's much talked about pie, the IFA officers and managers milled about answering questions and thanking everyone for attending. A perfect ending to a wonderful lunch and tour.

This week's invited guest speaker at the weekly luncheon of the Greater Ketchikan Chamber of Commerce will be Chief Dave Hull of the North Tongass Volunteer Fire Department. Lunch will be held at noon on Wednesday, May 10th at the VFW on Tongass Avenue.


On the Web:
For schedules and information on the Inter-Island Ferry Authority:
http://www.interislandferry.com
Related Stories & Photographs
IFA Launches Its Second Ferry, the Stikine

M/V Stikine To Be Christened Photos by Dave McNary Story; By M.C. Kauffman
January 06, 2006

Building the Stikine - Photographs by Dave McNary; Story by M.C. Kauffman
October 26, 2005

Progress Made On M/V Stikine Construction Photos By Dave McNary
September 12, 2005

Contract Signed For Constructon of M/V Stikine
December 13, 2004

Gerhard Onboard With IFA; Second Ferry Plans Underway
February 28, 2004
Marie L. Monyak is a freelance writer living in Ketchikan, Alaska.
A freelance writer is an uncommitted independent writer
from whom a publisher, such as SitNews, can order articles/photographs for a fee.
Republication fees are required for articles and/or photographs. Contact Marie at mlmx1[at]hotmail.com for costs and republication permission.
All Rights Reserved. ©2006
Publish A Letter on SitNews
Read Letters/Opinions
Contact the Editor
SitNews
Stories In The News
Ketchikan, Alaska