Tuesday
September 23, 2003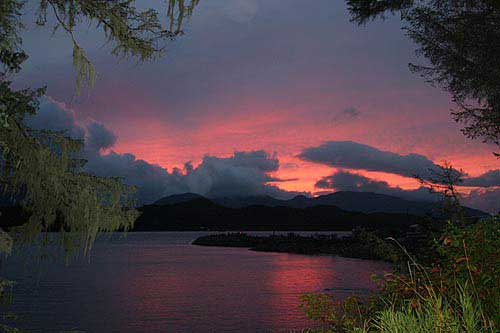 Fall Sunset
Photo by Carl Thompson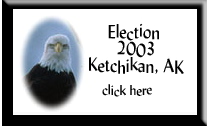 Ketchikan
Ketchikan: Front Page Photo - Fall Sunset - This beautiful photograph of a Ketchikan sunset was taken Saturday evening by Carl Thompson at approximately 3 miles South Tongass overlooking Saxman Seaport....
Published: Tuesday - September 23, 2003 - 1:00 am
Alaska: Alaska Marine Highway PFD Pass on Sale Beginning September 22nd - Since 2001, in conjunction with the distribution of Permanent Fund Dividends, the Alaska Marine Highway has offered an opportunity for unlimited travel from November through March for $500 ($400 for those over 65, $250 for those between 5 and 11). Last year's Pass saw the inclusion of a cabin discount. This year's Pass will also have a discount on car deck space. - Read more...
Tuesday - September 23, 2003 - 1:00 am
Alaska: 60 Minutes Did Not Tell Whole Story Says Governor; Alaska's Side of Natural Gas Pipeline Debate Left on Cutting Room Floor - Following an airing of an interview with Lesley Stahl of CBS's 60 Minutes news magazine program Sunday night, Governor Frank Murkowski reaffirmed his support for the southern route (Alaska Highway route) for the natural gas pipeline. "This is the route that is most beneficial to Alaska, the nation, and the project itself," Murkowski said. "It is not negotiable. The technical, engineering, and political challenges simply preclude the over-the-top route, and at the end of the day will make it no less expensive than the southern route." - Read more...
Tuesday - September 23, 2003 - 1:00 am
Pacific Northwest: Salmon farms pose significant threat to salmon fisheries in the Pacific Northwest, researchers find - The growing popularity of farm-raised salmon has plunged the commercial fishing industry in the Pacific Northwest into a state of crisis, according to a new report by Stanford University researchers.
Writing in the October issue of ENVIRONMENT magazine, the research team found that, since the late 1980s, worldwide production of farm salmon has increased fivefold, while the market share of wild-caught salmon from Alaska, British Columbia and Washington state has steadily declined. - Read more...
Tuesday - September 23, 2003 - 1:00 am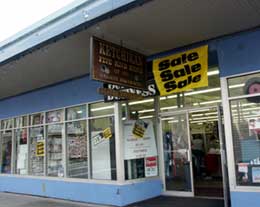 Ketchikan Five and Dime
Photo by Dick Kauffman

Ketchikan: Ketchikan Five And Dime; A Granddaughter's Perspective by Sydney Thompson-Beier -- I'm sitting halfway around the world and I am thinking of Ben Franklin. Most of you probably aren't thinking about it even though you live five, ten, maybe twenty miles away from it. Maybe you just got back from there. Maybe you still have popcorn kernels stuck in your teeth. But you floss and get rid of them and don't think about it again. Until you need something like a bathmat or an eraser or a fish. The closure of the store this upcoming fall will prompt some feelings of disheartenment over the continuing collapse of Ketchikan into one giant tourist trap, or nostalgia for those old favorites like Sandy the coin operated horse, or that greasy popcorn that has probably raised the cholesterol of any long term Ketchikan resident at least once or twice. - Read more....
Tuesday - September 23, 2003 - 1:00 am
Arctic: Largest Arctic ice shelf breaks up, draining freshwater lake - The largest ice shelf in the Arctic has broken, and scientists who have studied it closely say it is evidence of ongoing and accelerated climate change in the north polar region. The Ward Hunt Ice Shelf is located on the north coast of Ellesmere Island in Canada's Nunavut territory and its northernmost national park. This ancient feature of thick ice floating on the sea began forming some 4,500 years ago and has been in place for at least 3,000 years. - Read more...
Tuesday - September 23, 2003 - 1:00 am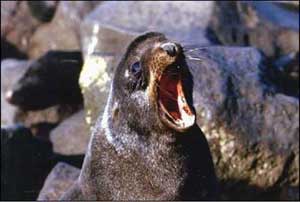 Northern Fur Seal Bull, yawning
Photo taken by Rolf Ream, National Marine Mammal Laboratory (NMML)

Alaska: Collapse of seals, sea lions & sea otters in North Pacific
triggered by overfishing of great whales; New research shows how extraction of whales has resulted in broad and devastating ecosystem impacts - A new paper published in the Proceedings of the National Academy of Sciences hypothesizes that overfishing of whales in the North Pacific Ocean triggered one of the longest and most complex ecological chain reactions ever described, beginning in the open oceans 50 years ago, and leading to the decimation of Alaska's kelp forest ecosystems today.
The paper, Sequential megafaunal collapse in the North Pacific Ocean: An ongoing legacy of industrial whaling, offers a unified explanation for why populations of harbor seals, fur seals, sea lions and sea otters in Western Alaska have crashed during the last several decades. - Read more...
Tuesday - September 23, 2003 - 1:00 am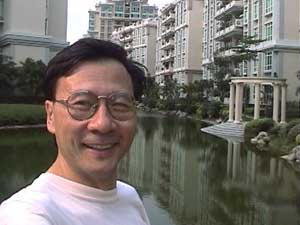 Chan Lao-Shi (Teacher Master Luke Chan)
Photo courtesy Joann Flora
Ketchikan - Joann Flora's Compliments to Your Health - Greetings, On September 25th, I am off for a month of study in China and my Sitnews articles will be on hold till I return. I will be spending that time with my teacher, Master Luke Chan, studying Level 3, Chi-Lel Qigong. Regular readers will recall previous articles on medical qigong and other aspects of Chinese Medicine. Chi-Lel is a medical style that I teach and employ in my acupressure practice. - Read more...
Tuesday - September 23, 2003 - 1:00 am
National: Civic Education Increases Young People's Interest in American Government, Study Shows - More young Americans know the name of the reigning American Idol and the city where the cartoon Simpsons live than know the political party of their state's governor. - Read more...
Tuesday - September 23, 2003 - 1:00 am
Go to Sitnews (view previous front pages)
Sitnews
Stories In The News
Ketchikan, Alaska