Friday
September 12, 2003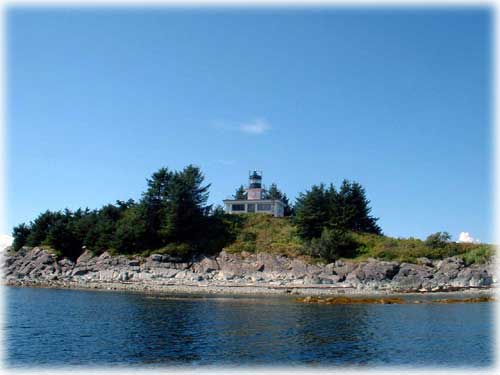 'Guard Island Lighthouse'
photo by Chris Wilhelm
Ketchikan: Front Page photo - Guard Island Lighthouse is located near Ketchikan, Alaska and is known as one of the wettest locations on the west coast. The light marks the entrance to Tongass Narrows and is one of the few Alaska lights equipped with a machinery-activated fog bell at the light tower's northern face. Guard Island Lighthouse was established in 1904....
Friday - September 12, 2003 - 1:00 am
Alaska: Six candidates vie for Taylor's Senate seat; Rep. Wilson pursues Senate position; Rep. Williams won't - Senate hopefuls are lining up to fill the seat to be vacated next week by veteran Southeast Alaska lawmaker Robin Taylor.
- Read more....
Juneau Empire - Friday - September 12, 2003
Ketchikan: Five Ketchikan residents seek Senate seat appointment - In addition to Wrangell Rep. Peggy Wilson, five Ketchikan residents are interested in the seat... Read more...
Juneau Empire - Friday - September 12, 2003
Alaska: Governor Commemorates September 11 Attacks - Thursday Governor Frank Murkowski joined Alaskans in observing the second anniversary of the September 11 attacks, commemorating the nation's loss of nearly 3,000 people, and celebrating the nation's renewed strength and resolve in the face of terrorism. - Read more...
Friday - September 12, 2003 - 1:00 am
NW: State Department Agrees To Transfer Funds To Maintain Pacific Salmon Commission - U.S. Sen. Lisa Murkowski, after a discussion Thursday with Deputy Secretary of State Richard Armitage, announced that the State Department has agreed to request immediate reprogramming of $600,000 to keep the Pacific Salmon Commission operating until funding is available for Fiscal Year (FY) 04. - Read more...
Friday - September 12, 2003 - 1:00 am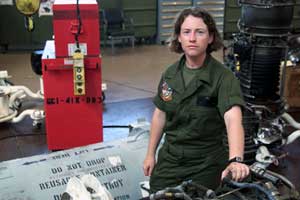 Lance Cpl. Margret Collins joined the Marine Corps at the age of 31 after the September 11, 2001 terrorist attacks. Collins called the attacks "a wake up," not only for her, but the rest of the country.
Photo by: Sgt. Jason Gallentine
Ketchikan: 9/11 Attacks anger, motivate woman who grew up in Ketchikan - (Okinawa, Japan) According to Lance Cpl. Margret Collins of the United States Marine Corps, she never considered joining the military prior to the September 11, 2001 terrorist attacks because of her political views.
"I thought that a lot of what politicians said about our national defense was hype so companies could make money," said Collins. "The fact that our country was attacked proves that it wasn't just hype, but national defense serves a real purpose."
Growing up in Ketchikan, Alaska, where everything was brought in on ships, Collins spent her youth watching the tugboats and ships in the local ports, which eventually influenced her career path. - Read more...
Friday - September 12, 2003 - 1:00 am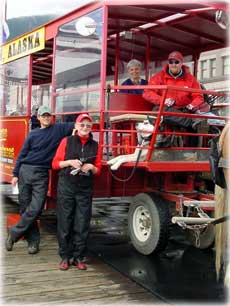 'Sea Horse Trolly'
Mary Lou Friesen, Buck Willoughby, Ryan Harris & Loki - Photo by Gigi Pilcher
People of Ketchikan: 'Sea Horse Trolly' - Long time Ketchikan resident Mary Lou Friesen stops for a pose in front of the Sea Horse Trolley Tours on the dock. Mary Lou retired from her job with the State of Alaska several years ago and has been enjoying spending part of her retirement time working on the dock with the Sea Horse Trolley Tours during the summer months. Buck Willoughby (standing) is also spending his summer working on the Sea Horse Trolley. Ryan Harris (seated) enjoys driving the trolley through historic Ketchikan along with Loki the husky. Seated behind Harris is a summer visitor. - Larger photograph...
Friday - September 12, 2003 - 1:00 am
Alaska: Automatic Information System to be New Requirement for Watercraft - According to Representative Paul Seaton of the Alaska State Legislature, many fisherman and vessel owners may not be aware that the United States Coast Guard and the Department of Homeland Security have issued an interim rule requiring certain vessel owners to purchase and install Automatic Information Systems (AIS) on their boats, at their own expense. - Read more...
Friday - September 12, 2003 - 1:00 am
Ketchikan: UAS Ketchikan Offers Haida Language Classes - The University of Alaska Southeast Ketchikan will offer Haida Language Beginning 1 and Beginning 2 September 29 through October 22.
Charles (Chuck) Natkong, Haida language instructor, will travel from Hydaburg and hold classes Monday through Wednesday from 6:00 to 8:45pm each week. Haida Beginning 1 will be held September 29, 30, October 1, 6, 7, 8. Haida Beginning 2 will be held October 13, 14, 15, 20, 21, 22. Classes will be held at the UAS Ketchikan Technical Center, Robertson Building Room 115. - Read more...
Friday - September 12, 2003 - 1:00 am
Go to Sitnews (view previous front pages)
Sitnews
Stories In The News
Ketchikan, Alaska