9/11 Attacks anger, motivate woman who grew up in Ketchikan
Story by Sgt. Jason D. Gallentine

September 12, 2003
Friday - 1:00 am

Okinawa, Japan - According to Lance Cpl. Margret Collins of the United States Marine Corps, she never considered joining the military prior to the September 11, 2001 terrorist attacks because of her political views.
"I thought that a lot of what politicians said about our national defense was hype so companies could make money," said Collins. "The fact that our country was attacked proves that it wasn't just hype, but national defense serves a real purpose."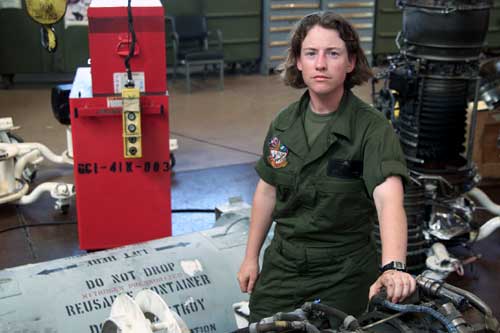 Lance Cpl. Margret Collins joined the Marine Corps at the age of 31
after the September 11, 2001 terrorist attacks. Collins called the
attacks "a wake up," not only for her, but the rest of the country.
Photo by: Sgt. Jason Gallentine
---
Growing up in Ketchikan, Alaska, where everything was brought in on ships, Collins spent her youth watching the tugboats and ships in the local ports, which eventually influenced her career path.
Prior to her enlistment in the United States Marine Corps, Collins was a Merchant Marine earning a 14 dollar-an-hour tax-free wage, full benefits and working a job she really loved.
However, after 9/11, the Seattle native is one of the few who gave up their accustomed life of security and comfort to enlist in the military and fill a space created by the terrorist attacks that fateful day.
When the first aircraft struck Collins was serving the Merchant Marines on the island of Kwajalein, Republic of the Marshall Islands. During a visit at a friend's house, her friend received a phone call alerting them of the attacks on the World Trade Center. After rushing to another house with a television, Collins saw the second aircraft strike.
"I was in shock. I couldn't believe it," Collins said. "At first I thought it had to be a natural disaster, but then they said it was an attack."
Like many, Collins then spent time feeling helpless and thinking how she could help, or do something about the national security of America.
"After the shock wore off, I felt like I had to do something," she said. "I felt like I needed to be one of the people defending our country."
During the next month after the September 11 attacks, Collins searched for a place or position where she could be a part of America's defense. After considering the Red Cross, Central Intelligence Agency and each branch of the Armed Services, she chose to join the United States Marine Corps.
On October 1st, 2001, Collins completed the screening and was accepted for enlistment in the Marine Corps. Then at the uncommon age of 31, Collins gave up her career with the Merchant Marines to enter basic training March 18, 2002.
While Collins admitted part of her decision was based on the fact that past family members were Marines, she joined because the Marine Corps held a higher standard.
"It appeared to me the Marine Corps officially had its bar raised above everybody else's," Collins said.
According to Collins her decision was met with resistance from her family and friends when they learned of her intentions.
My family was initially disappointed but came to respect that I thought this is what I needed to do, Collins said.
"My friends thought I was insane," Collins added. "They respected I had the conviction to do it, but just didn't understand why I would."
Now, two years later, Collins is serving as a gas turbine engine mechanic for 400 division, Marine Aviation Logistics Squadron-36, Marine Aircraft Group-36, 1st Marine Aircraft Wing, and feels she is making a difference by serving in the armed forces.
I wish I had a more active role, stated Collins. I wish I could have been in the desert, but the nice thing about my job is I build something concrete. Helicopters don't fly without engines.
While Collins is unsure of her future in the Marine Corps, she is enjoying her time while serving and is proud to be a part of its professionalism.
"I like the fact that we are encouraged to take what we do seriously, take pride in it and care about it," Collins stated.
Although Collins feels her story does not motivate people, she feels it does help people rationalize why she would give up her career and join the Marine Corps at the age of 31.
However, Marines from her work center like Cpl. Nathan C. Benson and Staff Sgt. Charmaine W. Esnardlevy know her motivation and admire it.
"I think Lance Cpl. Collins has shown a lot of courage and patriotism in joining the Marine Corps during such a time in her life when it seems things were going so well for her," the Sioux Falls, S.D., native said. "She put her personal success aside and focused her energies on helping our country's fight against terrorism. I think that's admirable," he added.
According to Esnardlevy, Collins gave a lot for her country by joining the Marine Corps.
"That takes a lot more than the people out there talking bad about America have," the Saint Lucia, Caribbean Islands, native said. "It takes honor."
Now, in the Marine Corps, she holds a position where she is respected and her fellow Marines feel she will continue to progress and better the Marine Corps.
"When she first came here she fell right into place working and giving ideas," Esnardlevy said. "I think she is a good asset to the Marine Corps."
While the military was never a career choice for Collins in the past, the September 11th attacks changed her perspective and motivated her into a position in America's armed services.
"It was just not a part of our reality," Collins said. "I think September 11 was such a wake up."

Source of News Release & Photograph:
United States Marine Corps
Web Site




Post a Comment -------View Comments

Submit an Opinion - Letter

Sitnews
Stories In The News
Ketchikan, Alaska