Wednesday
September 10, 2003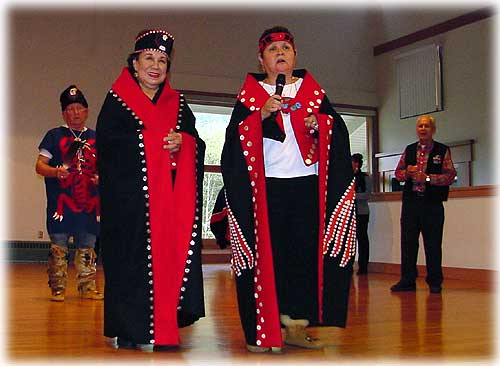 'Celebration'
Flora Feller & Martha Johnson
photo by Gigi Pilcher
Ketchikan: Front Page Photo - On Tuesday, September 9th, Ketchikan resident and Alaska Native elder Flora Feller (left) celebrated her birthday. Martha Johnson (right) asked the audience to join in singing "Happy Birthday" to Feller. Both Feller and Johnson are members of the Tongass dancers and performed on Tuesday at Ketchikan Indian Community's 3rd Annual Women's Conference which was held at the Ted Ferry Civic Center....
Wednesday - September 10, 2003 - 12:55 am
Ketchikan:

September 12, 2003 - Correction: The funding for uplands development at the Ketchikan Shipyard was NOT included in the Department of Transportation Appropriations Bill as was reported in this news release. ....... Transportation Appropriations Bill Includes $10 million for "uplands" development at the Ketchikan Shipyard; Still needs to reach the Senate floor for approval - U.S. Sen. Lisa Murkowski on Monday welcomed Senate Appropriations Committee approval of several of her transportation funding requests in the Senate Transportation and Treasury Appropriations bill for FY 04 that cleared the panel recently.
Murkowski said she was happy by the decision of the committee to include $10 million for "uplands" development at the Ketchikan Shipyard in Southeast. The funding, intended for buildings at the shipyard, should help the shipyard expand its services, aiding Ketchikan's economy and repairing ships, such as the state's ferry fleet, said Murkowski.
Senator Murkowski also won approval for two more projects that she had requested. The panel approved $1.5 million to pave Keystone to accommodate the heavy visitor traffic in summer to the popular fishing areas outside of Soldotna.- Read more...
Wednesday - September 10, 2003 - 12:55 am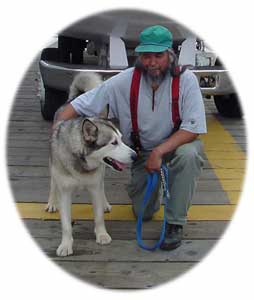 Man's Best Friend
Tony Logger and his dog Katie pose for the camera on the Front Street dock recently...
Photo by Gigi Pilcher
People of Ketchikan - Man's Best Friend - Tony, who asks that he be called Tony Logger "for logging was my life", can often be seen with Katie riding up and down the Tongass Narrows in his skiff. - More...
Wednesday - September 10, 2003 - 12:55 am
Dick Morris Columnist: As Dubya Sinks, Al and Hill Scheme - Here's what I see happening in the 2004 presidential race: Al Gore is watching President Bush. Hillary Clinton is watching Gore. Bush is watching Hillary and the Democrats are watching Dean.
Everything clear? Here's the long version:
Bush's poll numbers continue to tank. The Zogby poll has his job approval at 45 percent, a drop of seven points since August and 19 since last year. (Zogby's methodology generally understates job approval, but the downward trend is unmistakable). The Fox News/Opinion Dynamic poll shows that Bush would get only 50 percent of the vote in a trial heat against Gore. It would be a rerun of 2000 - and we'd still be waiting up all night to learn the count in Florida. - Read more...
Wednesday - September 10, 2003 - 12:55 am
National: New Report Explains Why More Children Suffer Emotional, Behavioral Problems; Cites Importance of Nurturing Environments - On Tuesday the YMCA of the USA, the national resource office for America's 2,540 YMCAs, along with Dartmouth Medical School and the Institute for American values released a new report, "Hardwired to Connect: The Scientific Case for Authoritative Communities."
This report documents a "crisis of American childhood" -- "high and rising rates of depression, anxiety, attention deficit, conduct disorders, suicidal thoughts and other serious mental, emotional, and behavioral problems" -- and proposes a fundamental "social change model" for addressing the crisis, including basic shifts in U.S. public policy. - Read more...
Wednesday - September 10, 2003 - 12:55 am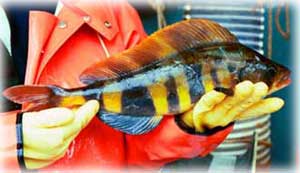 Atka mackerel
Photo courtesy National Marine Fisheries Service - Alaska Region
Alaska: Atka mackerel study points towards effectiveness of no-trawl zones - NOAA Fisheries scientists, aided by fishermen, have been tagging, releasing and recovering Atka mackerel near the eastern Aleutian islands for four years, studying the potential impacts of commercial fishing on the foraging success of endangered Steller sea lions. This research, NOAA Fisheries officials believe, will ultimately help improve management of Alaska's abundant marine fisheries where they may affect species protected under the Endangered Species Act.
"We're finding out if commercial fishing impacts the movement and local abundance of Atka mackerel and if the trawl exclusion zones do their job in keeping prey fish such as Atka mackerel protected and available for Steller sea lions to feed on," explained Dr. Doug DeMaster, Administrator of the Alaska Fisheries Science Center. "When we better understand fishing impacts on fish behavior, we'll have a better basis for designing protections for Steller sea lion prey."- Read more...
Wednesday - September 10, 2003 - 12:55 am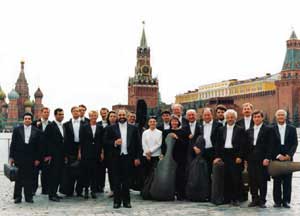 Moscow Chamber Orchestra
Photo courtesy Ketchikan Area Arts
and Humanities Council
Ketchikan: Moscow Chamber Orchestra Kicks Off the Arts Council Performing Arts Series - The Ketchikan Area Arts and Humanities Council will present the premiere event of the Torch Nights Series, the Moscow Chamber Orchestra performing on October 2nd, 7:30pm, at the Ketchikan High School Auditorium. The Moscow Chamber Orchestra came from Carnegie Hall to perform to a sold-out audience in Ketchikan in 2001, this time they will perform at Carnegie Hall after Ketchikan. Established in Moscow in 1956, the Moscow Chamber Orchestra has been from the very start an ensemble of the highest artistic and professional standard. Under the superb direction of Maestro Constantine Orbelian, the orchestra will play selections from Mozart's Piano Concerto No. 12 in A major, Bach's Concerto for Oboe and Violin in D minor, Vivaldi's Double Concerto for Violin, Cello and Strings in B flat major, and "La Casa del Diavolo" from Boccherini's Symphony in D minor. The Moscow Chamber Orchestra is renown for its attention to tuning, incisive rhythms and immaculate intonation. The musicians respond to one another impeccably and pick up every nuance of the conductor. - Read more...
Wednesday - September 10, 2003 - 12:55 am
Go to Sitnews (view previous front pages)
Sitnews
Stories In The News
Ketchikan, Alaska