Thursday
September 04, 2003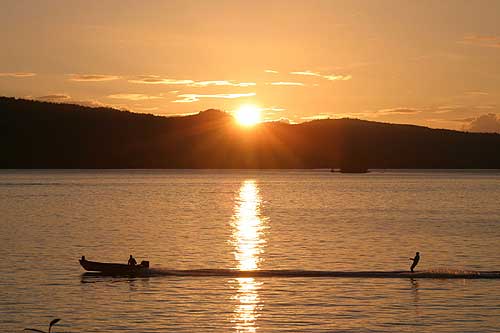 'Sunset Skier'
by Carl Thompson

Ketchikan: Front Page Photo - This photograph of the unidentified sunset water-skier was taken by Carl Thompson on September 03, 2003 out by Murphy's Landing...
Thursday - September 04, 2003 - 12:45 am

Alaska: Alaska Volcano Pops to Attention by Ned Rozell - In the cold waters of the Bering Sea sits a pyramid of volcanic rock that may someday become another Aleutian island.
Jennifer Reynolds of UAF's Global Undersea Research Unit, part of the School of Fisheries and Ocean Sciences, recently announced the discovery of an undersea volcano in the Aleutian Islands southeast of Semisopochnoi Island, about 1,300 miles west of Anchorage.
As a volcano geologist, Reynolds was intrigued when she heard that biologists exploring the coral community clinging to an underwater pinnacle thought the peak might be a volcano. When Reynolds and others investigated the feature on a scientific cruise in summer 2003, they found a submerged volcano with its summit about 2,000 feet above the surrounding sea floor, which is about the same elevation Ester Dome rises above Fairbanks.
Marine biologists Bob Stone and Jon Heifetz of the National Marine Fisheries Service's Auke Bay Observatory got a close look at the undersea volcano in 2002. Stone was in a two-man submarine videotaping the rich coral and sponge communities when he noticed the pinnacle had volcano-like features. - Read more...
Thursday - September 04, 2003 - 12:45 am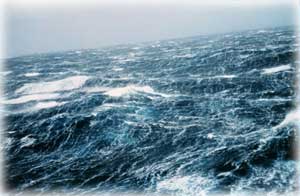 An Ocean of Change...
Photo courtesy NOAA/Historic NWS Collection

Global: OCEAN SPONGING UP SOME WARMTH OVER NEXT 50 YEARS - NASA's improved global climate computer model, which simulates and projects how the Earth's climate may change, indicates that the oceans have been absorbing heat since 1951 and will continue to absorb more heat from the atmosphere over the next 50 years. This increasing ocean heat storage suggests that global surface temperatures may warm less than previous studies projected, while the ocean acts as a bigger heat sponge. Further, such additional ocean heating would likely change regional climate patterns.
Shan Sun and James Hansen, both of NASA's Goddard Institute for Space Studies, New York, NY, used NASA's Global Climate Model (GCM), one of the world's leading computer climate models that simulate past and potential future climate changes. The GCM has been enhanced with new "ocean models" that better simulate how oceans currently absorb heat and will respond to a warming global climate. The study appears in the latest issue of the American Meteorological Society's Journal of Climate. - Read more...
Thursday - September 04, 2003 - 12:45 am