Thursday
August 28, 2003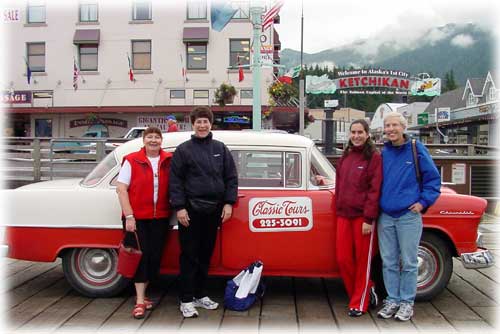 'Classic Tours With A Classy Lady'
photo by Gigi Pilcher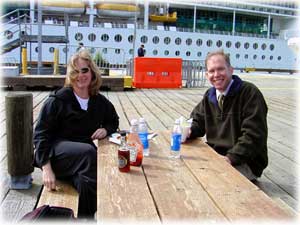 'On the Dock'
photo by Gigi Pilcher

People of Ketchikan - Ketchikan attorney Michael Heiser enjoys a visit and lunch with colleague Anne Doubek. Heiser described the sunny lunch on the dock as a way to "de-stress" with a friend. - Click here to view a larger photo...
Thursday - August 28, 2003 - 12:05 am

People of Ketchikan: Front Page Photo - Lois Munch of Classic Tours poses for a photo Wednesday with visitors, Judy, Lisa and Ed Schwartz of New Rochelle, New York. - Read more...
Thursday - August 28, 2003 - 12:05 am

Ketchikan - Statewide: UA makes "last, best" offer to one faculty union - The University of Alaska has made its "last, best" offer to one of its faculty unions, according to the UA vice president for faculty and staff relations. - Read more...
Fairbanks Daily News Miner - Thursday - August 28, 2003 - 12:05 am

Ketchikan & Statewide: KeyBank investing $5 million in Alaska expansion - KeyBank is spending $5 million over the next 18 months to expand its presence in Alaska, executives for the Cleveland-based bank said. - Read more...
Fairbanks Daily News Miner - Thursday - August 28, 2003 - 12:05 am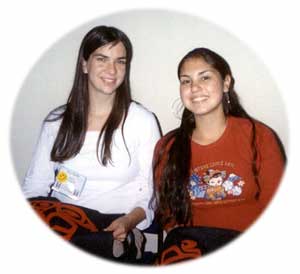 Rebecca Glanville & Vicky Pilcher
Photo courtesy Vicky Pilcher

Ketchikan - Ketchikan Teen Attends Native Youth Leadership Conference in Juneau - Ketchikan teen and P.A.C.E. Charter School student Vicky Pilcher recently attended a Native Youth Leadership Conference held in Juneau, August 17-21, 2003. Pilcher was the only The conference was sponsored by Tlingit and Haida Central Council of the Tlingit and Haida Indian Tribes of Alaska, Alaska Federation of Natives Wellness Program, and the Summer Youth Employment & Training, and JOM Program. The intent of the Native Youth Leadership Conference was for youth to:
1) Recognize leadership within themselves;
2) Encourage Tribal members ages 14-20 to develop leadership within their communities, region, and State;
3) Develop a regional network of Native youth leaders in S.E. Alaska. - Read more...
Thursday - August 28, 2003 - 12:05 am
People of Ketchikan: 'Visitor' - Karrie Kuasager from Fairbanks, Alaska is visiting the First City while her husband is on a job assignment here. It is her first visit to Ketchikan and she marveled at the great weather and beautiful scenery. Kuasager said she just can't figure out why Ketchikan has a bigger mall than Fairbanks does! - Click here to view a larger photo...
Thursday - August 28, 2003 - 12:05 am
Mike Reagan Columnist: The Faith of Our Fathers - When anybody claims that it is unconstitutional for the state to acknowledge God by displaying the Ten Commandments or some other symbol of our Judeo/Christian heritage they are really claiming that our founding fathers, the authors of the Constitution, would have agreed with them. - Read more...
Thursday - August 28, 2003 - 12:05 am

Read Top State & Local News from sources around the state...