Ketchikan Teen Attends Native Youth Leadership Conference in Juneau
August 28, 2003
Thursday - 12:05 am

Ketchikan teen and P.A.C.E. Charter School student Vicky Pilcher recently attended a Native Youth Leadership Conference held in Juneau, August 17-21, 2003. Pilcher was the only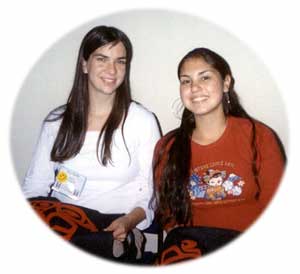 Rebecca Glanville & Vicky Pilcher
Photo courtesy Vicky Pilcher

youth from Ketchikan attending the conference. She was awarded a scholarship based on her Native Youth Conference application and essay.

The conference was sponsored by Tlingit and Haida Central Council of the Tlingit and Haida Indian Tribes of Alaska, Alaska Federation of Natives Wellness Program, and the Summer Youth Employment & Training, and JOM Program. The intent of the Native Youth Leadership Conference was for youth to:

1) Recognize leadership within themselves;
2) Encourage Tribal members ages 14-20 to develop leadership within their communities, region, and State;
3) Develop a regional network of Native youth leaders in S.E. Alaska.

Pilcher said, "There were about 40 youth and chaperones participating. It was really fun; they had guest speakers and really wonderful storytellers. My favorite was Gene Tagaban. While we were there we participated in icebreakers, went shopping, listened to lectures, did activities like making Native vests. If you ever get a chance to go to a leadership conference, I suggest you go. Not only you will meet new people from all over Alaska but you will learn valuable skills that will stay with you for a lifetime."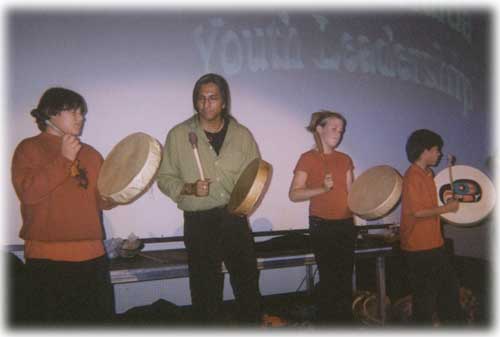 Storyteller and drummer Gene Tagaban at a recent Alaska Native Youth
Leadership Conference in Juneau...
Photo by Vicky Pilcher
---
Pilcher was accompanied to Juneau by her chaperone, Ketchikan Indian Community teen counselor Rebecca Glanville, who volunteered her time in order for Pilcher to be able to attend the conference.
The conference was held at the UAS-Juneau College campus and attendees stayed in the dorms.

Post a Comment -------View Comments

Submit an Opinion - Letter

Sitnews
Stories In The News
Ketchikan, Alaska