Friday
August 08, 2003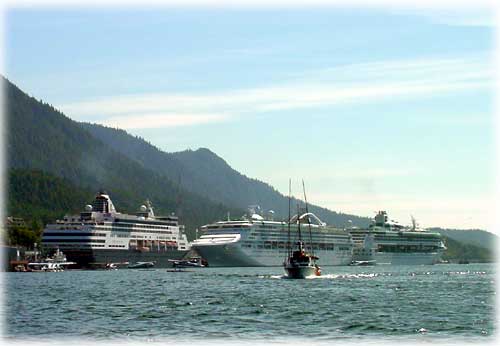 Ships & Planes
photo by Gigi Pilcher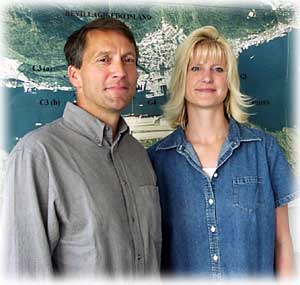 HDR Project Manager Mark Dalton
& HDR Planner Kristen Maines
Photo by Dick Kauffman
Ketchikan: Gravina Access DEIS Public Comment Period Now Open; Public Comment Period Ends October 1st - Staff from the Gravina Access Project were in Ketchikan on Wednesday and Thursday to meet with the public and to provide copies of the long anticipated Gravina Access Project Draft Environmental Impact Statement - a document a couple of inches thick.
Copies of the large document were available to the public as of Wednesday, August 6th, on CD, hard copy and online. Mark Dalton of HDR, Inc. was available at the Gravina Project office in Ketchikan to answer any questions the public had concerning the DEIS, the Gravina Access Project, or to discuss the bridge alternatives.
The just released DEIS notes the preferred bridge alternative to now be F1 which crosses Tongass Narrows via Pennock Island with two high bridges. One 200 foot high bridge would cross the East Channel and a 120 foot high bridge would cross the West Channel. - Click here to read more...
Friday - August 08, 2003 - 12:40 am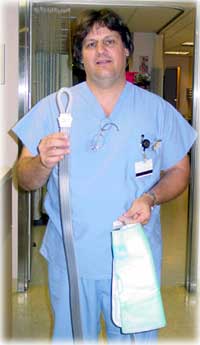 Steve Rachow
photo courtesy KGH
Ketchikan: Rachow Invents Cost-saving Surgical Device; Receives Special Award From Ketchikan General Hospital - Steve Rachow, a Certified Surgical Technician at Ketchikan General Hospital (KGH), has invented a device that can save $15.00 in patient costs each time it is used in surgery. A conservative estimate places the savings throughout the entire PeaceHealth System at about than $50,000 per year.
According to information provided by Ketchikan General Hospital, Rachow's device is used when a surgery is performed on only one of the patient's legs, for example anterior cruciate ligament (ACL) surgery, or knee arthroscopy. Inflatable stockings, used in these surgeries to promote circulation during anesthesia, come in pairs costing $30 per pair. The stockings are each connected to a sequential circulation device, which has outlets for two stockings. Previously, if only one stocking was used, the other needed to be plugged in anyway, and therefore went to waste. Rachow's device replaces the second stocking with a plug, saving the patient $15. - Click here to read more...
Friday - August 08, 2003 - 12:40 am
Ketchikan: Ketchikan General Hospital Lab Recognized for Excellence - Ketchikan General Hospital (KGH) announced on Thursday that its Laboratory and Pathology Department recently received re-accreditation from the College of American Pathologists (CAP), based on the results of a survey conducted in May. - Click here to read more...
Friday - August 08, 2003 - 12:40 am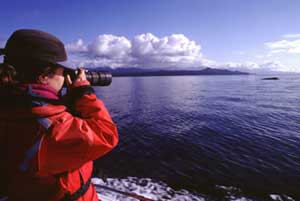 Janet Doherty
Photo Courtesy Janet Doherty & ASJ
Alaska: Ultimate Whale Watching - If you want to see a lot of whales, one of the best places to be this summer is in Alaska's Glacier Bay National Park. Here, dozens of humpback whales arrive each summer to feast on schools of pollock, herring and other fish. One scientist has the enviable job of keeping track of the park's largest visitors.
Janet Doherty has a life many people would envy. As a biological technician with the National Park Service, she spends her days in a small open boat in Alaska's Glacier Bay National Park. There she keeps watch on humpback whales as they swim, feed and sometimes leap into the air. With at least 60 whales identified in the park this summer, Doherty says the whale watching has been especially good. - Click here to read more...
Friday - August 08, 2003 - 12:40 am
Alaska: August is National Immunization Awareness Month; Survey: Alaska ranked 27th in nation for immunization rates for 2-year olds, up from 48th in 1996 - The National Partnership for Immunization (NPI) sponsors National Immunization Awareness Month (NIAM) to raise awareness of the importance of immunizations to avoid infectious disease and its devastating consequences. National Immunization Awareness Month highlights the need for improving national immunization coverage levels and encourages all people to protect their health by being immunized against infectious diseases. National Immunization Awareness Month is commemorated in August - a time when children are returning to school, college students are moving into dormitories, and the influenza season is only a few months away - to remind the nation that people of all ages require timely immunization for good health. - Click here to read more...
Friday - August 08, 2003 - 12:40 am

Go to Sitnews (view previous front pages)

Sitnews
Stories In The News
Ketchikan, Alaska