Gravina Access DEIS Public Comment Period Now Open
Public Comment Period Ends October 1st
by Dick Kauffman

August 08, 2003
Friday - 12:40 am

Ketchikan, Alaska - Staff from the Gravina Access Project were in Ketchikan on Wednesday and Thursday to meet with the public and to provide copies of the long anticipated Gravina Access Project Draft Environmental Impact Statement - a document a couple of inches thick.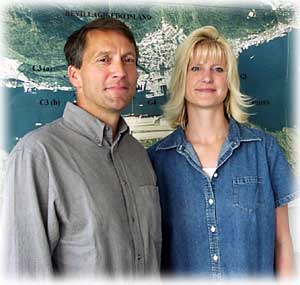 HDR Project Manager Mark Dalton
& HDR Planner Kristen Maines
Photo by Dick Kauffman
Copies of the large document were available to the public as of Wednesday, August 6th, on CD, hard copy and online. Mark Dalton of HDR, Inc. was available at the Gravina Project office in Ketchikan to answer any questions the public had concerning the DEIS, the Gravina Access Project, or to discuss the bridge alternatives.
The just released DEIS notes the preferred bridge alternative to now be F1 which crosses Tongass Narrows via Pennock Island with two high bridges. One 200 foot high bridge would cross the East Channel and a 120 foot high bridge would cross the West Channel.
Dalton said public comments will be accepted on the just released Draft Environmental Impact Statement for a two month period. The public comment period will end October 06, 2003.
Gravina Access Project staff will be holding an open house on September 16, 2003 from mid-afternoon until early evening. The location and exact time will be released at a later date. Dalton said public hearings are scheduled in Ketchikan for September 17th and September 18th. The location and times of the public hearings will also be announced at a later date.
Dalton remarked that after the DEIS public comment period closes on October 06, 2003, all the public comments received will be closely reviewed. Dalton expects the Final Environmental Impact Statement to be released between the end of November and mid-December 2003. The Final Environmental Impact Statement will be open for public comment for a period of 30 days.
Upon approval of the Final Environmental Impact Statement, the Gravina access design process can then begin. The design process is expected to take 18-24 months to complete according to Dalton.
Gravina Project Staff will be in Ketchikan again next week at the project office located at 430 Dock Street. Office hours are:
Tuesday, August 12th from 2:00 pm - 7:00 pm
Wednesday, August 13th from 11:00 am - 7:00 pm
Thursday, August 14th from 10:00 am - 4:00 pm
Dalton said the Ketchikan office will be open Wednesday through Thursday weekly until the 1st of October.
Related Document:
Gravina Access Project Draft Environmental Impact Statement (click here)
Post a Comment -------View Comments

Submit an Opinion - Letter

Sitnews
Stories In The News
Ketchikan, Alaska