Arts and Entertainment
New Tour "Art and Artists on the Water" Features Local Artists
By Sharon Allen
July 01, 2005
Friday

Ketchikan, Alaska. The artists in Ketchikan are as passionate about their art as GOLDBELT Alaska Cruises is about the new, unique and groundbreaking twist they gave to one of their Historical Waterfront Cruises aboard The Arctic Fjord yesterday.
On Thursday at 12:00 noon, David Allen, General Manager of Alaska Cruises, launched "Art and Artists on the Water," a program intending to mix a bit of today's artistic Ketchikan with the usual historical tales of the city.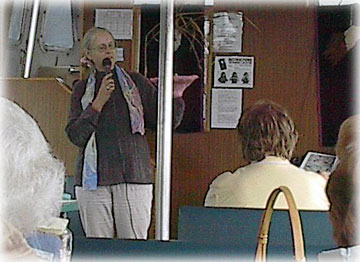 Local artist M. J. Turek was invited to be the first to participate in "Art and Artists on the Water"
Photo by Sharon Allen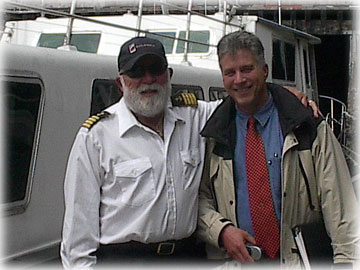 Captain of The Arctic Fjord and
David Allen, General Manager of Alaska Cruises
Photo by Sharon Allen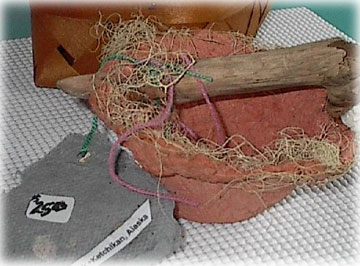 Turek's Deer Mountain Basket
Photo by Sharon Allen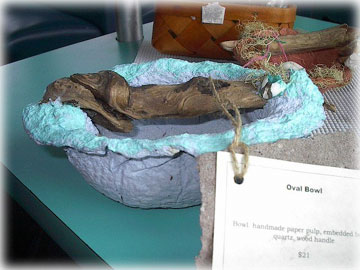 Turek's Oval Bowl
Photo by Sharon Allen
A local artist, MJ Turek, was invited to be the first to participate in the innovative project. Turek brought examples of her art and spoke to the passengers for a brief time during the cruise; explaining a bit about what inspires her creativity here in Ketchikan.

It made for a good combination. The Historical Waterfront Tour is often erroneously considered a less exciting tour of the area, but the additional spark of emotionally charged art to the mix brought interest from both the young and older visitors to Ketchikan.

"We have a couple more of these special artistic tours lined up for the 2005 season and hope to expand the tours next year to include even more local artists and craftsmen," Allen said. "We'd like to see this succeed from all points of interest: we'd like the artists to gain notoriety and perhaps sell a few of their pieces; we'd like the passengers to have the opportunity to speak face-to-face with local artists from the area and have a hands-on experience with their artwork and thus, learn more about both the past and present Ketchikan; and of course, we'd like to see sales for this tour increase to raise profits so that we can invest those monies into more projects to benefit Ketchikan and its inhabitants and visitors in new and innovative ways."

Allen is a great supporter of the Arts in Ketchikan and his interest in the Arts goes back many years. He is an enthusiastic supporter of The Ketchikan Arts and Humanities Council and has taken part in productions by First City Players; acting in plays such as Chicago, You Can't Take It With You, Little Shop of Horrors and Anne Frank, just to name a few. He hopes his new "Arts and Artists on the Water" program will be a success and looks forward to adding several different types of art and artists to the special tours next year.

"I'm excited about the possibilities," Allen enthused. "We're lining up more talent for this year, and also hope to complete negotiations with artists of other media, such as those creating unique jewelry or artists of poetry and prose."

Those onboard visiting from the Island Princess yesterday seemed to be excited about the idea as well. "Thank you for sharing your wonderful art," one passenger commented to Turek upon departing the tour. "We enjoyed it very much."

And it is wonderful art. Born and raised in Ketchikan, it's natural that she would use images and objects found within her home town to include in her watercolors paintings and "Deer Mountain Baskets."

One attendee was overheard saying, "Cool. The watercolors of her landscapes are from the more unique spots on the island and the materials she uses in some things are quite interesting."

The materials he was talking about were the components used in Turek's "Deer Mountain Baskets" and those backing her watercolors. Most of her paintings are done on cold press paper; however, Turek uses her own handmade papers as backings, and sometimes will even include "found objects" affixed to the actual artwork as a complement. Turek was more than happy to explain to the passengers the logistics involved in such projects.

"The baskets are made with handmade paper, and then many of these paintings are backed with handmade paper. . ," MJ told the crowd, adding, "the way I make the paper is to go out and gather something out of my garden or out of the woods like fireweed, peonies, seaweed or other plant stuffs and I also incorporate recycled paper because if you only use plant stuff, your paper could shrink and be quite brittle."

She then shreds it, puts it in a large container, adds water, uses a blender to "combine" the art, and then spreads it on a screen to dry. Anything from Ketchikan might find its way into her art. Cedar branches and barks, seeds, skunk cabbage, daisies, beach glass; all are candidates for a gallery exhibit one day.

Most of her "Deer Mountain Baskets" are just that ­ pretty pastel paper baskets with cedar pieces as handles ­ perfect as hostess gifts with little decadent candies or as bathroom potpourri containers. As for her watercolors, most are landscapes done in the familiar greens, blues and grays of Ketchikan, holding comfort out as a balm to a homesick spirit. But some are more vibrant, with jubilant colors splashing about in a puddle of sun. A few have figures, but most are introspective works that teach the viewer about the overall spirit of our little town, rather than the specific soul of one inhabitant.

Most of Turek's smaller paintings or prints range from $20 to $50 and the other artwork is priced anywhere from $12 to $45. She also has larger paintings in both watercolor and acrylics for sale, but due to space restrictions, was not able to bring many examples of them. The costs of these pieces vary greatly depending on the medium used and the difficulty of the subject matter, as well as the final framing.

Smiling, after making a sale, Turek said when asked, "It's nice to have somebody like it enough to buy it," said Turek. "Yes, it makes you want to go and create more when someone appreciates something you've done and when they get the same feeling from something you've done. Then you're inspired to go and do something more."
Allen hopes Turek was inspired by the experience yesterday to do just that ­ create more art. He also hopes that the growing excitement in Ketchikan's artistic community about his idea will catch on in the Cruise Ship Community and generate great interest for those passengers visiting Ketchikan.

Plans are already in motion to add other varieties of art next year and Allen is calling for artists who are interested to contact him. All art forms are eligible; oils, charcoal, watercolor, sculpture, poetry, carving, jewelry, wearable art, native, etc. Any one interested in participating should call Alaska Cruises at 225-0644 or they can send an email to david.allen@goldbelt.com for more information.

Another special offering of "Art and Artists on the Water" will take place sometime in July, depending on the Cruise Ship scedules. Please call 225-0644 for more information if you are in the area and would like a ticket, or if you are arriving on a Cruise Ship, please see your Shore Ex for more details.
Sharon Allen is a freelance writer living in Ketchikan, Alaska.
Contact Sharon at sharon(AT)sitnews.us
Publish A Letter on SitNews
Read Letters/Opinions
Submit A Letter to the Editor
SitNews
Stories In The News
Ketchikan, Alaska