Front Page Photo
Wolff Point's Helicopter Landing Facility
Photo by Carl Thompson
June 30, 2004
Wednesday

Ketchikan, Alaska - As most have likely noticed, the paving of the new helicopter landing facility at Wolff Point in Ketchikan has been completed. The USCG District 17 worked for more than three years to establish a helicopter pad at an optimal location in Ketchikan.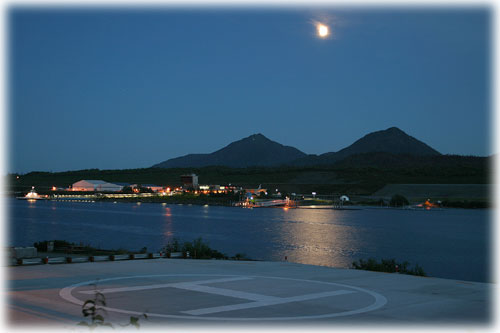 The new helicopter landing facility at Wolff Point. Across the Tongass Narrows, the lights of Ketchikan International Airport can be seen in this evening photograph.

Wolff Point - a former landfill that has been capped and graveled - is a scenic turnout that is located directly between the North Tongass Highway and the Tongass Narrows, approximately one mile north of the hospital.
The helicopter-landing pad's perimeter lighting will ensure the safety of the helicopter crew and passengers.
Related story:
Helicopter Landing Pad Under Construction... May 01, 2004

Carl Thompson's photographs are available for purchase at the following Ketchikan locations: Parnasus Books; Sockeye Sams; Blue Heron Gallery and Gifts; Hide-A-Way Gifts.
Carl Thompson ©2004
Carl's Alaska Photos Web Site
Send your photos for publication to photos@sitnews.org
E-mail Dick Kauffman: editor@sitnews.org
Post a Comment View Comments
Submit an Opinion - Letter
Sitnews
Stories In The News
Ketchikan, Alaska