Helicopter Landing Pad Under Construction
May 01, 2004
Saturday

Ketchikan, AK - The US Coast Guard (USCG) is constructing a new helicopter landing facility at Wolff Point in Ketchikan. USCG District 17 has been working for more than three years to establish a helicopter pad at an optimal location in Ketchikan.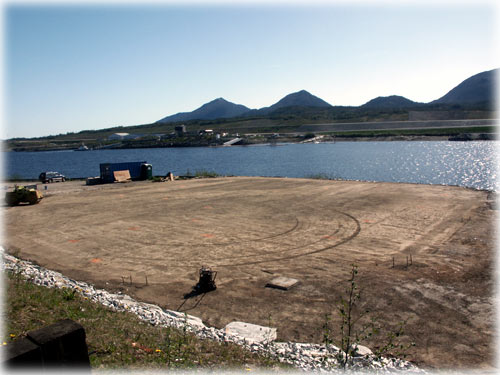 The new helicopter pad under construction at Wolff Point.
Photo by Dick Kauffman - April 29, 2004

According to information provided by the Coast Guard, the helicopter pad is needed to deliver medical evacuation (MEDEVAC) patients to the hospital in Ketchikan, as well as provide the USCG with a facility for search and rescue (SAR) operations in Ketchikan. The USCG said that due to the lack of a suitable facility, all USCG MEDEVAC and SAR flights have been forced to use the Ketchikan Airport on Gravina Island which can cause a delay in the time of delivery of a patient to the hospital by 30 minutes or more due to the use of the ferry service that is operated during hours of commercial airport service. According to the USCG, typical patients that require the use of MEDEVAC flights are experiencing life threatening, urgent medical emergencies, conditions that require immediate attention. For these reasons, the USCG required a helicopter pad that would provide efficient, timely, and safe medical evacuation transportation to the Ketchikan road system.
The USCG said the existing helicopter landing pad is too small for the larger HH-60 helicopters that the USCG uses for its MEDEVAC and SAR operations. After having exhausted a search of the existing commercially operated landing sites, and after determining that the existing hospital landing pad could not be made suitable, a State owned site of Wolff Point was identified as an optimal location for the helicopter pad by the Coast Guard.
Wolff Point - a former landfill that has been capped and graveled - is currently a scenic turnout that is located directly between the North Tongass Highway and the Tongass Narrows, approximately one mile north of the hospital.
The Wolff Point turnout is an oval shaped gravel area, which measures some 400 feet in length and 100 feet wide. The prospective helicopter pad will use less than half of the turnout. The area of Wolff Point used will be on the extreme northern end, opposite of the highway access point. Vehicle barriers would be used to restrict unauthorized vehicles, but the site would be open for pedestrian access, except when in actual use. The USCG noted that minimal site preparation work will be required to properly grade and pave the landing site at Wolff Point. The helicopter-landing pad will be lighted with perimeter lighting to ensure the safety of the helicopter crew and passengers.
E-mail your news & photos to editor@sitnews.org


Post a Comment View Comments
Submit an Opinion - Letter

Sitnews
Stories In The News
Ketchikan, Alaska