Match of the Month: December 2006
By Amy Lloyd


December 31, 2006
Sunday

Ketchikan, Alaska - "Big Brother" R.K. appreciates his "Little Brother" Seth's enthusiasm, and his willingness to try new things. "Seth is fun to take out; he really appreciates things. It feels good to be able to share experiences and show Seth all that is out there."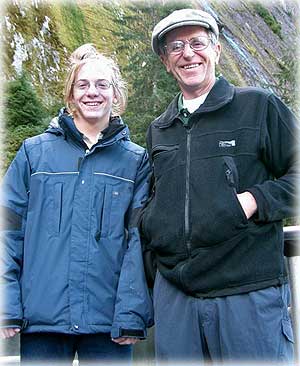 "Little Brother" Seth and "Big Brother" R.K.
Photo by Cherry Rice
Seth said his favorite activity was the trip to Misty Fjords in September. "I've never seen mountains so big!"
R.K. agrees with Seth, saying, "The Misty Fjords trip was a highlight. The whole day was incredible."
Seth and R.K. spend time doing outdoors activities, like biking around Ward Lake. In his garage, R.K. had an older mountain bike that wasn't being used. Seth says, "We fixed it up together, so now I have a mountain bike for the next time we go."
Recently, R.K. and Seth went on a duck-hunting trip, where Seth shot his first duck, a Goldeneye. "I've never shot a shotgun before," he exclaimed. "I got a picture of me holding the duck. It was yummy!"
Seth's mom is happy he is experiencing Ketchikan through R.K.'s "local" eyes. She says, "R.K. is one of the best things to happen to him."

R.K. says he can't wait to take him fishing. "We'll have lots to do this summer. My family is on the water a lot, and Seth enjoys being on the water."

Does this sound like fun? There are other "Littles" ready for a "Big" like you. Call Big Brothers Big Sisters today at 247-3350, and start making your own memories!


On the Web:
Big Brothers Big Sisters of Southeast Alaska
http://www.southeastbigs.org/


Publish A Letter on SitNews
Read Letters/Opinions
Submit A Letter to the Editor
SitNews
Stories In The News
Ketchikan, Alaska