Match of the Month: December 2007, #2
Bill and Nick
Many, many magical moments
By Nancy Coggins
December 28, 2007
Friday

Ketchikan, Alaska - "Bill just taught me how to ice-skate last weekend!" exclaims Bill's "Little Brother" Nick. "We do a lot of really fun and cool things."
"We are very fortunate to have 'Big Brother' Bill matched up with Nick who enjoys everything they do together and it's always something new and exciting," enthuses Nick's mother.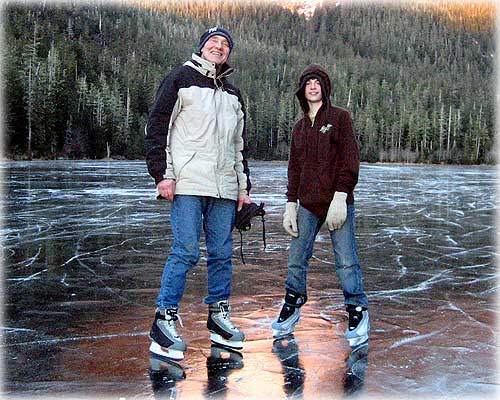 Big Brother Bill with Little Brother Nick the day Nick learned
how to ice skate on Carlanna Lake.
Photograph by Fred Jorgensen


"Big Brother" Bill: "Nick and I have been 'Big' and 'Little Brothers' for over 4 1/2 years and we are both changing. Nick is getting more mature, and I am getting more forgetful. I think it is a good setup - someday we will trade places."
Bill and Nick's Big Brothers Big Sisters of Alaska (BBBSAK) match relationship plays out across the board from their personal events and successes to community outreaches. On Christmas Eve, they will deliver food baskets for Rotary 2000 and the Salvation Army.
Is there any work here, or is it all fun? They've shared many outdoor adventures, which also include skiing and snow shoeing -- Nick's favorite. "Nick is a natural on skis, skates and snowshoes," says Bill, "and Nick rarely falls. He has the courtesy not to laugh too hard when I fall."
"Nick allows me a glimpse of the world through young eyes," which, to Bill, represents one magical part of their match. "Nick has a great sense of humor. It is just plain fun to hang out with him."
"We are active," Bill goes on. "Nick and I completed two running races this year and some training runs plus some weekly workouts at the Gateway Recreation Center. Also, we managed to get a fishing and a crabbing trip completed."
Nick's mother highlights some of the elements that make this match so powerful: "We are very fortunate to have Bill matched with Nick, who just 'clicks' with Bill. Bill is completely tuned into Nick and what he wants to do and accomplish, and he genuinely cares about Nick and all that is going on with him. Nick always comes home, smiling and laughing, and he tells us stories about how much fun he has had and that he can't wait to see what the two of them will do next. What a gift we have. Thank you BBBSAK, and thank you Bill for sharing your time with Nick."
Sound like fun? Join Big Brothers Big Sisters program and add a little magic to your life. Capture fun moments with your "Little." Get involved. Call 907-247-3350.
Little Moments, Big Magic, Huge Impact!



On the Web:
Big Brothers Big Sisters of Alaska
http://www.southeastbigs.org/


Publish A Letter on SitNews
Read Letters/Opinions
Submit A Letter to the Editor
SitNews
Stories In The News
Ketchikan, Alaska