Match of the Month: November 2006
By Nancy Coggins


December 09, 2006
Saturday

Ketchikan, Alaska - Often we hear about a "Big" experiencing the magic of youth through being matched with a "Little" - a chance to do kid stuff again, a reminder of the time when he or she was younger. Sure enough, even though Lindsay is a senior in high school (which isn't that far away from when she was a kid), her match provides that chance to "play" again. You may be thinking that the "Big" may get as much out of such a relationship as the "Little." And you are absolutely correct.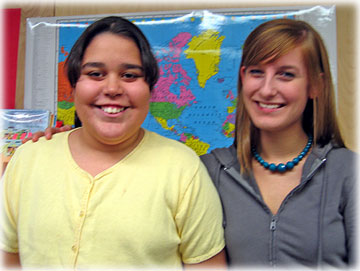 Holly and Lindsey pose for a BBBS match picture in Holly's classroom, Ketchikan Charter School.
Lindsay and Holly have been matched within the Big Brothers Big Sisters of S.E.A.K. - Ketchikan School Program for over a year. Memorable is last year's fun time making Halloween drawings of Jack-o-lanterns and ghosts.
Holly's mother states: "Holly is excited for Wednesdays when she customarily meets with Lindsay. Occasionally Lindsay misses a meeting because of traveling out of town with the Kayhi Swim/Dive Team." For both Holly and her mother, attending Lindsay's local swim/dive meet at Kayhi was like going on an adventure, and supporting a friend made it fun.
Some of Lindsay and Holly's favorite activities are playing board games and card games such as Uno® and Swap®. They also enjoyed playing bingo at the Senior Carnival. Often, Lindsay helps Holly with her math homework. Sometimes they also walk around the school and talk, which is exactly what they did after this writer interviewed them.
Whenever Lindsay compliments Holly on her clothing, you can bet she'll wear that for their next meeting! For this photo, it was suggested Holly wear something bright that made her feel happy, which you can see worked very well.
What's around their corner? The following week they tentatively planned to play tetherball and jump rope. No matter what, they always have something to look forward to that's uniquely theirs.
Sound like fun? Join Big Brothers Big Sisters program and add a little magic to your life. Capture fun moments with your "Little"; there are many children ready for a "Big" like you! Meet for an hour once a week. Call 907-247-3350.
On the Web:
Big Brothers Big Sisters of Southeast Alaska
http://www.southeastbigs.org/

Nancy Coggins is a freelance writer and BBBS volunteer living in Ketchikan, Alaska.

Publish A Letter on SitNews
Read Letters/Opinions
Submit A Letter to the Editor
SitNews
Stories In The News
Ketchikan, Alaska