Match of the Month: November 2007
Cyrus and Michael
By Nancy Coggins
November 30, 2007
Friday

Ketchikan, Alaska - Give magic and get magic!
What goes around comes around is demonstrated so clearly between matches in Big Brothers Big Sisters (BBBS). The magic given by the "Big" to the "Little" comes back to the "Big" - oftentimes, at least twofold!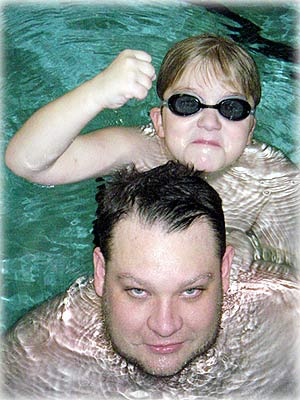 Big Brother Cyrus and Little Brother Michael (with goggles) enjoy posing underwater at Mike Smithers Pool. Event: BBBS November 2007 Monthly Activity.
Photo credit: Sharli Maree Hayter
On the giving end, "Big Brother" Cyrus gives to his "Little Brother" Michael who says "I like hanging out with someone who is just for me, and we have fun doing boy things. Cyrus is awesome!"
On the receiving end, "Big Brother" Cyrus says, "Just hanging out with a kid like Michael does me more good than him. My 'Little Brother' Michael "is teaching me to be less uptight and be a kid again."
Cyrus goes on regarding the magic element in their match relationship as he experiences "a real sense of being looked up to. Having a male friend in Michael's life is definitely a good thing, since Michael comes from a family with all women."
As you can see, this is a relatively "new" match, and already they've enjoyed so many activities: Fishing, movies, hiking, video games, and Cyrus attended Michael's birthday party. Cyrus says, "Michael is always eager to go every time I come over. He's very intelligent and outgoing, and he's full of energy."
Cyrus and Michael also had fun going to the senior carnival at Kayhi. And, Cyrus hints he has a lot in store for their future meetings, especially when the weather improves.
"Though Michael was signed up for a little over a year before being matched with Cyrus, BBBS did an excellent job at matching," Michael's mother says. "Almost immediately, I noticed how many similarities Cyrus and Michael share, and I'm excited to see how their bond progresses. While they have only known each other a little over a month, they get along as if they had known each other for years."
Corroborating her sentiments, Cyrus states, "BBBS definitely does its homework on matches. Just a month in, and I'm having no regrets. The program asks only a little of 'Bigs' - just four hours a month."
Michael's mother sums up all the positive things she has noticed: "It's easy to say they make a perfect Big-Little match. Cyrus truly wants to spend time with Michael because he wants to get to know him. I know that this will result in Michael becoming the best young man (full of self worth and confidence) he could possibly be. Cyrus is a role model that Michael has always deserved to have."
Sound like fun? Join Big Brothers Big Sisters program and add a little magic to your life. Capture fun moments with your "Little." Get involved. Call 907-247-3350.
Little Moments, Big Magic, Huge Impact!
On the Web:
Big Brothers Big Sisters of Southeast Alaska
http://www.southeastbigs.org/


Publish A Letter on SitNews
Read Letters/Opinions
Submit A Letter to the Editor
SitNews
Stories In The News
Ketchikan, Alaska