Match of the Month
By Nancy Coggins
August 31, 2006
Thursday

Ketchikan, Alaska - "Big Sister" Jessica and "Little Brother" Patrick, who are matched in the School Program of Big Brothers Big Sisters of Southeast - Ketchikan (BBBS of SEAK - KTN), share little moments of big magic. On Fridays, their favorite activities range from swinging at recess, reading a book, and drawing or creating other artwork inside the classroom. Patrick just loves his sign, "Patrick's Room," that they colored together.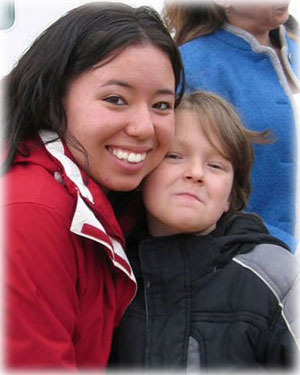 "Big Sister" Jessica and "Little Brother" Patrick
On Ketchikan docks before boarding Sun Princess cruise ship
BBBS of SEAK - KTN Monthly Event
Photo by Nancy Coggins

Using a school laptop, the two of them learned how to build a PowerPoint presentation about killer whales. There was Patrick, teaching his "Big Sister" how to change the background colors on each screen to give the project a uniform look.
At the top of Patrick's Mom's list of match values is that he has someone who is older and mature to look up to. Safe activities are also important.
Whenever Jessica visits school, Patrick's face brightens, as he's happy to see her. During the summer, on a chance meeting outside the movie house, Patrick gave her a huge hug and said he misses her on Fridays.
One adventure for Jessica was Patrick's end-of-the-year class trip to the beach. They found crabs, starfish and a whole bunch of other sea creatures. And she enjoyed playing on the beach with his friends.
Jessica sums up her experience with Patrick: "This match with Patrick has been wonderful. He has brought a lot of fun and happiness into my life. The experience is very rewarding not only for me but also for Patrick. He's a great kid. I love knowing that he's excited to see me just as much as I am to see him."
Sound like fun? Join Big Brothers Big Sisters program and add a little magic to your life. Capture fun moments with your "Little" during the 2006/2007 school year; there are many waiting for a "Big" like you! "Bigs" in the Ketchikan School Program meet with their "Littles" at school for an hour once a week during the school year.
Get involved. Call 907-247-3350.

On the Web:
Big Brothers Big Sisters of Southeast Alaska
http://www.southeastbigs.org/

Nancy Coggins is a freelance writer living in Ketchikan, Alaska.


Publish A Letter on SitNews Read Letters/Opinions
Submit A Letter to the Editor
SitNews
Stories In The News
Ketchikan, Alaska