Match of the Month: July 2008
Norm & Jerry
By Nancy Coggins
July 07, 2008
Monday

Ketchikan, Alaska - "A perfect match!" is how "Little Brother" Jerry feels about being matched with his "Big Brother" Norm in Ketchikan, Alaska Big Brothers Big Sisters (BBBS). Jerry adds, "Norm is a great guy to be with. He is a good role model. He always knows exactly what to say."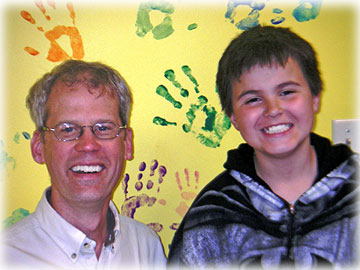 Big Brother Norm (Left) and Little Brother Jerry pose in front of Big Brothers Big Sisters' "Matched Hands Wall" in Ketchikan, AK.
Photograph by Joann Flora, Community Coordinator of Ketchikan, Alaska's Big Brothers Big Sisters of Alaska
You may be asking how on earth can there ever be a perfect match? Independently, Norm agrees: "Jerry is fun to be with and polite. He enjoys trying new things. He is a great kid, and we get along very well together. Joann [BBBS Community Coordinator] did a fabulous job of matching the two of us."
Jerry's mother says, "Norm has been the best thing that has happened to Jerry. He is a good man who totally respects him. Norm is funny - has us rolling on the floor."
Norm mentions his Match schedule. "We meet every Wednesday after school, but sometimes on the weekend instead. Having a regular planned time gives us something to look forward to."
On a recent sunny day when the Match took a skiff to Naha, Norm says it marked the first time Jerry had "been out in a boat smaller than the ferry!"
And of that experience, which included a hike all the way to Orton Ranch, Jerry said, "That was really fun. Now I know what a door feels like."
Soon after, came kayaking with BBBS, its May Monthly Activity for "Bigs" and "Littles." Other fun things Norm and Jerry have enjoyed: Playing basketball, ping-pong and air-hockey, sledding in the snow, beachcombing on Rotary Beach, board games, an art project and a homework project about the planet Mercury.
April's BBBS Monthly Activity of a tour and lunch aboard the Coast Guard cutter Acushnet provided many unfolding adventures. Their favorite mini class that day involved trying on the firefighting equipment and, with the lights turned out on that part of the ship, learning how to use the infrared detector.
A match is magic!
Norm says, "I have been a bit surprised by how much fun it is to do things with Jerry, even when I am tired. And I don't always have a 'plan' about what we are going to do, but we usually figure out something fun to do together. Sometimes I just take him along when I am running errands in town and he seems to enjoy that too."
Norm's feelings about the Match: "I feel great about it. The group activities are awesome: They introduce the 'Littles' and 'Bigs' to other people and are usually great fun. My advice to adults who are thinking about becoming a 'Big' is 'Just do it! It is a lot more fun than you are expecting.' This is one of those things that is really worth doing, no matter how 'busy' you are."
Sound like fun? Join Big Brothers Big Sisters program and add a little magic to your life. Capture fun moments with your "Little." Get involved. Call 907-247-3350.
Little Moments, Big Magic, Huge Impact!


On the Web:
Big Brothers Big Sisters of Alaska
http://www.southeastbigs.org/


Publish A Letter on SitNews
Read Letters/Opinions
Submit A Letter to the Editor
SitNews
Stories In The News
Ketchikan, Alaska