Match of the Month
Story and photo by Nancy Coggins
May 22, 2006
Monday

Ketchikan, Alaska - If you thought only guys slapped High Fives, think again. There they were, "Big" Lu and "Little" Janet, enjoying a moment of connection, engaging in that familiar hand-slapping motion.
Lu meets Janet at school either to share lunch and recess, or later in the day to do projects together. They enjoy a wide range of activities from sports to drawing.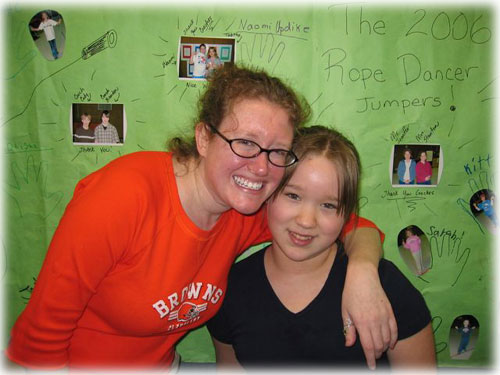 "Big Sister" Lu and "Little Sister" Janet
Little Moments, Big Magic.
Photo by Nancy Coggins

Favorite, shared sports at recess are playing basketball, doing pull-ups on the jungle gym, and running laps on the straight strip. On the jungle gym Lu and Janet play "shark" with her friends, and Lu admires Janet as she does her flips.
Their end-of-the-day projects have included watching Lorax on Dr. Seuss Day and following the progress of two Iditarod mushers, Jeff King and Mitch Seavey, on their trip to Nome. Yet one day turned out to be extra special for Lu because she went to hear Janet sing with the kids' choir as part of the Jazz and Cabaret program through First City Players. She said she felt such pride watching her (as if she were a member of her own family) -- "an amazing feeling."
Janet, who loves drawing on paper with pencils and markers, and who has been drawing dachshunds after the likenesses of her own dogs for quite a while, taught Lu how to draw a dog. How cool is that? But whenever Lu arrives at school, Janet feels that that is "very cool."
Lu finds magic in being able to act like a kid again, doing things she wouldn't normally do. Lu says, "I love it that I am able to make Janet feel special and that I can make her laugh."
Bottom line, as expressed independently by each of Janet's parents, "Janet likes Lu coming to visit at school and hanging out." Connecting is what a match of a "Big" with a "Little" at Big Brothers Big Sisters (BBBS) is all about. BBBS national motto: "be a friend, be a mentor, just be there."
"Bigs" in the Ketchikan School Program meet with their "Littles" once a week, and they do whatever interests both of them. Get involved. Call: 247-3350.
On the Web:
Big Brothers Big Sisters of Southeast Alaska
http://www.southeastbigs.org/

Nancy Coggins is a freelance writer living in Ketchikan, Alaska.


Publish A Letter on SitNews Read Letters/Opinions
Submit A Letter to the Editor
SitNews
Stories In The News
Ketchikan, Alaska