Match of the Month: March 2007
By Nancy Coggins
April 12, 2007
Thursday

Ketchikan, Alaska - - "It was just one of those days that ended up being a great time!"
One of their favorite days together started at Ketchikan's Blueberry Arts Festival when "Big Sister" Sara and "Little Sister" Kayla walked around for hours, participating in all its activities. Kayla thoroughly enjoyed the pie-eating contest, getting all messy with her friends. Then they walked all over town and ended up going to the movies.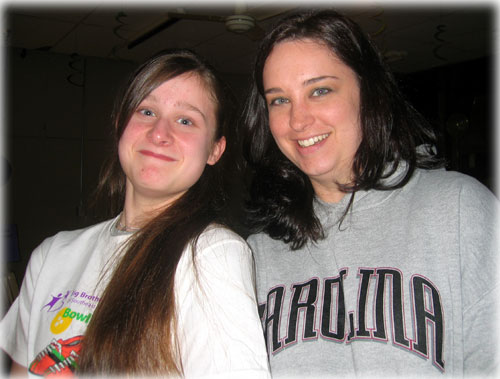 "Little" Kayla (on the left) and "Big" Sara (on the right) bowled together in Ketchikan's 4th Annual Big Brothers Big Sisters Bowl For Kids' Sake annual fundraiser, March 11, 2007 - "Bigs and Littles" Team
Photo by Nancy Coggins

Kayla's mom considers the pair "a match made in heaven." She feels that since Kayla has had the opportunity to be a part of a Big Brothers Big Sisters (BBBS) Community Match, she has blossomed and come out of herself. She says, "Kayla has benefited so much. The match gives her a chance to talk about life and things in general with someone different from the family."
Sara and Kayla enjoy doing just about anything. Fashion-conscious Kayla got a kick out of the "Out of Line" Wearable Art and Runway Fashion Show. Such community-supported events in Ketchikan plus the spontaneous ones Sara and Kayla dream up become the vehicles that help create their healthy one-on-one Big/Little relationship
and the mentoring goes on.
The "Big's" bonus? Mentor Sara receives some extra magic in her life: "Since I'm relatively new to Ketchikan, it's nice to have a great new friend like Kayla in my life. I'm lucky that we are matched! I enjoy spending time with Kayla, who is a very sweet and caring person. We have a great time together! Each time we see each other, I like to hear about how things are going and improving for her."
Sound like fun? Join Big Brothers Big Sisters program and add a little magic to your life. Capture fun moments with your "Little." Get involved. Call 907-247-3350.

On the Web:
Big Brothers Big Sisters of Southeast Alaska
http://www.southeastbigs.org/


Publish A Letter on SitNews
Read Letters/Opinions
Submit A Letter to the Editor
SitNews
Stories In The News
Ketchikan, Alaska