Match of the Month: February 2007
By Nancy Coggins
March 09, 2007
Friday

Ketchikan, Alaska - Big Brothers Big Sisters meetings between "Bigs" and "Littles" require only a little pre-planning and material. After that, all it takes is doing what comes naturally. For "Big Brother" David and his "Little Brother" Isaiah, one of their best activities turned out to be pitching rocks over the water at Settlers' Cove. Yes, that day, Isaiah learned how to throw.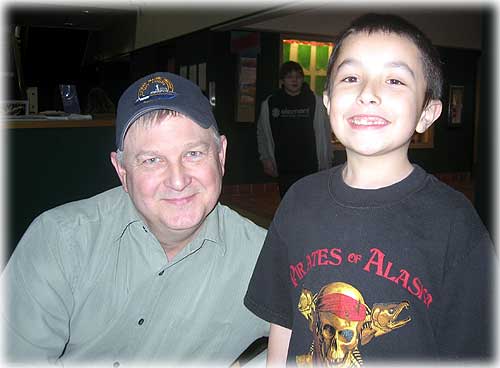 "Big Brother" David and his "Little Brother" Isaiah
Photograph by Nancy Coggins

Isaiah's mother Kim said, "Being part of a match doesn't take a lot of time or effort. Sacrificing one hour in front of the TV [once a week] would be just about all it would take for prospective 'Bigs' to apply to become part of a match."
For David and Isaiah, beach combing at Settlers' Cove and Refuge Cove has also proven to be one of their favorite activities.
Ward Lake is another draw for them, and Isaiah is learning not to get flustered when the ducks don't come when he calls. Sometimes David and he just walk around the lake. Other times they just hang out at a picnic table and talk. They look forward to going fishing this summer, perhaps from a kayak.
The magic for this "Big" is seeing a boy grow, change, develop and learn new things. David says, "I am proud to be there for Isaiah."
Big Brothers Big Sisters staff support "Bigs" whenever necessary.
Kim can't say enough good things about the match. "Isaiah feels special that someone comes to see him. It has made a big difference in Isaiah to have a positive male role model, a 'brother,' and a guy to hang out with and talk to, and, during their meetings, he gets a guy's perspective. Isaiah refers to David as 'my brother,' and talks about him all the time."
"Their match," Kim goes on, "is good for the whole family. After an hour with David, Isaiah is in a really good mood."
Sound like fun? Join Big Brothers Big Sisters program and add a little magic to your life. Capture fun moments with your "Little." Get involved. Call 907-247-3350.


On the Web:
Big Brothers Big Sisters of Southeast Alaska
http://www.southeastbigs.org/


Publish A Letter on SitNews
Read Letters/Opinions
Submit A Letter to the Editor
SitNews
Stories In The News
Ketchikan, Alaska