Match of the Month
By Nancy Coggins
February 23, 2006
Thursday

Ketchikan, Alaska - Meet "Big Sister" Miriam and "Little Sister" Pauline. They've been matched for over a year and have fun doing everything from participating in an intergenerational party at the Pioneers' Home and other Big Brothers Big Sisters'-sponsored events, to walking together in the Mall, to shopping for groceries, to eating out -- especially savoring Chinese fried rice, one of their favorites. In fact, since both love to eat, dining often precedes their meeting activities.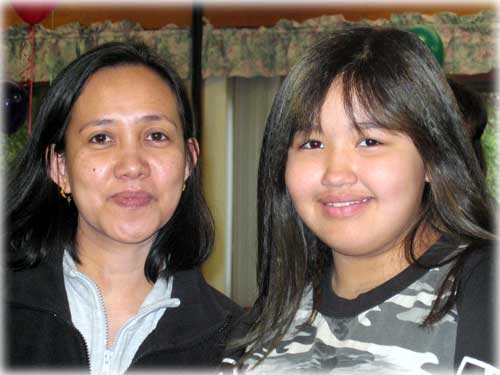 "Big Sister" Miriam and "Little Sister" Pauline
Photo by Nancy Coggins

Miriam and Pauline look forward to seeing each other at least once every three weeks. Pauline's "Big Sister" has taught her the social grace of eating properly. Teenager Pauline also receives plenty of praises for her cleanliness, socially acceptable way of dressing and neatly manicured nails. Positive comments have helped her build self-confidence.
According to her mother, one of Pauline's favorite activities with Miriam is talking while they walk around in the Mall. Also, going to the movies. With each succeeding month they have been matched, she notes, Pauline increasingly has had more to say.
Pauline's mother says, "The Match is wonderful. And Pauline always looks forward to her meetings with Miriam. Pauline likes Miriam and considers her a nice lady."
Miriam: "My match with Pauline in Big Brothers Big Sisters (BBBS) has given me the magic of a new friend. We enjoy each other's company. And if Pauline is unable to make a BBBS event (such as the tour of the Navy Ship, USS Ogden), I attend anyway to satisfy my own curiosity."
Sound like Fun? Join the Big Brothers Big Sisters program. "Bigs" in the Ketchikan Program meet with their "Littles" two to four times a month and they do whatever interests both of them. Call 907-247-3350.
On the Web:
Big Brothers Big Sisters of Southeast Alaska
http://www.southeastbigs.org/


Nancy Coggins is a freelance writer living in Ketchikan, Alaska.



Publish A Letter on SitNews Read Letters/Opinions
Submit A Letter to the Editor

SitNews
Stories In The News
Ketchikan, Alaska