Match of the Month: January 2007
By Nancy Coggins


January 29, 2007
Monday

Ketchikan, Alaska - Ketchikan's Big Brothers Big Sisters' Match of the Month for January 2007, "Big Sister" Mylene and "Little Sister" Kym look forward to their weekly meetings during which they have lots of relaxing yet vibrant times together in the BBBS Ketchikan Community program. They had fun at a craft night at the library, helping to make cloth stars to raise money for the Friends of the Library's goal of a new library.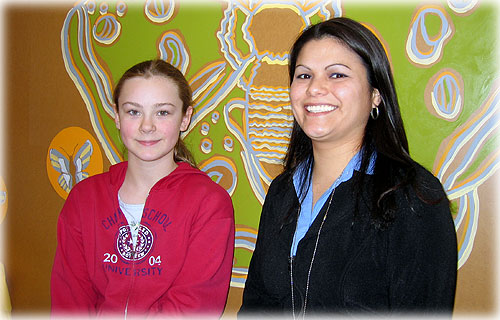 "Big Sister" Mylene and "Little Sister" Kym
Photograph by Nancy Coggins

What a Big does with his/her Little is an open-ended choice as long as it's safe and healthy for the child. Mylene and Kym's more athletic activities have included ice skating at Ward Lake and winning a Tiki trophy for a relay race staged at Mylene's company picnic.
There are so many things to do in Ketchikan - even in the winter - and Mylene and Kym have just begun to scratch the surface. They've attended a local concert and the play "Oliver," gone to see the "Ant Bully" movie, and participated in the BBBS cruise ship luncheon. They have also had fun at a BBBS campfire on Refuge Cove beach, potting plants, playing Scrabble®, making Christmas crafts and going to the Blueberry Festival.
Did you notice how many times the acronym BBBS crops up? Every month, both the BBBS Coordinator and the Match Support Specialist Amy Lloyd sponsor an activity for the matches in the Community Program. The January BBBS Monthly Activity is "A Day At The Rec Center!" when the matches can choose their own activities and enjoy a light snack. Amy creates a monthly newsletter for Bigs that lists "Ideas and Things to Do" as well as "Community Events." Her "Notes" at the end contain all kinds of encouragement and helpful suggestions.
In addition to doing things together in the community, every Friday, Mylene and Kym meet at Kym's school to share lunch. Many Bigs and Littles in the School Program have an opportunity to meet for an hour. With the teacher's okay, Bigs either participate in recess, look in on classes or meet the child at lunch or after school to play or work on school-related projects. Four times a year, the BBBS monthly activity includes the School Program participants and their families.
A BBBS match is a very creative process - like Kym finding out that she did fit into one of the many pairs of ice skates they had purchased at garage sales so she could go ice skating on Ward Lake - if only for 15 minutes!
Whatever happens, it's almost a 100% guarantee that you or another Big will experience more enjoyment, happiness and fun than you would dare to dream! Doing things together, Mylene and Kym generate these kinds of positive feelings and you can too.
Mylene says, "I feel special not only because I share my time with Kymberly, but also that she is willing to share time with me. We get along really well." She goes on to say. "I feel positive that Kymberly and I will have a friendship for a long, long time."
You may be key to Big Brothers Big Sisters (BBBS) of Ketchikan, finding other "Bigs" here in our town. There are about 20 prospective local "Littles" waiting to be matched with "Bigs," and probably you or some of your neighbors, friends and relatives would be just great with those "Littles."



On the Web:
Big Brothers Big Sisters of Southeast Alaska
http://www.southeastbigs.org/


Publish A Letter on SitNews
Read Letters/Opinions
Submit A Letter to the Editor
SitNews
Stories In The News
Ketchikan, Alaska