Recognition
BBBS Match of the Month
Karen and Terri Jean
By NANCY COGGINS
January 21, 2009
Wednesday

Ketchikan, Alaska - The match of "Little Sister" Terri Jean with "Big Sister" Karen within Big Brothers Big Sisters (BBBS) is a relatively new match. As their story unfolds, you'll notice a child whose trust in her adult mentor increases with each successive shared activity.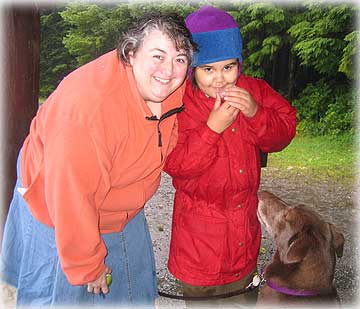 "Big Sister" Karen (Left) and "Little Sister" Terri Jean thoroughly enjoy BBBS Annual Picnic at Ward Lake, a BBBS monthly activity.
Photograph courtesy BBBS
Picnicking at Ward Lake with other "Bigs" and "Littles" becomes an adventure for Karen and Terri Jean -- they had the opportunity to play with the BBBS Program Coordinator's dog. To Terri Jean's delight, with her constant tossing of the ball for the dog, the dog retrieved it every time. Karen says Terri Jean had "such an amazing time with me and the dog as we shared watching the dog having adventure also!"
Terri Jean's Auntie's comments about the BBBS program: "We all are so thrilled and blessed that Terri Jean could have a companion as a Big Sister. Since the Big Sister has come into her life, she has changed. Terri Jean smiles more and is more pleasant. She has improved in her school work. Having a Big Sister for Terri Jean is the best thing that has happened to her."
Karen cites positive changes. "I have seen a difference in Terri Jean's attitude. She has really blossomed with her smile and disposition towards other people. She is more excited on each visit that we have together. Terri Jean is always anxious to choose something that we can do together".
Karen and Terri Jean enjoy all the activities they do together -- hiking around the circumference of Ward Lake, bicycling, beach combing, artwork (with painting in particular), cooking, and visiting the library - and their two favorites are beach combing and cooking. They plan to bake cookies for the Captain of the Aleutian Ballad as part of the BBBS' thank you for his generous donation of a 3.5-hour tour offered to all BBBS matches.
Some reasons "Bigs" and "Littles" join BBBS. Karen applied to become a BBBS Big when she realized her volunteering wouldn't "take a lot of time in donating to a child." Now, having become a Big, she says, "It enables me to give back to the community in a sharing process of investing my time to our youth".
Little Terri Jean reflects a child's point of view, "I wanted someone to have time with, and my Auntie helped. I am able to have a Big Sister to talk to and have fun with."
Though Karen and Terri Jean have been matched for only a relatively short period of time, Karen says, "Terri Jean has been willing to try new activities".
Even the BBBS enrollment process, including its focus on security with background checks of Bigs, proved no deterrent to either Karen or the Little's Auntie. Terri Jean's Auntie says, "I think it is very good as it keeps our community safe and protects everyone".
Karen responds, "I have no problem with the [BBBS] background checks, and I know that it provides for a healthier and safer community for us all to live in!"
Karen describes some of the magic of participating as a Big Sister in BBBS, "Terri Jean is always so joyful in seeing me or [talking with me] when I call her on the telephone. I especially like her asking questions about life and wanting to know more about how things work! For her, her why questions bring out much growth, and she sees the world around her better. My Little brings much sunshine into my life with her beautiful spirit and smile she is always sharing with me".
Karen and Terri Jean were selected as BBBS' Match of the Month for September 2008.
Sound like fun? Join Big Brothers Big Sisters program and add a little magic to your life. Capture fun moments with your "Little." Get involved. Call 907-247-3350. Changing lives, changing communities!

On the Web:
Big Brothers Big Sisters of Alaska
http://www.southeastbigs.org/


Publish A Letter on SitNews
Read Letters/Opinions
Submit A Letter to the Editor
SitNews
Stories In The News
Ketchikan, Alaska