Recognition
Big Brothers Big Sisters Match of the Month
RK Rice and Tanner
By Susan M. Jaqua

January 12, 2010
Tuesday

Ketchikan, Alaska - When I spoke to RK Rice about his match with his Little Brother, Tanner, he described a recent outing at Ward Lake. "It was an idyllic day; there were eagles flying and squirrels and all sorts of things to watch and both of us were just grateful for the time." When I asked Tanner about the day, he had a different perspective. "RK was running all over the place turning over stumps and looking under mushrooms for bugs and grubs. He found some; they were so disgusting, but then he showed me how to feed the fish with them. That was sort of interesting, but those bugs were just icky."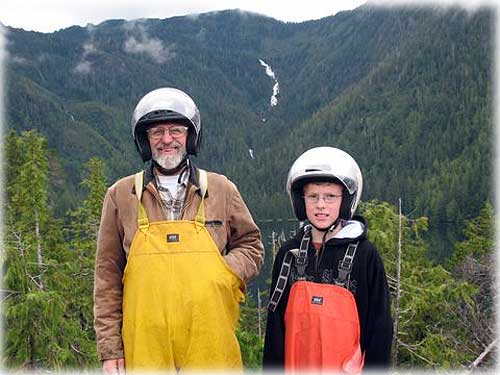 Big Brother RK Rice with his Little Brother Tanner
Photo courtesy Big Brothers Big Sisters

From day one, it seems like this pair were destined to be a match. When Big Brother RK Rice and his Little Brother, Tanner were matched in April of this year, it quickly became evident that this match was meant to be. Tanner and RK are both swimmers; RK is in the Master Swim Program and Tanner is a member of the Killer Whales; the pair live right across the creek from one another and Little Brother Tanner often crosses the creek to drop in on his Big Brother. But the most amazing thing ­ Tanner's grandmother, Mel1anie Isner, makes her grandson pumpkin pie all the time because "it's his favorite." Neither of them knew it was RK's favorite until he celebrated his birthday recently and out came a pumpkin pie in lieu of a birthday cake! Tanner has learned how to do 'regular guy things' with RK's help and support. They've worked on fixing Tanner's bike, gone fishing, hung out just doing stuff guys do. RK enjoys being a Big Brother. As he so aptly said, "It is a two way street; I get to see the world through a child's eyes again and it also keeps me from being a stodgy old fella." Tanner is appreciative of his Big Brother as well. He said of RK, "He's a person you can talk to and learn from."
Take your cue from RK and Tanner; add some spice to your life ­ make a difference in your life and the life of a child ­ become a Big Sister or a Big Brother.


On the Web:
Big Brothers Big Sisters of Alaska
http://www.southeastbigs.org/


Publish A Letter on SitNews
Read Letters/Opinions
Submit A Letter to the Editor
SitNews
Stories In The News
Ketchikan, Alaska