Cable TV came to Ketchikan 60 years ago
KATV was first station in Alaska
By DAVE KIFFER
December 14, 2013
Saturday PM

Ketchikan, Alaska - Sixty years ago this Fall, long before digital cable and large screen televisions, the residents of Ketchikan were just beginning to experience the first cable television operation in Alaska and one of the first cable stations in the country.

In October of 1953, local entrepreneurs R.D. "Chuck" Jensen and Wally Christiansen started Ketchikan Alaska Television (KATV), a local cable television company.

Both men had come to Ketchikan is the 1940s. Jensen, a former Coast Guard patrol boat captain, operated Ketchikan Instrument Company which sold marine instruments and repaired compasses. Christiansen was a navy veteran and a radio repair technician.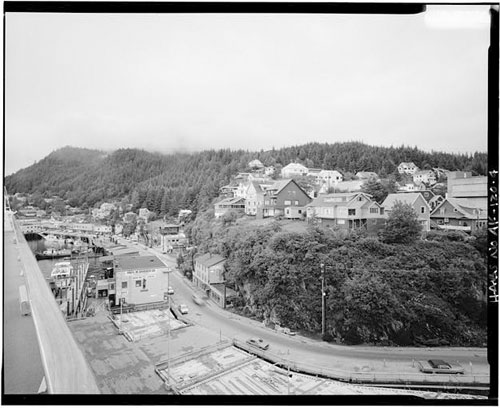 The first location for the new cable television station was a narrow yellow building clinging to the water side of the bluff that the Ketchikan tunnel currently goes through. Originally built in 1914 it survived until it burned down in 2011.
Photograph courtesy Library of Congress
Prints and Photographs Division Washington, D.C.

The technology to produce cable television goes back nearly 100 years, but it was only in the late 1940s that the first cable television services began to blossom.

In the economic boom of the post war years, there was also a boom in the number of new broadcasting licenses. The Federal Communications Commission (FCC) found that many markets were being overrun by new television stations causing overcrowding of the existing channels 2 through 13.

As result, a freeze was instituted on new licenses. The freeze was expected to be short, but ended up lasting more than four years.

In the meantime, entrepreneurs turned to cable systems as a way to enter broadcasting. The cable systems were initially supposed to only rebroadcast existing signals to isolated areas.

Most sources indicate that the first cable television station to go on the air was developed by John Walson in Mahanoy City, Pennsylvania in 1948, quickly followed by Robert Tarlton in Lansford, Pennsylvania. In both cases the systems, were small scale operations just going to a few locations within small communities. Even by the 1950s, there were only a handful of cable stations across the country.

Ketchikan was too small in those days, around 5,000 in population, to support a traditional broadcast television station. And the distances and mountainous terrain made it impossible to pick up signals from elsewhere.

The idea to provide cable TV had been germinating for Jensen and Christiansen for some time and they spent several years studying how other small cable systems worked

"Wally Christiansen was the mastermind for putting this together," Jensen told the Ketchikan Daily News in October of 2003, the fiftieth anniversary of KATV.

"Chuck was the financial operator," Christiansen told the Daily News in 2003. "He obtained the money to make it run and he made enough money to keep it running. He was the financial brain behind it."

They announced their plans to the Ketchikan Public Utilities Board on July 20, 1953.

"A four hour closed circuit television service for Ketchikan may be available here during the next few months it (KPU) makes its poles available for stringing cables and if enough good programs can be obtained from TV makers in the states," the Ketchikan Chronicle reported, adding that the cable proponents expected that up to 700 families could be put on the system and then charged $12 a month for the service.

The difference between the proposed Ketchikan service and similar systems down south was how it would access the programming. In other places, cable system would intercept over the air broadcast signals and then rebroadcast them. But Ketchikan – at the time – was too remote to receive television signals so it would have provide "canned" programming. It would rebroadcast programming that was produced and recorded elsewhere, therefore it would not be "live" programming, unless it was something they filmed in Ketchikan.

There was immediate interest in the community for a new entertainment option and the City Council spent several meetings discussing the best way to proceed.

Ironically, that interest did not extend to the publisher of the Ketchikan Chronicle, Bill Baker. Baker, who would later become a fixture on local television, was initially skeptical of the venture and said so in editorials in the Chronicle.

Baker called television "much overdone and therefore a bad influence on the average American home."

He noted that what Alaskans most wanted to see was "live" coverage of the major world events such as "the coronation, the political conventions, the sessions of the United Nations and the big sports events."

Until the proposed local cable station could provide those things, Baker said, it would not fill a need.

"The long winter evenings here would seem to be adaptable to TV reception. But unless (TV) can offer something really new and useful, we can continue to get along with our present amusements."

Within a decade, Baker's "Totemland Topics" a news and gossip program, was the most popular show on KATV.

By the end of the summer of 1953, KATV had reached an agreement with the city to lease space on the KPU poles for $3 per pole per year.. According to an article in the Ketchikan Daily News, that was twice what other cable systems paid for rent in other communities. In September, KATV announced it planned to be up and running by no later than November 10, although it hoped to be operating as early as mid-October.

Baker was still not done trying to dampen the idea of local television. On Sept. 14, he wrote, incorrectly, that KPU had so little extra power to sell that the "several hundred watts of power" that each of the new televisions would use could potentially black out the community. That drew a quick response from local authorities, which was then printed in the Chronicle.

"A city official today pointed out, in response to a Chronicle editorial last night, that a television set may mean an overall reduction in power consumption, rather than increasing it. A TV set will draw 150-200 watts of power, which is less than an average reading light. When the family is watching TV it usually turns down the other lights…thus effecting a saving in power consumption."

If Baker was skeptical, local appliance stores were not. Service Electric advertised 21-inch televisions for $379.95. Southeastern Electric Company advertised 17-inch televisions for $199.95. Smith Electric promoted 21-inch televisions for $365.

The first location for the new cable television station was a narrow yellow building clinging to the water side of the bluff that the Ketchikan tunnel currently goes through. Originally built in 1914, that building survived in a variety of guises well past the turn of current century, but was finally torn down in 2012 after being gutted by a fire in 2011.

Eventually, KATV became too big for the little yellow building and moved into a building on Main Street that was later torn down when new police station was built in the 1980s. In the 1960s and 1970s, it was possible to walk past the Main Street building and watch KATV programs being filmed, along with KTKN radio shows.

In October of 1953, the city council approved the lease agreement and cables began being installed. According to former University of Alaska-Ketchikan history professor, Michael Dunning, downtown Ketchikan was "wired" by October 30th.

"KATV did not make its November 10th promise, but it came close," Dunning wrote in 2000.
"On the 12th, the station ran test patterns and announced the first ever TV seen in Alaska."

A "premier" was scheduled for Nov. 15, but then cancelled because some of the necessary equipment wasn't ready.. A second premier was scheduled for the Elks Club on Nov 17 and 18. According to Dunning, a total of 16 sixteen television sets then existed in Ketchikan.

Also during the Elks Club "premier" local TV dealers had 18 television sets on display for the audience, which was treated to "American Barn Dance, a boxing match and a dramatic story," according to Dunning.

Shortly after, cable television was soon being piped into nine bars, the Eagles Club and the local television dealers. An Anchorage station had also been attempting to get on the air in November, but its first broadcast was delayed until December, giving Ketchikan the honor of the first system in the state.

The first airing outside of the Elks Club was at the Sourdough Bar, according to a 1978 Ketchikan Daily News article written by Lew Williams Jr. in honor of the 25th anniversary of the cable system.

Williams wrote that even Christiansen and Jensen seemed surprised that the transmission system, which featured equipment that was hand made by the two entrepreneurs, worked. The only thing not made in Ketchikan was the camera. The camera itself cost $5,000, Christiansen told the Ketchikan Daily News in 2003.

When first signal arrived in the Sourdough Bar, Christiansen rubbed his head and said "Well, I'll be damned" according to Jensen.

Although there was interest initially, KATV did not draw the viewership the men had predicted.
"It was slow going getting started because not only did people not know what we were doing, but we didn't know what we were doing," Jensen told the Daily News in 2003.

In order to help fund the operation, KATV went to local businesses and offered shares of ownership in the operation. Paul Wingren, Ralph Bartholomew and Bill Stump were among those who signed on to help support KATV in its infancy, Jensen told the Daily News.
For the first decade of service, KATV continued to broadcast delayed programming, nearly all of which was filmed in Seattle and then shipped to Ketchikan. Rather than mess up national television schedules, most programs were rebroadcast in Ketchikan on the same day, two weeks later, than they were broadcast in Seattle. National news programs were broadcast on the same day, the following week.
KATV also provided local programming to fill air time. For example, every Thursday night at the Elks Lodge Hall, they broadcast "amateur night" which featured a variety of local performers. They also broadcast interviews with local newsmakers and others. A televised bingo game was also a popular local program in the early years.

Among the popular non local programs were professional wrestling (a favorite of Christiansen's), the "Mickey Mouse Club," "Life with Elizabeth" and "Liberace." Everything they put on the system then was 16 millimeter films because video tape had not been invented. They also broadcast documentaries and travelogues over the cable system.
Jensen told the Ketchikan Daily News in 2003 that it was expensive in the beginning to purchase programming for rebroadcast but he fondly remembered getting a break from one company which had some 3,000 titles available.

When the company rep asked Jensen how many titles he wanted, Jensen replied "All 3,000" and got a significant discount.

From the beginning, KATV was looking at ways to hook into a live television signal and in the early 1960s, it tried to work with Canadian broadcasters in Terrace and Prince Rupert. But, Jensen told the Daily News in 2003, the FCC delayed their efforts.

It wasn't until 1967, when the North Tongass TV Association put up an antenna on High Mountain on Gravina to intercept broadcasts from Prince Rupert,that Ketchikan began to get live Outside television for the first time.

Even by the time of the 25th anniversary in 1978, television offerings had expanded in a way that current cable users would consider primitive.

"From one black and white channel operating 3 ½ hours daily, it (has) expanded to four full color channels operating 18 hours a day with a large portion of live programming," Williams wrote in 1978. KATV soon expanded to more than 10 channels with some on 24 hours a day and the familiar test patterns and National Anthem signoffs began to disappear from the local airwaves.

Two years later, in 1980, Jensen and Christiansen ended what was one of Ketchikan's longest running business partnerships when they sold KATV and its sister station SATV in Sitka to McCaw Communications in Seattle. By 1996, GCI owned the company that continues to provide cable television service to Ketchikan.

Over the next few decades, satellite technology improved and soon all of Ketchikan's television programming was live. But after the late 1970s, little was locally generated, until 1994 when the Ketchikan Daily News began broadcasting a local low power signal over UHF. That effort eventually ended but in the 2000s. KPU itself began broadcasting locally developed programming which continues to this day.

After selling KATV, Christiansen and his family eventually moved to Hawaii. They frequently visited Ketchikan. They moved to Montana where Christiansen died in Billings in 2009 at the age of 85.

R.D. "Chuck" Jensen moved to Arizona in 1980, but returned to Ketchikan nearly every summer thereafter. He died November 1, 2013 in Scottsdale, Arizona at the age of 100.
On the Web:
Columns by Dave Kiffer

Historical Feature Stories by Dave Kiffer
Dave Kiffer is a freelance writer living in Ketchikan, Alaska.
Contact Dave at dave@sitnews.us
Dave Kiffer ©2013

E-mail your news & photos to editor@sitnews.us


Publish A Letter in SitNews Read Letters/Opinions
Contact the Editor
SitNews ©2013
Stories In The News
Ketchikan, Alaska

Articles & photographs that appear in SitNews may be protected by copyright and may not be reprinted without written permission from and payment of any required fees to the proper sources.