The King of Ketchikan, Circa 1940
Salmon industry lobbyist one of the most powerful men in Alaska
By DAVE KIFFER
September 16, 2019
Monday PM


(SitNews) Ketchikan, Alaska - From the 1930s to the 1950s, Winton C. Arnold was the most powerful man in Ketchikan. By some accounts, he was one of the most powerful men in Alaska.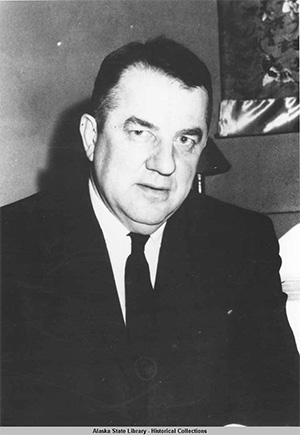 Winton C. Arnold
Courtesy Alaska State Library - Historical Collections
"Judge" Arnold was not an elected official. He was an attorney and a lobbyist, a very good one. His steadfast representation of the canned salmon industry - then Alaska's largest industry - is credited by some with delaying statehood for Alaska by nearly two decades. The salmon canning industry opposed statehood because it preferred working with the federal government, which was much more easily manipulated in ways favorable to the industry.

Arnold was born in Walla Walla, Washington in 1903. He later moved to Idaho and studied law at the University of Idaho, graduating with a specialization in mining law in 1924.

In her 2017 book about Alaska territorial judges and lawyers "The Biggest Damned Hat," Pamela Cravez devotes a chapter to Arnold calling him "Alaska's most powerful lobbyist." She noted that Arnold quickly became discouraged by his prospects in Idaho and, while working for US Sen. William E. Borah who headed the Senate committee that oversaw Alaska, decided to make his mark in the territory. Borah gave Arnold a letter of introduction to various Alaskan political leaders. Arnold came north in 1927.

"Arnold arrived in Juneau and used his political connections to get his first job as handyman and guard at the territorial jail," Cravez wrote. "But when gold was discovered at Hyder and the US Commissioner's post opened up there (Arnold) was appointed to the post."

Because his tenure in Hyder frequently required sitting as a judge to deal with mining disputes, Arnold was referred to as "Judge Arnold" for the rest of his life. His close friends called him "Bill." His opponents often called him "Fish Arnold."

When the mining activity slowed in Hyder after a couple of years, Arnold got himself appointed US Commissioner in Ketchikan, then the regional center for the booming canned salmon industry and briefly the largest town in the state. He also served as Justice of the Peace, Coroner and Magistrate.

"Arnold could see that while gold could be an unsteady commodity, salmon provided a constant source of income for the territory," Cravez wrote. "The entire physical and economic structure of Ketchikan rested on it, and Ketchikan was thriving....Arnold decided that Ketchikan's economy would not slow easily, as had Hyder's, and he scouted out a position in private practice."

In 1932, Ketchikan attorney Lester Gore was named district judge for Nome and he turned his Ketchikan legal practice over to Arnold. Gore had often represented the canned salmon industry. Arnold took those connections, ran with them, and soon became the industry's most indispensable advocate.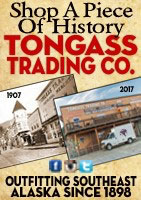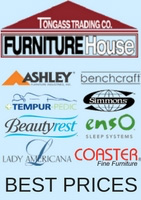 In short order he became a common face at virtually every governmental fisheries hearing, either in Alaska or in Washington D.C. He soon became such an expert on catches and seasons that he was often at the table when the regulators decided the rules under which industry would operate. He usually knew more than the people charged with managing the industry and, as a result, whenever new rules came out they almost always favored the industry.

Arnold was most aware of protecting the primacy of the Organic Act of 1912 which forbade the territorial legislature from passing any laws that would "alter, amend, modify or repeal any federal laws relating to the fisheries of Alaska."

This was not an idle concern. As early as 1935, the territorial legislature began sending requests to the federal government asking it to ban fish traps. The territorial legislature approved the ban 24-1 in 1935. But with Arnold already whispering in its ear, Congress took no action

The State of Alaska history website mentions Arnold several times.
"John Butrovich, a long time territorial and state senator from Fairbanks, once told a reporter that Arnold was exceptionally capable," according to the website.
"You couldn't be that good and not be smart," Butrovich said. "He was the best I saw, in my time, and I was there for 30 years. And I'm looking at it from the other side."
"Butrovich opposed Arnold's work to continue the advantages of the canned salmon industry - including big tax breaks - in Alaska. Many said Arnold stopped any tax reform legislation for a decade in the territorial Legislature. He became the most effective and articulate opponent of Alaska statehood," the website concludes.
In the 1930s, Arnold often clashed with Alaska's territorial congressional delegate, Anthony Dimond.
"When it came to Alaska fisheries, Anthony Dimond and W. C. Arnold didn't see eye-to-eye very often," Historian Ross Coen wrote on the Alaska Historical Society website in 2013. "As the territory's congressional delegate from 1933 to 1945, Dimond advocated local fisheries management, a hiring preference for Alaska residents, and the abolition of fish traps. As lawyer and lobbyist for the Seattle-based packing industry, Arnold opposed all of those things. On at least one point, however, the two men were in full agreement."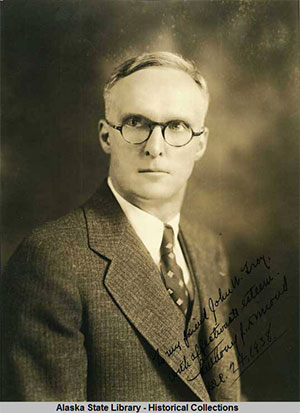 Signed portrait of Anthony Dimond, Delegate to Congress from Alaska, 1930s.
Courtesy Alaska State Library - Historical Collections
That point was a shared opposition to a Japanese fishery incursion into Bristol Bay in 1937 that both men feared, if unchecked, would allow foreign fleets to chase Alaska salmon runs all the wayt back to the mouths of the Alaskan streams. Their joint lobbying eventually persuaded the US government to step in and extend territorial boundary limits to protect the fisheries.
Arnold also served on the Alaska Territorial Planning Council from 1937 to 1941 and from 1941 to 1945 as the chairman of the federal Salmon Consultant Committee, which made sure that the canned salmon was Alaska's significant contribution to the World War II war effort, especially for meals to the troops. Over fishing - primarily from the fish traps that Arnold so aggressively promoted for their "efficiency" - had caused the industry to retrench by the late 1930s, but the sudden market of millions of GI's allowed the industry to stave off collapse at least into the late 1940s.
In 1945, Arnold became the managing director of Alaska Salmon Industry Inc., a group formed with two specific purposes. One was out in the open, to promote the industry and to limit any attempts at "burdensome" "regulations. The other, delaying statehood, was a little more under the table. That year Arnold moved to Seattle, but was still in Ketchikan and Juneau often enough to look after the industry interests.
The canned salmon industry had always been an opponent of the statehood for the territory. The big canneries preferred dealing with federal regulators far from the fishing grounds. It was always easier to lobby officials in far off Washington D.C. where the ravages of the fish traps were out of sight and out of mind. The industry also found common cause with the Republican leadership in Congress because Alaska was perceived in the 1940s and 1950s as a Democrat leaning area. It wasn't until Hawaii - then perceived as a Republican stronghold - came into the equation that Congress finally moved to approve Alaska statehood in the late 1950s.
"Arnold typically did not say he opposed statehood" the story about him on the state history website notes. "He made a habit, though of pointing out obstacles, such as transportation problems, and the need to settle Alaska Native land claims. He also said Alaska could not afford to become a state because of the additional burdens that it would place on its citizens."
A common Arnold tactic was to note that only 1 percent of Alaska had ever been surveyed and it would take decades to get an accurate accounting of Alaska lands to determine land grants that could support the new government.
"Alaska territorial delegate E.L. "Bob" Bartlett described Arnold as an 'opponent of every progressive proposal for Alaska' and 'a smooth operator -intelligent and with a pleasing personality '," according to the state website. "He hosted private lunches for senators, and made elaborate presentations to show the economic damage that statehood would cause Alaska. Mary Lee Council, Bartlett's administrative assistant, said that by explaining the problems with statehood bills before Congress in an attempt to stop statehood, Arnold's complaints forced Congress to resolve those issues. In that way, Arnold's stalling tactics improved the chances that the state would have the resources it needed for survival. The provisions eventually adopted by Congress gave the new state more than five times as much land as had been proposed in some of the early proposals."
Arnold's staunch defense of the canned salmon industry also brought him into conflict with the proponents of self determination for Alaska Natives. Arnold was particularly concerned that any movement toward Native self-determination would hurt the canned salmon industry's monopolistic control over the salmon runs. Arnold's numerous skirmishes with William Paul were particularly noteworthy, according to Diane Purvis, a historian of the Native civil rights efforts.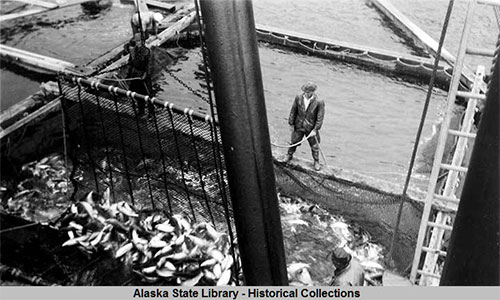 Fish Trap
Collection Name: L.P. Callahan Photograph Collection, 1941-1959
Courtesy Alaska State Library - Historical Collections
"Attorney W.C. Arnold aggressively opposed any reference to Native ownership of valuable resources and had gone head to head with Native leaders for years, particularly the concerns surrounding those voracious fish traps," Purvis wrote recently. "At this time, the cannery companies operated seventy-five traps in the waters surrounding Hydaburg, Kake, and Klawock, the sites in question, and this was big money. As lead counsel for the owners, Arnold called for the hearings to be stopped immediately because the Native's claim to the fisheries or land had "no basis in history or in law" and the "entire proceeding is unfair to the white people of Alaska and the whole United States."
Purvis wrote that Arnold continued to condemnation of the proceedings in the Alaska Fishing News for September 20, 1944:
"…If the Indians claims were recognized, it would result in the confiscation of a major portion of the salmon industry in southeastern Alaska. The result would be to abrogate the long recognized American principle of the common right of fisheries; extinguish the trust in tidelands and submerged lands specifically created by Congress for the benefit of the future state, and deprive the Territory of Alaska of a large part of its tax revenues.'
"When his argument failed to gain traction, Arnold attempted to show that the Tlingit and Haida could not possibly lay claim to these vast fishing grounds because they had abandoned their rights," Purvis wrote. "To substantiate his argument he had the former paymaster at the Klawock cannery testify that no "Indian" had ever protested against encroachment on the fishing grounds and also, never asked for compensation."
Purvis noted that - as with statehood - Arnold's efforts against Native self-determination were only successful as a delaying tactic.
Eventually, though, the tide turned against Arnold and the industry and in favor of statehood. Shortly after the Alaska became a state and immediately outlawed fish traps. Arnold retired from public advocacy and moved to Anchorage to practice law, specializing in public lands, fisheries and admiralty law. His first wife Minnie, had died in 1957 and he remarried, to Vivien Click, in 1961. He died in 1989, while living in the Anchorage Pioneers' Home.
When Cravez visited Arnold in Anchorage in 1982, he politely ignored questions about his lobbying days and the power he exerted in Alaska. He preferred to talk about his early years working in Hyder.
"Fish Arnold, so he was known for his single minded efforts, exerted so much pressure with his silver tongue and heavy pocketbook that he is still credited with killing basic tax reforms for those twenty years and keeping statehood from consideration for as long as possible," Cravez wrote in 2017. "If Arnold ever made Alaskans angry, little of the anger remains. Those who felt his influence remembered him as a smooth operator who knew the weak links in the legislature and exploited them to his advantage."