Only two sitting presidents have visited Southeast Alaska
By DAVE KIFFER
February 22, 2017
Wednesday PM

Ketchikan, Alaska - Since the advent of intercontinental air travel, just about every President of the United States has visited Alaska, at least briefly, with Anchorage and Elmendorf Air Force Base serving as hosts for several carefully choreographed speeches in hangers and elsewhere.
One of the most famous of those "hangar" events was when President Richard Nixon met with Japanese Emperor Hirohito in 1971, the first time that a Japanese emperor had traveled outside of Japan.
Some of the presidential visits have extended beyond the airport, as when President Gerald Ford visited a Trans-Alaska pipeline construction site near Fairbanks in 1975.
Most recently, President Barak Obama spent several days in Alaska and was the first president to travel north of the Arctic Circle and spend time in northern Alaskan villages.
But have Presidents ever made southward it to Southeast Alaska?
The answer is yes.
Both Warren Harding and Franklin Roosevelt passed through Southeast while they were in office.
Harding visited several places in Southeast, including Ketchikan, Metlakatla and Sitka during a lengthy visit in 1923. Harding arrived on the USS Henderson in July with a large entourage that also included future President Herbert Hoover. He visited both Ketchikan and Metlakatla (see "Ketchikan's only presidential visitor back in the news" SITNEWS, Aug 16, 2015) before heading north where he also spent time in Seward and the tent city that was becoming Anchorage.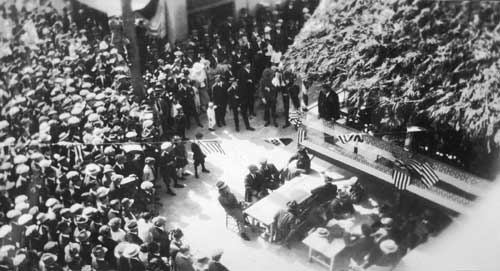 President Harding, July 8, 1923, Ketchikan, Alaska
Donor: Doris Bordine, Courtesy Ketchikan Museums

On his way back south, Harding stopped in Sitka for a feast that later became controversial.
Harding was not a well man when he decided to make his 15,000 mile trip from Washington D.C. to Alaska and back. White House medical staff recommended against it. But Harding's administration was just beginning to be involved in a significant corruption scandal and he apparently wanted to generate some good news with the trip.
Harding would die in San Francisco just a week after returning from Alaska. Even today, there are those who suspect his death was not natural for a variety of reasons. But one of the more interesting speculations is that the death did have a natural cause, bad seafood in Sitka. The official cause of death was a heart attack, although he reportedly took ill even before leaving Alaska.
The second sitting President to visit Southeast Alaska was Franklin Roosevelt. Roosevelt visited Southeast and Southwest Alaska during World War II.
In August of 1944, Roosevelt made an inspection tour of military facilities in Hawaii and Alaska that took nearly three weeks. Like Harding, Roosevelt was not well at the time of his trip and had hoped that the ocean voyage, which he always loved, would revitalize him.
But when he met with Gen. Douglas MacAthur in Hawaii, MacArthur famously wrote to his wife that the "frail" President would not live another six months. As it was, Roosevelt would die just a little over eight months later.
When he visited Adak, Roosevelt had lunch with more than 150 enlisted troops in a large quonset hut mess hall. He gave a speech to the soldiers expressing pride in how they had built a large military base in less than two years. Even though the Japanese had been driven out of the Aleutians by that time, the US was still using bases in the chain as staging points for bombing runs to the northern Japanese islands.
Roosevelt also spent some time fishing, a hobby that he also enjoyed at his other stops In Alaska.
Roosevelt had planned to visit Dutch Harbor, which had been bombed by the Japanese early in the war, but bad weather forced his ship, the heavy cruiser USS Baltimore, and the destroyers accompanying it, to divert to Kodiak.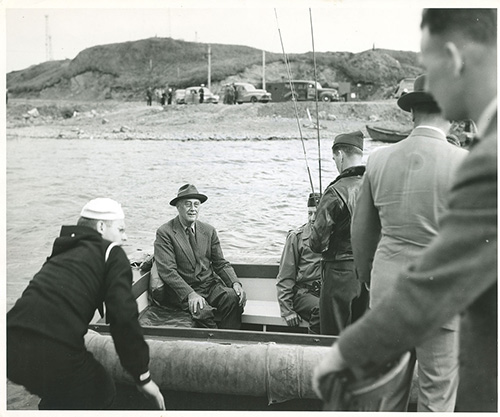 FDR also visited the Army and Navy installation at Kodiak, Alaska. In addition to the inspection of military facilities, the Presidential party also took time out for some fishing. August 7, 1944
Photo courtesy Franklin D. Roosevelt Presidential Library

At this point, military concerns about potential Japanese submarine activity caused a change of plans and the it was decided the President should sail down the Inside Passage to Seattle rather than remain at sea.
In order to transit inside waters, Roosevelt transferred to a destroyer, the USS Cummings, which featured in a brief public dustup that famously ensnared Roosevelt's dog "Fala."
The black terrier dog accompanied Roosevelt everywhere he went and the Alaska trip was no exception. After Roosevelt returned from his trip, several high-ranking Republican leaders accused Roosevelt of inadvertently leaving "Fala" in Alaska and sending a warship back to retrieve the dog.
But Roosevelt defused the controversy by explaining that, yes, a destroyer was sent to Alaska to retrieve "Fala," but it was also "retrieving" the President at the same time. The dog had not been left behind after all.
Roosevelt, who was campaigning for the fourth term and would win handily, gave his now famous "Fala" speech weeks later.
"These Republican leaders have not been content with attacks on me, or my wife, or on my sons," Roosevelt said. "No, not content with that, they now include my little dog, Fala. Well, of course, I don't resent attacks, and my family doesn't resent attacks, but Fala does resent them!"
Roosevelt transferred from the Baltimore to the Cummings in Auke Bay, north of the Juneau on Aug. 9, 1944. But before he left for the Lower 48, he got in a bit more fishing.
According to the transcribed activity diary of the President, Roosevelt and several members of his entourage spent three hours fishing near Tee Harbor. The group caught five salmon, one halibut, two flounder and several cod. Roosevelt was credited as catching the halibut and one of the flounder. The Cummings then headed south.
The diary noted that the next day, Aug. 10, the Cummings dropped anchor in Tolstoi Bay on Prince of Wales Island. The idea was to take another fishing expedition, but the weather soon worsened and the ship headed south again.
The weather continued to be poor for the next two days until the President's destroyer arrived in Seattle, so no more fishing took place.
No other sitting president has ever set foot in Southeast Alaska, but at least three came before they became president.
When he was running for President in 1960, John F. Kennedy made a campaign swing through Southeast, giving speeches in Ketchikan and Juneau. In the same election, Richard Nixon made a brief stop in Juneau.
Decades before he was President, Herbert Hoover spent time in both Ketchikan and Metlakatla, where one of his uncles was a missionary.
After their terms, presidents George H.W. Bush, Jimmy Carter and Ronald Reagan all visited Southeast Alaska as tourists. Carter made a special trip to Misty Fjords National Monument, which he had designated in 1980.

On the Web:
Columns by Dave Kiffer

Historical Feature Stories by Dave Kiffer
Dave Kiffer is a freelance writer living in Ketchikan, Alaska.
Contact Dave at dave@sitnews.us
Dave Kiffer ©2017

Representations of fact and opinions in comments posted are solely those of the individual posters and do not represent the opinions of Sitnews.
E-mail your news & photos to editor@sitnews.us


Publish A Letter in SitNews Read Letters/Opinions
Contact the Editor
SitNews ©2017
Stories In The News
Ketchikan, Alaska

Articles & photographs that appear in SitNews may be protected by copyright and may not be reprinted without written permission from and payment of any required fees to the proper sources.