Ketchikan War Hero Honored at UW
Van Winkle one of eight UW Medal of Honor Recipients
By DAVE KIFFER
November 23, 2009
Monday PM

Ketchikan, Alaska - A Ketchikan war hero was honored at the University of Washington on Veterans' Day along seven other winners of the nation's highest military honor.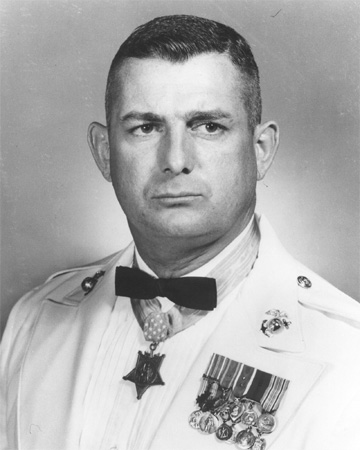 Marine Colonel Archie Van Winkle
Photograph courtesy militarytimes.com
Archie Van Winkle, who lived in Ketchikan until his death in 1986, received the Congressional Medal of Honor for his actions during the Korean War.
During a Veterans' Day ceremony on November 11th, UW dedicated a new memorial to the eight UW alumni who have received the award
The medal recipients were honored with a short parade and ceremony at the $152,000 memorial that was funded by private donations and located in a traffic circle along Memorial Way on campus, according to the Seattle Times.
The main speaker for the event was UW grad and currently US Army vice chief of staff, General Peter W. Chiarelli. Washington Gov. Christine Gregoire also spoke at the dedication.
The memorial is shaped like a five point star and includes eight large stones standing as sentinels around its perimeter, according to the Times.
"The stones become a metaphor for who we're honoring," said artist Michael Magrath to the Times earlier. "They're common. They're indigenous. And they're incredibly strong."
One stone features the names of the medal recipients with room to add more names in the future.
In addition to Van Winkle, the honored soldiers include Major Gregory "Pappy" Boyington, Lt. Deming Bronson, Lt. Robert Leisy, Major Robert Galer, Pfc William Nakamura, Maj. John Crandall, and Sgt. John Hawk.
Hawk, Boyington, Galer and Nakamura received their medals for action during World War II, Bronson for World War I and Crandall and Leisy for Vietnam. Only Crandall and Hawk are still alive.
Van Winkle Lived in Bar Harbor
Like many retirees, Archie Van Winkle lived quietly, playing pinochle with friends and family and living on his 47-foot boat in Bar Harbor. Only those closest to him knew he was one of America's most decorated war heroes.
When the only Alaskan-born Congressional Medal of Honor recipient died his ashes were scattered in Tongass Narrows.
Marine Colonel Van Winkle died in May of 1986, more than three decades after winning the nation's highest military honor during Korean War. According to Marine Corps records, Van Winkle - at that point a Staff Sergeant - was one of more than a dozen servicemen to receive the honor for actions during the bloody battle of the Chosin Reservoir in Korea in 1950.
Sergeant Van Winkle's platoon was holding a position and when he saw that it was about to be overrun by Chinese soldiers, he began repeatedly charging, sometimes leading a small group of soldiers but at least twice entirely on his own, according to the Marine Corps.
Wounded twice, he engaged in hand-to-hand combat and led a squad to rescue some marines cutoff by a wall of Chinese, according to the official record. He continued to fight on even as the position was overwhelmed, and was wounded a third time by a grenade that broke every rib on his left side. He finally passed out from shock and loss of blood. Eventually, the Marines counterattacked and reached him. He lived to receive his medal and a direct field commission as second lieutenant.
Van Winkle was born in Juneau in 1925, according to his sister-in-law, Mary Van Winkle, who lived in Ketchikan until her death in 2008. She said that Van Winkle's father operated logging camps in the region. Van Winkle attended public school in Darrington, Washington, according to "Who's Who in Marine Corps History."
"An ardent athlete, he captained both the boxing and football teams at Darrington High School, where he also played baseball and basketball," according to the "Who's Who" entry. "He entered the University of Washington in Seattle to study physical education, but left after a few months to enlist in the Marine Corps Reserve on December 14, 1942."
He had almost three years of active duty during World War II as a aviation radioman-gunner and mechanic. He saw action during the Solomon Islands, Philippines and Emirau campaigns. He was honorably discharged in October of 1945.
Returning to the Northwest, he enrolled at Everett Junior College and then studied for another year at the University of Washington, continuing his work toward a degree in physical education. In 1948, according to the Who's Who entry, he rejoined the Reserves and became a member of the Eleventh Infantry Battalion in Seattle.
Took Part in Inchon and Chosin Reservoir Battles
When the Korean War broke out in 1950, his battalion was mobilized and took part in the dramatic landing at Inchon that drove the North Koreans out of South Korea. The US and United Nations Forces followed the North Koreans all the way to the Chinese border and the Chinese Army entered the conflict leading to the brutal US retreat from the Chosin Reservoir in which Van Winkle earned his medal of honor from his actions near Sudong in November of 1950.
The battle of the Chosin Reservoir was one of the bloodiest in Marine Corps history, according to the website of a group called the "Men of Chosin" composed of the survivors of the battle which took place along a 70-mile dirt road from Sudong, North Korea to the Chanjin Reservoir and lasted from Nov. 27 to Dec. 7, 1950. Of the more than 2,500 US and United Nations soldiers involved in the battle, only 1,050 survived. In addition to the fierce combat, temperatures reached 50 below zero causing further casualties.
The battle did delay the Chinese advance long enough to allow the bulk of the US forces to evacuate the area and return to the northern border of South Korea. The war ended three years later as a stalemate which has continued on the Korean Peninsula to this day.
According to his medal of honor citation, which was signed by President Harry S. Truman, Staff Sergeant Van Winkle was honored for "conspicuous gallantry and intrepidity at the risk of his life above and beyond the call of duty while serving as a platoon sergeant in Company B, in action against enemy aggressor forces."
"Immediately rallying the men in his area after a fanatical and numerically superior enemy force penetrated the center of the line under cover of darkness and pinned down the platoon with a devastating barrage of deadly automatic weapons and grenade fire, S/Sgt. Van Winkle boldly spearheaded a determined attack through withering fire against hostile frontal positions and, though he and all the others who charged with him were wounded, succeeded in enabling his platoon to gain the fire superiority and the opportunity to reorganize," according to the citation.
" Realizing that the left flank squad was isolated from the rest of the unit, he rushed through 40 yards of fierce enemy fire to reunite his troops despite an elbow wound which rendered one of his arms totally useless. Severely wounded a second time when a direct hit in the chest from a hostile hand grenade caused serious and painful wounds, he staunchly refused evacuation and continued to shout orders and words of encouragement to his depleted and battered platoon. Finally carried from his position unconscious from shock and from loss of blood, S/Sgt. Van Winkle served to inspire all who observed him to heroic efforts in successfully repulsing the enemy attack. His superb leadership, valiant fighting spirit, and unfaltering devotion to duty in the face of heavy odds reflect the highest credit upon himself and the U.S. Naval Service."
Later Won Three Bronze Stars in Vietnam
The seriously wounded Marine was evacuated to Japan and then the United States. After convalescing he served with the Marine guards at the Bremerton Naval Base and with the 10th Infantry Battalion in Seattle. He continued in a variety of postings, advanced as a officer and eventually graduated from the University of Washington with a BA in history in 1961. He was one of the first marine officers to go to Vietnam where he was involved in both guerrilla warfare training and other operations. While serving back at Marine Corps headquarters in Washington D.C. he was promoted to Lt. Colonel and reassigned to Vietnam in 1967, where he was a battalion commander and was honored again with three bronze stars for gallantry in the infamous 1968 siege at Khe Sanh.
He returned to the US, was promoted to full Colonel and eventually retired from the Marine Corps in 1974.
Mary Van Winkle told the Ketchikan Daily News in 2003 that her brother-in-law then served as the Commissioner of Prisons in California for several years, had his boat - the Ha-Lana - built and moved to Ketchikan in the early 1980s, where he and his wife lived on the boat in Bar Harbor. Mrs. Van Winkle said that Col. Van Winkle died of a heart attack on his boat. Ironically, his wife Ione "Bonnie" Van Winkle and one of the couple's daughters, Jan, died on the same boat three years later from carbon monoxide poisoning. There were memorial services for Col. Van Winkle in both Ketchikan and Everett, Washington. He was cremated and his ashes were scattered in Tongass Narrows.
In 1997, a granite monument to Van Winkle was placed at the Mt. Roberts Tram Terminal in Juneau by the Juneau American Legion and Veterans of Foreign Wars posts. There is another memorial to Van Winkle in the Sitka National Cemetery. One of Van Winkle's son's still lives in Sitka.
"He was a lot of fun to be with," Mary Van Winkle said of her brother in law. "But you had to get to know him first . He had that military air about him."
Mrs. Van Winkle said that Col. Van Winkle never talked about his military service and didn't make a big deal about the honors he had received. In the early 1980s, the Ketchikan Daily News printed numerous stories about local veterans and issues relating to veterans and Van Winkle's name never came up.
"He kept a low profile," Mrs. Van Winkle said. "Year before last, I got a phone call from a tourist off one of the cruise ships who asked if I was related to Archie. He been stationed with Archie in Vietnam and was shocked to see the memorial in Juneau. It was sad, he started crying in the middle of the phone call."
Van Winkle Memorial in Juneau
The Juneau memorial is the result of nearly a decade of work by retired Marine Lt. Col. Pat Carothers, another highly decorated soldier who was a good friend of Van Winkle's and the former head of the state Veterans Advisory Board.
Carothers and Van Winkle were both posted at Camp Pendleton and later at Marine Corps headquarters. The families of both men spent a lot of time together and after retirement, Van Winkle visited Carothers in Juneau every year. Carothers said that Van Winkle would have moved to Juneau but there wasn't berthing space for his boat.
"He was a very private, stubborn, bullheaded man," Carothers told the Ketchikan Daily News in 2003. "But he was one hell of a man. I loved the man. He was very self effacing about his service. He carried six or seven pieces of shrapnel in his body but he never complained. He never talked about it. He never told any war stories. When the monument was dedicated, I said that if Arch was alive he would have kicked my butt for (building) the monument. But of all the things I've done, its one of the things I'm proud of.""
Carothers said that Van Winkle wasn't much of a "joiner" and for many years avoided groups like the Veterans of Foreign Wars and the American Legion. That changed on one visit to Juneau when Carothers - then head of the local American Legion - took him on a tour of the post.
"There was post charter on the wall and he saw that his father (a veteran of World War I) was one of the charter members of the Juneau post," Carothers said. "He immediately joined the Juneau American Legion."
Carothers said that he thought that Van Winkle attended some functions at the Ketchikan post after moving here but that he never officially transferred from the Juneau American Legion.
"He was a man that Alaskans can be very proud of," Carothers concluded. "He was a very inspirational leader, one that his men followed because they wanted to, not because they had to."

On the Web:
More Historical Feature Stories by Dave Kiffer

Columns by Dave Kiffer
Dave Kiffer is a freelance writer living in Ketchikan, Alaska.
Contact Dave at dave@sitnews.us

Dave Kiffer ©2009

Post a Comment View Comments
Submit an Opinion - Letter

Sitnews
Stories In The News
Ketchikan, Alaska