A real "Schooner of Beer"
Ketchikan's floating brewery operated for nearly a decade
By DAVE KIFFER
October 30, 2020
Friday AM

(SitNews) Ketchikan, Alaska - For a town that loves its alcohol as much as Ketchikan does, it is somewhat surprising that there have been only a few efforts to commercially brew alcohol in Ketchikan. A decade ago, a brewery operated briefly in the Downtown area on Mission Street and in the past couple of years, two brewing operations have either opened or announced plans to.
There have certainly been plenty of "home brewers" in the First City over the decades, but commercial operations have been rare. One of the most notable was the Pilsener Brewing Company of Alaska, which operated here from 1935 until 1943, when it became impossible to get the raw materials to operate because resources were going to the war effort in World War II.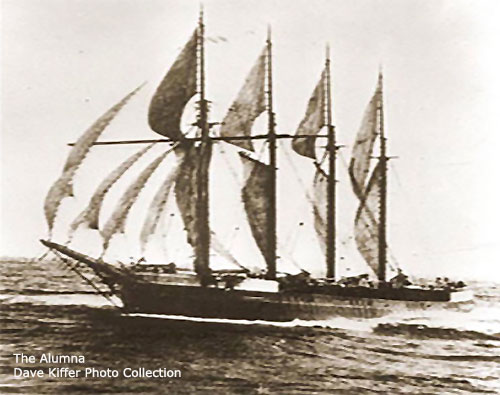 The Alumna
A wooden four-masted schooner built in 1901 by KV Cruse in the Simpson Shipyard in Coos Bay, Oregon.
Dave Kiffer Photo Collection
Much of the details of the Pilsener Brewing Company's operations are lost in the fog of history. What remains are the ads that it placed in the local papers, the Daily Fishing News and the Chronicle. And every so often an old bottle with the company labels such as Alaska Lager Beer or Golden Rhine Beer or Snowcap Pilsener Beer shows up on EBAY or some auction site.
There are also the memories of Ketchikan old-timers, such as bush pilot Herman Ludwigsen, 92, who moved to Ketchikan as a nine-year-old in 1936.
Ludwigsen remembers the brewery was across the street from his home near 1500 Tongass Avenue, next to Columbia Cleaners and Edwards Wire Rope.
"This big German guy owned Golden Rhine," Ludwigsen said recently. "He saw that I was a young, growing up punk, so he gave me a bunch of free beer tickets to take down to the Alaska Steamship Dock and give to everybody. I can remember that real well, I remember walking in there (the brewery) and upstairs it smelled awfully good."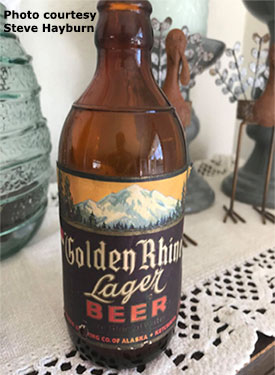 Photo courtesy Steve Hayburn
Files at the Tongass Historical Museum contain a single article about the Pilsener Brewing Company. The headline "Brewery Ship Expected From South" focuses on the brewery's interesting historical oddity. Part of its operations were on a converted sailing ship.
The article, in the Ketchikan Chronicle on November 9, 1934, noted that the $175,000 operation was led by Brew master Konrad Lux and was funded by the Pilsener Brewing Company of Washington.
"Indications from orders placed for the locally-produced beer lead the enterprisers to advance the opinion that the firm is assured of success," the Chronical reported. "Orders have been coming in from the entire coastal portion of the territory."
The story notes that it is cheaper to produce the beer locally than it is to ship it in and that the territory can expect between $20,000 and $35,000 annually in tax revenue from the operation. Federal taxes could generate between $40,000 and $50,000 as well. Local taxes would be between $200 and $300 daily, the company estimated.
The ship, the 215-foot Alumna, was previously engaged in the timber hauling trade, the Chronicle noted. That is an important point because some more recent local references to the brewery ship refer to it as a different sailing ship, the Meteor.
A search of the internet finds little about the Ketchikan brewery, but two history blog sites fill in some details.
Gary Gilman's "Beer Et Seq" blog focuses on the sailing ship part of the brewery's history.
"An interesting feature of PBC was a seaborne branch, on the ship Alumna. " Gilman writes. "The American and Australian press reported at the time on what seemed a novelty."
Gilman quotes from a story in the Australian media in January 1935.
"Called the world's floating brewery, the remodeled sailing vessel, Alumna, may set a new style in beer-making methods in America," Trove News notes. "Originally a Pacific lumber carrier but forced off the sea by competition of tramp steamers, the old craft has just returned to service - this time as a complete manufacturing plant for beer, with a capacity of 250 half-barrels daily. A deck house was built forward to provide storage space for the raw materials and for the finished product, while 14 fermenting vats of 100-barrel-capacity each were installed in the hold. Present plans call for the beer ship to be towed along the Alaskan coast, making beer as it goes, and selling it at every port. Smaller boats will also distribute the product to fishing fleets and isolated settlements."
Those traveling plans apparently were too ambitious for the company. The "Schooner of Beer" stayed docked in Ketchikan for the next few years.
According to H.W. McCurdy's Marine History of the Pacific Northwest, the Alumna was a wooden four-masted schooner built in 1901 by KV Cruse in the Simpson Shipyard in Coos Bay, Oregon. Asa Mead Simpson was a legendary lumberman for more than six decades in California and Oregon. His brother Robert was an equally well-known ship captain for many years. The Alumna displaced 696 tons and was named for Asa Simpson's daughter, who had recently graduated from finishing school. She was a "blue water" lumber ship that carried timber from her home port in San Francisco to South America, South Africa and Asia for nearly two decades. In 1923, she was purchased by Captain D. Ottman. In 1933, she was purchased by McGinitie and McDonald. In 1934, she was reduced to a single mast and refitted as a floating brewery.
Prohibition had ended the year before and brewers were looking to establish operations outside the large metropolitan areas. With its active – and thirsty – fishing industry, Alaska was a prime location for Pacific Northwest brewers seeking to expand.
After her time as a docked brewery ended, McCurdy notes, the Alumna became a fish processor and ended her days as a fish reduction plant in Alaska.
Erika Brown of the Tongass Historical Society researched the Alumna through the US Merchant Vessels records and found that the Alumna was registered to the PBC in 1935 and 1936, but then was registered to the Salmon By Products Company of Ketchikan – which was located in Ward Cove – from 1937-1939. There was no registry of the ship in 1940, but in 1941 it was registered to William Nickey of Ketchikan and in 1942 it was registered to Gretchen Carle of Ketchikan. There was no registration in 1943.
A 2005 article in Latitude 38, an international sailing magazine, fills in a few more details. During World War II, the ship/barge was towed to the Aleutians with war supplies. In 1947, it was beached in Mud Bay near Boundary Bay on the US/Canadian border near Vancouver, British Columbia where its bones remain to this day.
The Latitude 38 story also surmises that the term "Schooner of Beer" came from the Alumna's operation. But the phrase was clearly in use in Holland and Australia much earlier in the 20th Century.
In his blog, Gilman notes that the Pilsener Company also had a shoreside operation on "Cliff" Street, which was a wooden boardwalk off upper Water Street to Tongass Avenue. That would have put it slightly closer to Newtown than Ludwigsen remembers.
Gilman also notes a 1937 article in the American Brewer's Review that refers to the Alumna being "permanently anchored" in Ketchikan. He also found references to brewers such as a man named Holt and Konrad Lux as operating the facility. Holt was referred to as a "recent graduate" of the Siebel Institute of Chicago which had reopened after Prohibition ended in 1933.
Another clue to the Pilsener operation comes from Gary Flynn's "Brewing Gem's" blog. Flynn writes at length about the "Columbia Breweries, Inc" which operated from 1933 into the early 1950s. CBI's owner Elmer Hemrich operated canneries in Alaska and decided to expand his brewery operations into Alaska.
"With his experience in Alaska, Hemrich recognized the high cost of shipping incurred by accounts in Southeast Alaska and established a rapid delivery system by leasing a power boat (a modified sub chaser) for delivering kegs of beer," Flynn writes. "It seemed like a good idea at the time, but it didn't turn out well."
The June 6, 1935, Seattle Daily Times provided the details.
"Elmer Jakeway, formerly of Seattle and Skykomish and his wife escaped injury when their 104-cruiser, Alt Heidelberg, burned yesterday in Alaskan waters (between Dixon Entrance and Ketchikan) with a loss of $40,000, according to AP dispatches from Ketchikan," The Daily Times reported. "The cruiser was used to distribute beer for Columbia Breweries, Inc. of Tacoma. Another passenger and two sailors also escaped, rowing to shore."
But all was not lost for Jakeway's Alaskan beer adventures.
"Elmer Jakeway returned to Ketchikan and was the manager of the Alaska Pilsner Company until it closed in 1943," Flynn noted.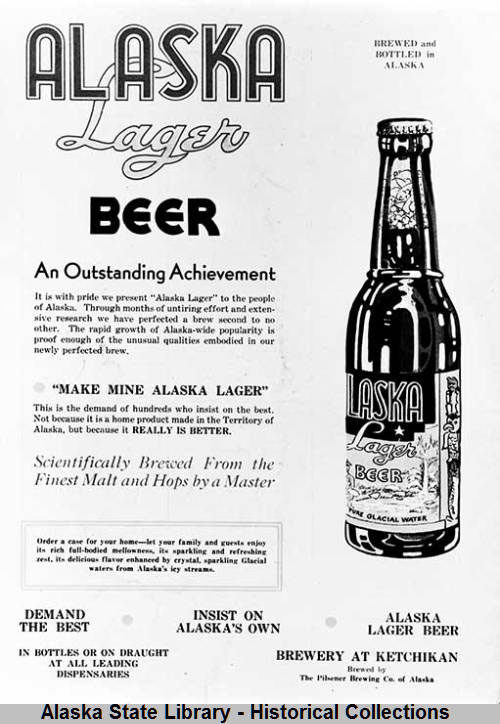 Alaska Lager Beer, Pilsener Brewing Co. of Alaska (Ketchikan)
Old Alaska Lager Beer Ad
Courtesy Alasks State Library - Historical Collections
On the Web: