The Rustanius sisters
Ketchikan women were early 'heroines of the horizon'
By DAVE KIFFER
May 17, 2020
Sunday PM


(SitNews) Ketchikan, Alaska - When one thinks of the Southeast Alaska bush pilot, the image of the cowboy often comes to mind. The lone individual - in this case the pilot - struggling against nature to safely navigate the weather and the terrain and tie together the distinct and isolated communities of the Panhandle.

Besides being a cowboy, the bush pilot is also seen as a swashbuckler, a knight riding out to do battle with the elements and come home safely against all odds. But it would be a mistake to see all those "heroes of the horizon" as men.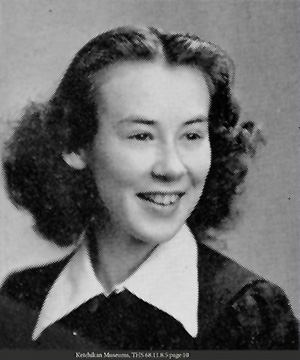 Helen (Rustanius) Todd's
senior yearbook portrait, 1941.
Courtesy Ketchikan Museums: Tongass Historical Collection, THS 68.11.8.5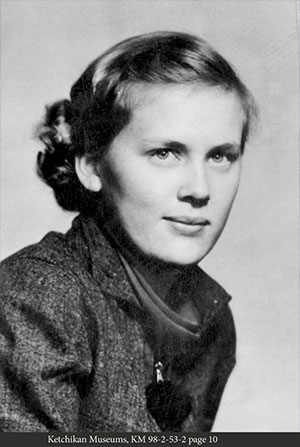 Marguerite (Rustanius) Florella's
senior yearbook portrait (1938)
Courtesy Ketchikan Museums: KM 98.2.53.2
In the late 1920s, Marvel Crossen was the first female pilot in Alaska and over the next two decades, there were female bush pilots in Southeast Alaska. Among, them were a pair of Ketchikan sisters, Marguerite and Helen Rustanius.
The Rustanius sisters – who are featured in the Tongass Historical Museum's new "Into the Wind" exhibit - had a long history in Southern Southeast.
Their grandfather, Harry Hamilton came from Toronto, and their grandmother, Jenny came from Howkan, a Haida village on Long Island, west of Prince of Wales Island, that later was abandoned when the three Haida villages in that area worked together to create Hydaburg.

Their daughter, Margaret, nee Maggie, was born in 1886 at Shakan, a small settlement on northern Prince of Wales. The couple, with Jenny's daughter from a previous marriage, continued on to Juneau where Harry worked at the Treadwell Mine.

Maggie and her little sister, Nellie, were orphaned at the ages of 11 and 3 and the Presbyterian Church conferred with Harry's sister, who had traveled to Juneau from Canada, and the church recommended they be sent to the orphanage in Sitka.
Maggie attended Sitka Industrial School, attended Sitka High School, briefly taught at the Training School, went to and got her teaching degree from Bellingham Normal School, and then was hired by the Bureau of Education to teach in Howkan. When the school in Hydaburg was built, she taught there, and then took a position at Loring. There she met Johann Julius Rustanius, who had immigrated from Helsinki, Finland.

They were married in Ketchikan in 1917. Marguerite was born in 1920 in Ketchikan, followed by Augusta in 1922 and Helen in 1923.
In 1917 Julius was working for the San Juan Fishing and Packing Company. The company sent a letter for the Miners and Merchants Bank informing them that a check to Julius Rustanius for $138.23 had been lost, according to company records. In those days, canneries usually paid cash rather than checks to fishermen, so it was likely the money was for some work - possibly tin smithing - he had done for the company.

Rustanius was primarily a halibut fisherman, he owned the boat "Home Rule" which - according to his granddaughter Ann Fiorella - was because he favored Finnish independence from Russian rule. Rustanius was also a tin smither for Henry Hein's business in Ketchikan as well, building chimneys and pipes for local buildings in the winter.

Julius Rustanius shows up in the Ketchikan property survey in 1921, with two adjacent houses at 1427 and 1427A Millar Street. He died in 1934, according to the May 21 edition of the Ketchikan Chronicle.

The paper reported that Margaret Rustanius and her three daughters had returned on the steamer Victoria from Seattle, bringing Julius' body back. The "local fisherman and laborer" had died in Seattle the week before of a heart ailment at 48.

"He had been confined at the Ketchikan General Hospital for a short time before he went south for additional attention about six weeks ago," the Chronicle reported. The next day, the paper reported that Rustanius was also a "metal worker" and that he would be buried at Bayview Cemetery.

The three girls. Marguerite, Augusta, and Helen all made appearances in Kayhi yearbooks between 1938 and 1941. Marguerite and Helen also helped out when a new shelter cabin was built on Deer Mountain, according to a 1943 story in the Chronicle.
Marguerite's daughter, Ann Fiorella, said that her mother loved to ski and actually met her future husband, Louis Fiorella on Deer Mountain during World War II.

Marguerite graduated from Ketchikan High School in 1938 and spent two years at the University of Washington, studying to become a nurse.

After she graduated from Kayhi in 1941, Helen Rustanius attended the University of Washington for three years.

1941 was the same year that her older sister, Marguerite learned to fly, according to Marguerite's 2011 obituary in the Juneau Empire.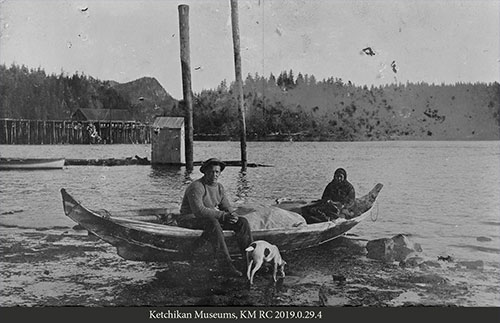 Johan "Julius" Rustanius and an unknown woman at Loring
with a dog named Mutt.
Courtesy Ketchikan Museums: KMRC 2019.0.29.4
"Growing up she was one of a group of spirited girls who embraced life in Alaska and fished, hunted, hiked and climbed mountains," the Empire said in 2011. "Her sense of adventure led her to compete for free flight training, and she was the only woman among the contest winners. She was believed to have been the first woman in Ketchikan to solo when she flew alone to Wrangell and back on September 13, 1941."
Ketchikan woman Margie Nebel had been flying locally earlier in 1940, but the Alaska Flight Hall of Fame believes that Marguerite was the first woman with native heritage to fly in Southeast, Alaska.
Ann Fiorella believes that her mother was chosen, along with several other local hopefuls, to be part of a program that would train pilots for military airplane ferry duty. The US Army was sponsoring an "aviation cadet training program" in 1941 and several local youngsters took part in a series of tests that program offered. Five - including Marguerite Rustanius - were selected. According to a history of Ellis Airlines, future Ellis pilots Rodger Elliot and Jay Snodderly also took part in the program.
"The program only covered learning how to solo," Fiorella said recently. "After that they were on their own for additional flying lessons, and she didn't have the money for that."

And thus ended Marguerite's flying career, although she is still credited with being one of the first female pilots in Southeast.

Ann Fiorella says her mother rarely talked about her time as a pilot.
"It's one of those things that you wish you had asked her about," she said. "But she never talked about it and neither did we."
Marguerite married Louis Fiorella in 1943. He was a Coast Guardsman from New York State and stationed on the Cutter MacLean when it had a run in with a foreign submarine off Prince of Wales Island. The crew of the ship believed it sank a Japanese sub, although a check of the Japanese records ten years ago found no "lost" Japanese submarine in Southeast Alaska, although a check of Soviet Union World War II records did find that a Soviet sub disappeared near Dixon Entrance during the War.
Louis Fiorella mustered out of the Coast Guard after the war and stayed in the Ketchikan working as a painter and a carpenter and eventually going to work at the new Ketchikan Pulp Mill in 1954. He was also involved with setting up the Veterans of Foreign Wars Ragnar Myking Post in Ketchikan, according to Ann Fiorella, and that led the family to move to Juneau in 1962, when Louis became a service officer for the state VFW.
Marguerite went to work for the Juneau Public Library.
"Because she loved books, working at the Juneau Public Library was a natural fit," the Empire wrote in 2011. "She was employed there, primarily in the children's book section, from 1964 – 1984. After retirement, she continued to speak of adult Juneau citizens who had been avid readers and patrons of that section as 'her kids'. One of her hobbies was Raven's Tail weaving, and she was one of a group who volunteered to weave the Raven's Tail robe, 'Hands Across Time', for the Alaska State Museum."

Marguerite died in 2011, one year after her sister Augusta died in New Mexico. Their mother, Margaret Hamilton Rustanius had died, in Ketchikan in 1955 at the age of 69.

Helen Rustanius met Ed Todd in 1956 and married shortly after, according to Helen's daughter, Jackie Tyson. Ed Todd was working as a mechanic for Northern Commercial at the time and Helen Rustanius was the secretary for the District Attorney. Todd was in the same Kayhi graduating class as Marguerite Rustanius.
"They were Depression children and their lifelong love of hunting was part of their attraction," Tyson said. "Helen started hunting when she was just a kid. Women who lived to hunt like she did were a rarity. "

In the late 1950s, Todd started his air service.

"In 1960, Helen became interested in trapping," Tyson said. " "On Metlakatla trips, Beaver (as Ed was known) would drop us off and pick us up from our rough cabin on Duke Island when he had room on a Metlakatla flight. The busier Beaver became with the air taxi, the less time he had to transport us. Mom also wanted to hunt harbor seals for their pelts and for bait for her wolf traps. She realized she'd have to become a licensed pilot to pursue her new career, so she took flying lessons from Jack Cousins, practiced touch and go's at Herring Cove, soloed, and began flying the Super Cub Beaver bought for her. She usually took either my older brother or me to help hold the plane off the beach while she checked and reset her traps. Her flights took her to places like Boca de Quadra (I remember standing on the beach there, playing wood recorder to capture the seals attention while she worked to get a good shot), Vixen Lake, the shore of Etolin Island, lakes on POW, and Whale Pass, where she hunted seals and trapped beaver and wolves."
In 1965, Helen Rustanius Todd, died after flying into the lake on Annette Island that now bears her name.
The Ketchikan Daily News, in a story written by pioneer newsman Albro Gregory, called her "one of Southeast Alaska's most colorful devotees of the out of doors."
Gregory reported that it appeared that Helen's plane has faltered as she attempted to take off from the lake, which is now called Helen Todd Lake. Her body was found by Terry Wills - a pilot for Simpson Air - and Jack Cousins, who were flying for the Ketchikan Volunteer Rescue Squad.
"(Ed) Todd reported his wife missing last night," Gregory wrote " She had departed at 7 am, yesterday in her own plane which Todd purchased for her two years ago. It is believed that the fatal crash occurred at 10 a.m. yesterday because her watch was stopped at that time Todd said today. Knowing her schedule, he said 'that it would have placed her at the lake at about that time to check her beaver traps.' "
Gregory said that Todd reported that his wife had previously checked other beaver traps at Heckman Lake in the Dixon Inlet area.
"Todd said he was told that the plane lay upside down in the little lake and that his wife, though critically injured, had paddled the wreckage until it touched bottom," Gregory reported in the Daily News. " Then she swam about 200 hundred feet ashore. She was found by Wills on an open place on the beach after he spotted the wreckage and landed his plane to check. She may have died of a complication of exposure and injuries from the accident."

Gregory noted that Mrs. Todd was "one of the areas most ardent outdoors women."

"It was not unusual for her to be gone on trapping trips for as much as two weeks at a time, her husband said,' " Gregory wrote. "This winter and spring her take of beaver pelts approximated 50 and she had trapped 12 wolves. (Ed) Todd said it was usual for her not to indicate just where she was going on her trap-watching junkets, so he thought nothing of it when he saw her plane take off in the direction of Ketchikan at around 7 a.m. yesterday. He simply knew that she was starting the rounds of her traplines."

When she was reported overdue, most of her friends just figured she had had engine trouble and was waiting things out.

"They knew her ability to take care of herself in the wilds," Gregory wrote. "So it wasn't until this morning that concern on the part of her husband and others turned to what was well-grounded fear for Mrs. Todd's safety. Immediately as Wills reported his sad finding, the Coast Guard diverted its helicopter to the little unnamed lake near Bush mountain on the north end of Annette. There the crew carefully placed the body in a stretcher and carried it to the State Ramp. At the hospital the doctors announced what Wills and the helicopter crew already knew and friends feared. Capt. Henry Clay Keene Jr. of the Coast Guard, who numbered himself among Mrs. Todd's friends, said he and his men were deeply grieved over the accident and loss of a good friend, he recalled that (Mrs.) Todd was one of the first out on the search for the Coast Guard amphibian which crashed on Dall Head last July."

After Helen died, Ed Todd began an exercise regime in which he swam across Tongass Narrows nearly every day for the next year. He told friends that he was training his body to be in good enough shape to survive a similar situation. Todd would die in a plane crash in Misty Fjords in 1978, 13 years after his wife.

Related: