Museum documents trace the 'ownership' of the First City
Downtown Ketchikan changed hands for $1 in 1899
By DAVE KIFFER
July 13, 2020
Monday PM

(SitNews) Ketchikan, Alaska - For generations, Tlingit natives came to what was later called Ketchikan Creek every summer and fall to harvest some of the more than one million salmon that returned every year. It was one of the largest salmon streams in the region.
In the decades after the United States purchased Alaska from Russia in 1867, white settlers began arriving and the bountiful creek caught their attention as well.
As early as 1879, missionary Sheldon Jackson reported the presence of a white homesteader in "Tongas" Narrows. He noted that the homesteader, named Morrison, had invited Jackson - on a week long canoe trip from Wrangell to Port Simpson in British Columbia - to stay over. Jackson reported that Morrison had a vegetable garden and harvested salmon from a nearby stream.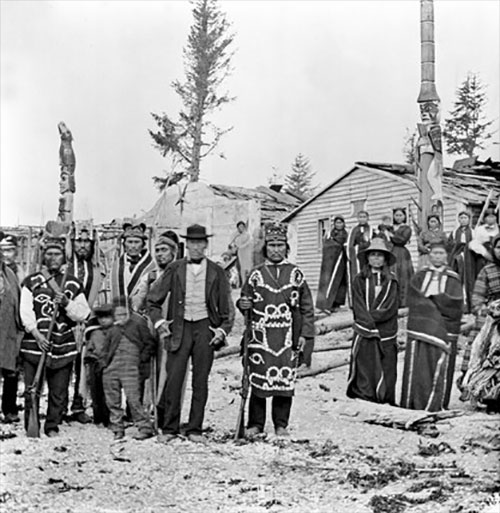 Inhabitants of the Tlingit village of 'Tongas', Alaska, c 1868
Photograph by Eadweard Muybridge, British-American photographer
This photograph is most likely from 1868 when he accompanied General Henry W Halleck's expedition to Alaska. These Tlingit people in traditional dress are standing in front of two totem poles. Several of the men are holding rifles.
There is little written history, but apparently the village had been abandoned in 1894, when the Cape Fox Tlingits and some Tongass Tlingits joined in a new settlement at Saxman.
Courtesy National Museum of Science & Media / Science & Society Picture Library
Within a decade there were other arrivals. A man from Portland named Snow had a salmon saltery on what is now Pennock Island in 1883. Mike Martin, from Astoria, Oregon arrived in 1885 to scout cannery locations.
Several histories contend that Martin purchased the 160-acre Ketchikan townsite from "Papernose" Charlie. Charlie - who was also known as Charlie Dickson - indeed "sold" the townsite, but not directly to Martin. There was an intermediary, regional cannery owner A. W. Berry.
Papers in the Tongass Historical Museum show that Berry was the first purchaser and that he assigned his rights to Martin in 1892. In 1899, Martin sold his rights to 160 acres of Downtown Ketchikan to O.W. Grant.
In 1883, M.J. Kinney of Astoria, Oregon built a cannery in Boca de Quadra, a large inlet 39 miles south of "Tongass Narrows." It was called Cape Fox Packing and operated from 1883 to 1886. In 1886, Kinney sold the operation to another canneryman from Astoria, Capt. A.W. Berry. Within a few months Kinney had sued Berry for "fraud" over the purchase, but history does not record how that lawsuit was settled.
Berry decided to relocate the cannery to a stream called "Fish Creek", the modern-day Ketchikan Creek. The cannery, now called the Tongass Packing Company, was built near the current corner of Front and Dock streets and was operating by 1887. It packed 5,000 cases in its first year.
Meanwhile Berry set his sights on the land between the cannery and the creek
On April 17, 1888, Dickson "signed" over his "rights" to the area adjacent to "Kitchikan Creek" to Berry in Wrangell, which was the closet federal registry office. The sale price was $100 or $2,698 in 2020 dollars.
The property was described in the convoluted manner that was popular in 19th Century land deeds.
"Commencing at a point on a rock on the eastern side of Kitchikan Creek where it empties into Tongass Narrows at a point which is marked by a cross cut in the rock one foot above high water mark thence running northerly and westerly along the shore of said Tongass Narrows one mile to another point similarly marked, thence about right angles back from said shore one quarter of a mile to a cedar stake in which is cut a cross, thence to the right about right angles following a straight line generally parallel to said shoreline and one quarter mile distant therefrom to a point one quarter mile from said place of beginning marker with a cedar stake, thence about right angles to right one quarter mile to the place of beginning, containing 160 acres, more or less."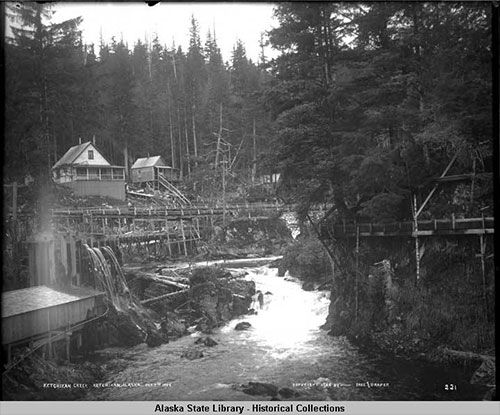 Ketchikan Creek - Oct. 7, 1905.
William R. Norton. Photographs, ca. 1890-1920. ASL-PCA-226
Time Period: 1896 to 1913
Courtesy Alaska State Library - Historical Collections
The rights to the 160 acres was transferred to Berry and his heirs "forever."
The transfer deed was witnessed by John Jack and Edward Marsden. Marsden was a respected local Native missionary. (See" Battle Between Sheldon Jackson, Father Duncan Played Out In Life of Rev. Edward Marsden," SITNEWS, March 19, 2012).
The document is "signed" by Charlie Dickson, but also contains an X, which is noted to be "his mark." So clearly Dickson didn't really sign the document.
That was how the 160 acres of Downtown Ketchikan ended up in the hands of non-Natives.
Interestingly enough, there is also a property transfer in the museum files that show Berry and his wife Mary transferring the same exactly described property from their personal ownership to that of Berry's company, Tongass Packing Company. That transfer was filed on March 24, 1888, three weeks before the transfer from Dickson to Berry was made.
Of course, none of this addresses a central fact of the story.
All the accounts refer to Papernose Charlie - so named because he had reportedly lost his nose in a fight and had replaced it with a paper facsimile - as a Kwaikutl Native. A Native from coastal British Columbia around the northern reaches of Vancouver Island. An odd person to be "selling" property in Tlingit territory. Which is why, even today, there are people in the local Tlingit community that contend their land was taken illegally.
But even if that was in fact what happened, the US District Court in Juneau ruled in 1901 that Dickson had been the legal owner of the 160 acres adjacent to the Ketchikan Creek from 1884 to 1888, when it was sold to Berry.
The ruling came up in a dispute between the residents of Ketchikan and the Alaska Packers Association in Loring. The APA contended that since it developed a cannery in Loring, some 20 miles north of Ketchikan it held the "rights" to the salmon returning to Ketchikan Creek. In 1900, Ketchikan was building its own cannery, the Fidalgo Island Packing facility. When the pink run returned in the summer of 1900, the APA sent a fleet of boats with nets to the mouth of Ketchikan Creek and attempted to scoop up as many fish as possible. A fight broke out between the APA men and local fishermen.
Ketchikan immediately moved to incorporate as a city, which it did in August of that year. Meanwhile, a group of residents led by Martin, Henry Strong and Carl Sutter filed suit against the APA.
A year later, the District Court ruled in favor the Ketchikan contingent. As part of the ruling, the court determined that because Dickson through "occupation, appropriation and possession" of the property on the creek held the fishing rights as well when he transferred the property to Berry and those rights went with the property.
The APA appealed that ruling to the US Appeals Court. The Appeals Court ruled, in 1904, that no private interest could "own" a resource like a salmon run. By then Fidalgo Island Cannery was well established in Ketchikan and APA chose not to press any additional claims on the fish returning to Ketchikan Creek.
Meanwhile, after the land sale from Dickson to Berry in 1888, Ketchikan began to grow into a small community with several year round houses, a store and a wharf on the northern side of Ketchikan Creek. In 1892, Berry sold the land, for $1,000 in gold pieces, to Martin and his partner George Clark, according to the documents at the museum.
Berry, meanwhile, sold the cannery in late 1888 and returned to Oregon. The cannery would burn down in 1889 and not be rebuilt. The cannery foreman was George Clark and he would partner up with Mike Martin for further adventures.
Martin and Clark would then sell the rights to the 160 acres in March of 1899, a year before Ketchikan was formally incorporated as a city of more than 1,000 people to Orlando W. Grant, a local developer who would become a US Marshal in Ketchikan and gain the nickname "Six Shooter" Grant for reportedly never having to use his weapon during his time as the "local law."
Grant was a business partner of Henry Strong and several other prominent local businessmen. Soon a variety of businesses would be opening up on the town site that Grant purchased.
The transfer price in 1899 for the property that is now worth hundreds of millions of dollars and encompasses all of Downtown Ketchikan?
$1.
On the Web: