Remembering Operation Magic Carpet
70 years ago, Alaska Airlines airlifted nearly 50,000 Yemenite Jewish refugees to the new state of Israel
By DAVE KIFFER
April 19, 2017
Wednesday PM

(SitNews) Ketchikan, Alaska - In an era in which airlines tend to trumpet their public goods works with great enthusiasm, it is interesting that very few people, even in Alaska, are aware of Alaska Airline's efforts to rescue nearly 50,000 Yemenite Jews from danger on the Arabian Peninsula and relocate them to the newly created state of Israel in 1948.
Operation Magic Carpet – the official name was Operation Wings of Eagles but that was almost never used - was one of the largest airlifts in history and was a complete success, Not only did it save a population of refugees that was in significant danger because of the anger than many Arabs felt over the creation of Israel as a Jewish homeland by the victorious countries at World War II, but it also helped Alaska Airlines quickly expand from a tiny Alaska carrier to an airline capable of eventually growing into the fifth largest airline in America.
According to Robert Serling's 2008 history of Alaska Airlines "Character and Characters" Alaska Airlines had, in 1947, recently begun to expand its small fleet by buying surplus military aircraft from the United States government at 20 percent of the cost of new airplanes. As a result the airline quickly became capable of bidding on government contracts using its fleet of DC-3s, DC-4s, C-47s and C-46s.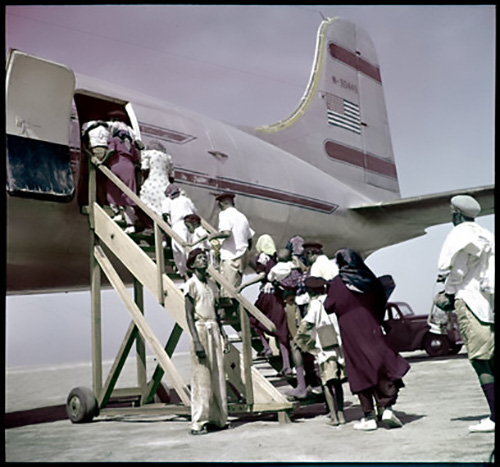 Yemenite Jews board a JDC-chartered Alaska Airlines flight to Israel as part of Operation Magic Carpet.
Photo courtesy jdc.org (American Jewish Joint Distribution Committee)

The first use of some of these Alaska acquisitions was during the famed Berlin Airlift in which supplies were flown into the former German capital that was physically cut off from the West by the Soviet Union. The Alaska Airlines planes didn't fly directly to Berlin, according to Serling. Instead they ferried supplies into cities in West Germany like Munich and Frankfurt where they staged for the Berlin flights.
During this time, James Wooten, the president of Alaska Airlines, signed a contract with American Jewish Joint Distribution Committee which was attempting to relocate nearly 50,000 Jewish refugees from the seaport of Aden in Yemen, an Arab country at the bottom of the Arabian peninsula near Saudi Arabia. The Committee wanted to move the Yemenite Jews to the comparative safety of the new Jewish state of Israel which had been created in 1948.
The Yemenite Jews had lived on the Saudi peninsula for centuries and were considered one of the fabled Lost Tribes of Israel. But their life, as nomads in Yemen, was not a good one. Yemen had become independent from England after World War I and anti-Semetic laws were quickly established.
"Jews were not permitted to walk on pavements; in court a Jew's evidence was not accepted against a Muslim's;" wrote Joe Spier in a recent story about Operation Magic Carpet on the AISH.com website. "Jewish orphans had to be converted to Islam. Some Jews were able to escape to Palestine but most were trapped."
Then in 1948, when the United Nations apportioned Palestine and created the state of Israel, things because worse for the Yemenite Jews because of Arab anger over the creation of Israel, according to Spier.
"The situation turned from despair to physical danger, Arab rioters in the port of Aden killed 82 Jews and torched the Jewish quarter," Speir wrote. "Israel's War of Independence increasingly endangered the Yemeni Jews."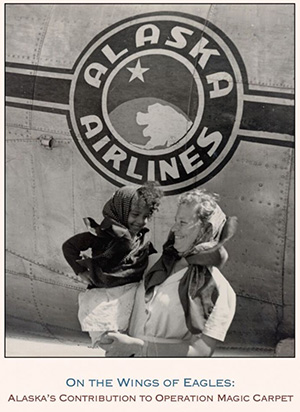 Photo courtesy Jewish Museum:
Anchorage, Alaska
But then the Imam of Yemen unexpectedly announced that all Jews who wanted to leave his country could go. Unfortunately, Israel was nearly bankrupt from establishing its country and then fighting off Jordan, Egypt and Syria who immediately went to war to destroy the Jewish state and lost.
That was when groups like the American Jewish Joint Distribution Committee went to work to raise the funds to move Jews from Yemen and other countries to the new state.
Operation Magic Carpet began early in 1949 and last for nearly a year into early 1950. By the time it concluded Wooten was no longer at Alaska Airlines. He had frequently clashed with Raymond Marshall, the man who had merged several smaller airlines together to create Alaska Airlines in the early 1940s.
Marshall was adamantly opposed to taking part in the Yemen airlift because he believed Alaska would lose money on the deal. He estimated it would cost Alaska $50,000 to mobilize the rescue operation and he demanded Wooten foot the bill himself. Wooten raised the money by borrowing it from a travel agency associated with the Joint Committee, according to Serling.
Captain Warren Metzger, later Alaska's chief pilot, was assigned to operate the first of the Yemen flights and flew a DC-4 that had been converted from a capacity of 50 people into a plane that could hold up to 120. The plane had what amounted to park benches that the refugees would have to endure for the 3,000 mile flights.
"I had no idea what I was getting into," Metzger told Serling. "Arabs were shooting at the planes every chance they got and the airport at Tel Aviv was getting bombed all the time…we had to carry extra fuel tanks so there wasn't much room to move around or go the lavatory."
The reason for the extra fuel tanks, according to a history of Operation Magic Carpet on the Alaska Airlines website, was a scary one. Pilots on the airlift were very aware that if they couldn't land at Tel Aviv they would not be welcome at any of the Arab airports in the region. Word was that crews and the passengers would be arrested if they landed in any of the countries that were fighting the establishment of Israel and would be imprisoned or possibly even executed.
Metzger's wife Marian was a stewardess for Alaska and accompanied her husband to the Middle East. She assisted the Israeli nurses who took care of the passengers on the relief flights. She said that the Yemenite Jews were nomads who had never seen airplanes before but that their faith included a prophecy that they would eventually return to the Holy Land on the wings of Eagles.
"One of the things that really got to me was when we were unloading a plane at Tel Aviv," Marian Metzger said years later for a story that is reprinted on the Alaska Airlines website. "A little old lady came up to me and took the hem of my jacket and kissed it. She was giving me a blessing for getting them home. We were the wings of eagles."
Flight days often lasted between 16 and 20 hours and the one-way flights, in twin-engine C-46 or DC-4 aircraft, covered nearly 3,000 miles. The flights were long and dangerous.
"We'd take off from our base in Asmara (in Eritrea) in the morning and fly to Aden (in Yemen) to pick up our passengers and refuel," Warren Metzger said in the story on the Alaska Airlines website. "Then we'd fly up the Red Sea and the Gulf of Aqaba to the airport at Tel Aviv to unload. Then we'd fly to Cyprus for the night. We couldn't keep the planes on the ground in Israel because of the bombings.
"One of our pilots got a little bit too close to Arab territory when flying into Israel from the Gulf of Aqaba and tracers started arching up toward the plane," Warren Metzger added. "Another one of our planes got a tire blown out during a bombing raid in Tel Aviv. One of our crews practically lived on their plane from the end of April through June."
By the time the airlift concluded after seven months, 28 Alaska pilots had made 380 flights and more than 48,000 Yemenite Jews had been relocated to Israel. Not a single death or serious injury occurred during the airlift. Many of the pilots had spent up to 270 hours a week in the air, three times what they were allowed to fly in the United States.
Unfortunately, Wooten – the man whose idea it was send Alaska Airlines to the Middle East to help rescue the Yemenite Jews - wasn't at Alaska long enough to realize the fruits of Operation Magic Carpet. Like many aviation pioneers in those years, he cut corners wherever possible and frequently bent or broke the laws. After, in Serling's word "running a slew of regulatory red lights" Wooten finally was forced to resign when Alaska – and Wooten personally – was fined more than $35,000. Which was too much to bear for a company that was already significantly in debt.
Because of security concerns there was no publicity about Operation Magic Carpet at the time. In fact, it didn't become more widely known until Leon Uris wrote about it in a fictional way in his bestseller "Exodus" in 1958. Since then the Magic Carpet airlift has generally faded from memory. Although Alaska does mention it on its website, it is a story that few Alaskans even know about.
On the Web:
Columns by Dave Kiffer

Historical Feature Stories by Dave Kiffer
Dave Kiffer is a freelance writer living in Ketchikan, Alaska.
Contact Dave at dave@sitnews.us
Dave Kiffer ©2017
Representations of fact and opinions in comments posted are solely those of the individual posters and do not represent the opinions of Sitnews.

Contact the Editor
SitNews ©2017
Stories In The News
Ketchikan, Alaska

Articles & photographs that appear in SitNews may be protected by copyright and may not be reprinted without written permission from and payment of any required fees to the proper sources.

E-mail your news & photos to editor@sitnews.us

Photographers choosing to submit photographs for publication to SitNews are in doing so granting their permission for publication and for archiving. SitNews does not sell photographs. All requests for purchasing a photograph will be emailed to the photographer.