They called him "Six Shooter"
Grant was town's first 'official' lawman
And once "bought" Ketchikan for $1
By DAVE KIFFER

August 23, 2021
Monday PM


(SitNews) Ketchikan, Alaska - Any "frontier town," as Ketchikan was in the first two decades of the 20th Century, is bound to have characters.

One of the most colorful in early First City history was a miner, businessman and lawman named Orlando Wells Grant.

At least that was his official name. He was also known around the community as "George" Grant and even more colorfully known as "Six Shooter" Grant. Especially after he became the local deputy US Marshal in 1901.

It says a lot that his nickname was "six shooter" although there is no official evidence that he used his ivory handled revolvers against any criminals. But he was known, reportedly, to fire them in the vicinity of other people when he wanted to get their attention.

Grant was born in 1855 in Gloucester, Massachusetts, and came from a "well known" East Coast family according to his 1917 obituary in the Ketchikan Daily Miner. He came to Alaska in 1882 to prospect and originally settled in the growing community of Loring about 20 miles north of Ketchikan. In 1886, territorial Governor A.P Swinford appointed him as a "marshal" and gave him Star #1, according to the 1917 obituary.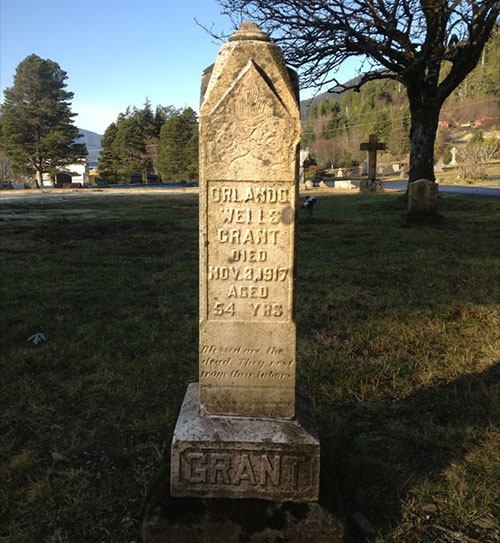 Orleando Wells Grant's Tombstone
Bayview Cemetery - Ketchikan, Alaska
According to historian Pat Roppel in her 2005 history of mining in Southern Southeast "Striking in Rich" Grant had mining claims in Helm Bay and Hump Island in 1891 and was involved in several copper claims at Cascade Inlet on Annette in 1894, despite the fact that Father Duncan had banned outside miners from the Annette Island Reservation in 1892.
Roppel wrote that Grant moved permanently to Ketchikan in 1892 and in 1897, he convened a "miner's meeting" at the Clark and Martin store to organize the "Ketchikan Mining District" so local miners wouldn't have to travel 100 miles to Wrangell to record their claims. Reportedly, Grant opened the meeting by saying "let's keep the damned lawyers out of this, okay?"
In 1899 he became superintendent of the Hartford Copper and Gold mining company which had claims in Thorne Arm and elsewhere. including what was originally called Discovery Bay on Gravina where copper was found. It would later be named Grant Cove in Grant's honor. It is also likely that Grant Street in Ketchikan was also named for him as he lived in a house in that area in 1900.
In 1899, Grant also became involved with Henry Strong, who moved to Ketchikan from Wrangell and founded the Ketchikan Improvement Company. which helped develop the town site. Strong would open the store that became Tongass Trading Company, Ketchikan's oldest business, and also recorded several mining claims with Grant over the years.
Grant had a role in the development of Ketchikan, as evidenced by records at the Tongass Historical Museum. George Clark and Mike Martin had purchased the 160-acre townsite from A.W. Berry in 1892, who had originally "purchased" the site from "Papernose Charlie" Dickson in 1888. In 1899, Grant purchased the "townsite" from Mike Martin. The amount of sale? $1.
Grant and Strong proceeded to subdivide the undeveloped parcels into what would become "Ketchikan" after the town incorporated in 1900.
In 1898, a visitor to Ketchikan, James Bashford, met Grant and wrote about him and others in the community 50 years later in a 1948 edition of the Alaska Sportsman.
"He (Grant) was a trapper and hunter and he always wore two nickle-plated, ivory-handled guns of extensive caliber," Bashford wrote a half century later. "He had married a very pretty girl from Port Chester and had one child, I believe."
Bashford called Grant a "booster for Ketchikan."
"Several weeks after I had arrived, he was asking me what I thought might bring more people to Ketchikan," Bashford wrote. "We were standing in the old Indian guest house at the time. I told him I thought that if the customs house could be transferred from Mary Island to Ketchikan, all the steamers would stop and it would help the town grow. If the Bureau of Customs were offered a location for its officers' quarters, or some such inducement, Ketchikan might get the office. Grant said that he would give the necessary land, and I understand that later he did make such a proposition to Uncle Sam, and he built the custom house. At any rate, the customs office was moved long ago and Mary Island has now only a lighthouse station and nothing else."
He said that Grant had never been known to use his "six shooters" against evil-doers but that sometimes they would come out of their holsters.
"Grant was known upon occasion to draw out his six-guns and peddle bullets about the feet of strangers," Bashford recalled.
"He prided himself on his marksmanship."
Six years later, in February of 1954, the Alaska Sportsman further burnished Grant's legend by featuring him in an "Alaskan Oddities" cartoon with the following caption:
"Six Shooter Grant, well known character around Ketchikan in the early days, wore 2 six-shooters all the time, day and night. He even took them to bed."
In 1900, Grant built a building that he hoped to lease to the US Customs Service, according to the April 9, 1900 edition of the Helm Bay and Ketchikan Miner. He negotiated with local customs official E.Q. Oilman and by 1902, the customs service was in Ketchikan rather than Loring which had also sought it. Requiring all ships to stop in Ketchikan after entering US waters in Dixon Entrance, proved to be the reason that Ketchikan would grow into the largest community in the region. That building, now Ketchikan's Pioneer's Hall, is one of the oldest remaining buildings in the community.
In February of 1901, the town council approved an ordinance making the deputy US Marshal the local law enforcer. Grant was that first deputy marshal. In 1902, Grant would also begin serving as the second "fire warden," or head of the volunteer fire department, an active group as Ketchikan, built largely on wooden piles on the shore, had numerous fires in the early days, each one in turn threatening to burn down the entire town.
In 1910, Grant was listed as age 59 in the US Census, but the census itself noted there was confusion about when he was born. His wife Mary was listed as 33. The couple had three daughters, Alma, 13, Frances, 11, and Marjory 8.
Grant would serve as Deputy Marshal until 1916 when he was replaced when a new territorial government took charge.
By all accounts, he took it hard.
"Last year, while serving as the constable for the city here, he was replaced by Mr. Blackmar," his obituary in 1917 noted. "It is believed by members of his family and intimate friends that he continually brooded over the loss of his position."
To make ends meet, he took a watchman's job at the Kasaan Cannery, according to John Bufvers manuscript at the Tongass Historical Society "A History of Kasaan Bay." It was after the US entered World War I.
"One evening he sees a boat come rowing towards the Cannery that happened to be Ben Leibrandt," Bufvers wrote. "Taking the rowboat for a German submarine, Six-Shooter fired his rifle at it. However, Leibrandt was quick in picking up his old 30-30 and was soon sending lead back at Six Shooter, forcing him to run away."
A few months later, Grant would take his own life.
"After spending the night in agony from neuralgic pains in the head and over the eyes. ex-chief of Police, Orlando Wells Grant, pioneer of Alaska, shot himself in the head early this morning in his home here, about 10 minutes to eight, the bullet going clear thru the skull behind the ear and coming out the other side and plunging into the walls of the house," The Daily Miner reported on Nov. 3, 1917. "Death was almost instantaneous."
The Miner reported that Grant had been doing "police duty" in Kasaan since July and returned on the mail boat that morning.
"On his arrival he complained to his wife of pains in his head and seemed to be in a nervous condition," the paper noted. "He retired however but did not sleep and seemed to be counting the minutes until he could consult a doctor. Finally, at about a quarter to eight, he rose, saying he could wait no longer, went into the bathroom, locked the door, sat down on the bathtub and shot himself in the head with a .38 Colts revolver which he had been in the habit of carrying."
Family members called for help, but Grant was dead by the time it arrived. A coroners' inquest was held and the verdict was suicide, according to The Daily Miner.
The newspaper noted that Grant was survived by a sister in Seward plus his wife Mary and three daughters, Mrs. J.D. Rounsfell, Mrs. T.O, Maple and Miss Marjory Grant. It also noted that he was a member of the Pioneers of Alaska, the Eagles and a founder of the local Redmen Lodge and was "liked and respected by all who knew him."
"Mrs. Grant and daughters are prostrated with grief over the unfortunate event and believe that he must have been temporarily insane with pain, otherwise he would not have committed the deed," the newspaper story concluded. "He had always been in the best of health, of a rugged constitution and had never seen a sick day in his life, of any consequence."
Orlando "Six Shooter" Grant was 62.
On the Web: