Ketchikan Schools Partially Desegregated in 1929
Local Native family went to court for right
of daughter to attend Main School
By DAVE KIFFER
February 06, 2014
Thursday AM

Ketchikan, Alaska - A quarter century before Brown v. The Board of Education ended separate but equal schools country wide, a case in Ketchikan determined that Alaskan schools shouldn't be completely segregated.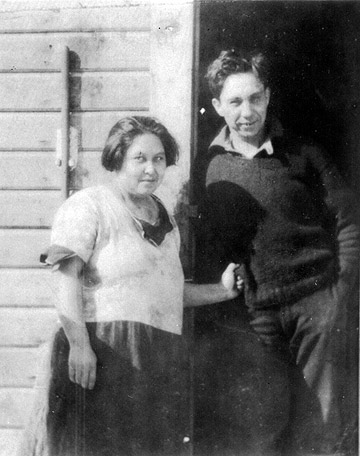 Paul and Nettie Jones
Photo courtesy Joanna (Kennedy) Hendricks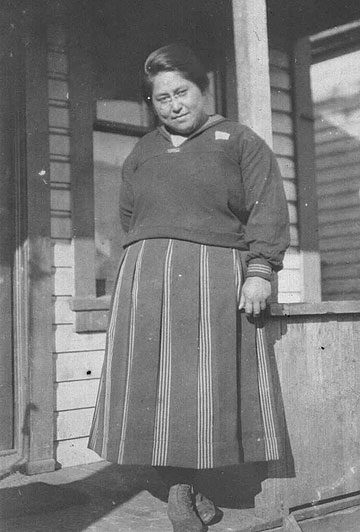 Nettie Jones
Photo courtesy Joanna (Kennedy) Hendricks
Irene Jones, the daughter of Paul and Nettie Jones, was of mixed Indian and White heritage. In September of 1929, her family attempted to enroll her into the 6th grade at Main School.
In those days, the city of Ketchikan had three schools.
White Cliff was an elementary school in Ketchikan's West End. Main School was a K-12 school above Ketchikan's Downtown area. The Bureau of Indian Affairs ran a K-8 school for Natives on Deermont Avenue.
For two days, Irene Jones, sister Geraldine Jones and Janet Kennedy, attended Main School, but then Superintendent Anthony Karnes removed them from their classes and told their families they needed to attend the BIA school "where all of her kind should go" instead.
Paul and Nettie Jones appealed Karnes' action to the School Board, which turned them down. The Jones' then went to court to get the decision overturned.
It wasn't the first time that parents had tried to enroll Native or part-native children into the "white" schools in Ketchikan, In fact, at various times, Native children attended school along with white students in Ketchikan's early years.
But in 1928, Simon Booth had attempted to enroll his mixed race daughter at Main School and Karnes had denied her admittance.
Shortly thereafter, December 7, 1928, the Ketchikan School Board passed a new rule that limited attendance at White Cliff and Main School to only those students "who are not acceptable to the United States Bureau of Education."
The Bureau of Education oversaw BIA schools, so any student who had any Native blood was now ineligible to attend either White Cliff or Main School.
In their filings before the court, the Jones family, represented by prominent attorney William Paul, noted that in 1905 Congress had established a system of education in Alaska for " white children and children of mixed blood who lead a civilized life" and that the new rule by the School Board violated Irene Jones' 14th Amendment rights.
Paul argued that a local or territorial government could not overrule the Federal Government on this issue.
As part of its argument the Ketchikan School District also contended that because of "overcrowding" at Main School, there was no room for Jones or any other Native students who would want to attend Main School if the policy to not accept students with Native blood were overturned.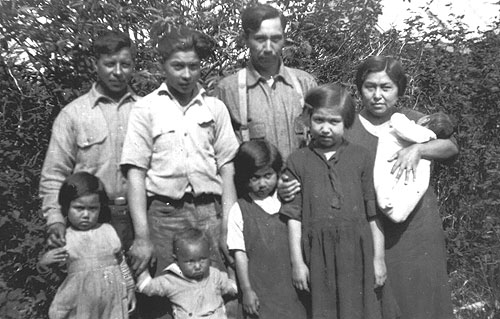 The Jones family and Bob Reese, 1920s
Photo courtesy Joanna (Kennedy) Hendricks

On October 9, Paul presented information to the court that contradicted the overcrowding argument. Four students who were currently enrolled at Main School actually lived outside the corporate boundaries of Ketchikan. Those students, who lived at Saxman and on Gravina Island, were only supposed to be accepted if no other in city students were eligible. Jones' family clearly lived within the Ketchikan boundary.
Paul also found evidence that extra desks had been removed from the Main School sixth grade classroom and that the previous year, 1928, there had been 43 students in the class, 10 more than the 1929 number of 33.
Paul similarly raised the issue of accreditation at the BIA which apparently had not filed the property paperwork in a timely manner. Paul contended that an unaccredited school could not provide a comparable education to an unaccredited one and that Natives' graduating from an unaccredited school would have trouble continuing their education elsewhere.
On November 29, 1929, Federal District Court Judge Justin Harding of Skagway ruled that the board's Dec. 7, 1928 action was invalid and that Irene Jones be admitted to Main School.
Paul & Nettie Jones and family, 1920s
Photo courtesy Joanna (Kennedy) Hendricks

Full blooded Native students were still required to attend BIA schools in most Alaskan communities, but as the federal schools were gradually turned over to Territorial and eventually state control over the next three decades, the separate Native schools began to go away. By the time Brown v. The Board of Education became federal law in 1954, the separate native schools had generally disappeared from Alaska.
Karnes left Ketchikan and eventually became Alaska's Commissioner of Education in 1939. The old BIA school on Deermont was converted to other uses and was eventually torn down to make way for the Ketchikan Indian Community building.
Main School ceased to be K-12 in 1954 when the new Ketchikan High School opened on Fourth Avenue, but continued on until it was replaced by Valley Park as an elementary school in the early 1970s. The Main School Building burned down in 1975.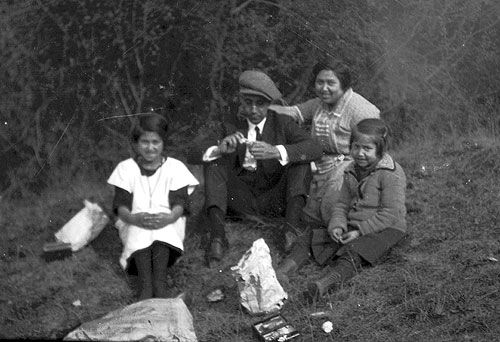 Ernestine (Babe), Paul & Nettie, and Irene Jones, 1930s
Photo courtesy Joanna (Kennedy) Hendricks

By 1940, Paul Jones had passed away and Nettie and her four children, including 22 year old Irene, were still living in Ketchikan, according to the 1940 Census.
Nettie Jones eventually remarried. She passed away at the age of 85 in December of 1979. In early 1980, the Alaska State Legislature commemorated her.
"Nettie Jones Ellison had to stand alone, between the White and Native communities and fight for what she knew was right," the Legislative proclamation read. "Perhaps it is difficult for Alaskans of today to recall such incidents. It is surely painful for those who were involved and perhaps embarrassing for those of us who were not. Surely all Alaskans will admire the courage and determination of Nettie Jones Ellison."

Editor's Note:
Ketchikan resident Joanna (Kennedy) Hendricks is Nettie Jones Ellison's grand daughter. Irene Jones is her Aunt, Geraldine Jones (Kennedy) is her Mother and Janet Kennedy is her Aunt (Sister ot Joanna's father, William Kennedy)
On the Web:
Columns by Dave Kiffer

Historical Feature Stories by Dave Kiffer
Dave Kiffer is a freelance writer living in Ketchikan, Alaska.
Contact Dave at dave@sitnews.us
Dave Kiffer ©2014

E-mail your news & photos to editor@sitnews.us


Publish A Letter in SitNews Read Letters/Opinions
Contact the Editor
SitNews ©2014
Stories In The News
Ketchikan, Alaska

Articles & photographs that appear in SitNews may be protected by copyright and may not be reprinted without written permission from and payment of any required fees to the proper sources.