Ketchikan couple created Disney wilderness films
Al and Elma Milotte won six Academy Awards
By DAVE KIFFER
June 30, 2022
Thursday

(SitNews) Ketchikan, Alaska - It may seem a long way from a small photography studio on Ketchikan's Dock Street to Hollywood and the Academy Awards. But that was exactly the path taken by Alfred and Elma Milotte.
The two-person filmmaking and photography team travelled the world for four decades, winning six Academy Awards for the Walt Disney Company and writing several bestselling nature books. But they got their start in Ketchikan.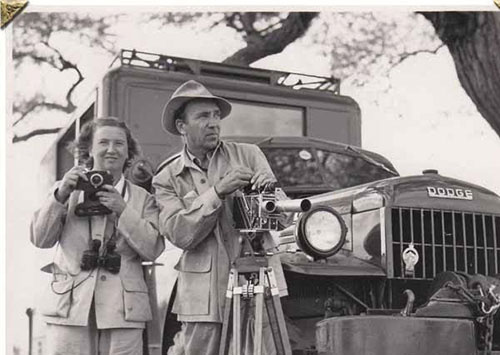 Milottes on Safari
Photo courtesy of the University of Alaska
Alfred Milotte was born in Appleton, Wisconsin in 1904. Elma Jolley was born in Seattle in 1907. Al Milotte attended Franklin High in Seattle and later studied at the University of Washington. He would also study at Cornish College of the Arts, the Chicago Art Institute and the Chicago Academy of Fine Arts.
When Al was five years old, his family moved to Minot, North Dakota and went into the restaurant business, according to Winona Jackson who wrote a length family history story for the Bonney Lake Historical Society in 2012 as part of the publicity for a film festival featuring several of the Milotte films.
Young Al Milotte was also interested in a photo studio that one of his uncles owned and operated. He was particularly taken by the techniques that allowed his uncle to make beautiful, artistic works out of ordinary people, according to Jackson.
One day, Al saw an ad in the local paper for a movie projector and film. He persuaded his mother to order it and then went door to raise the money to pay for it.
Al's father died shortly before the start of World War I and in 1918, his mother moved to Seattle leaving Al in Minot. At the end of the year, he joined her in Seattle and finished up his high school at Franklin High School.
His first job in Seattle, after high school, was at a hotel on Sixth Avenue. But he continued his interest in film and photography at the University of Washington. Unfortunately going to school and working full time proved too much. He decided to go to Chicago where he could continue to study and also work part time.
He worked for a company where he learned the valuable skills of designing labels and doing photo retouching. Unfortunately, he lost his job when the Great Depression arrived. So, he headed back to Seattle.
Elma Jolley grew up in Seattle and, according to Jackson, had always been interested in the outdoors. Materials kept by the family indicate that one of her early outdoors' inspirations was from the Camp Fire Girl's Camp Sealth on Vashon Island every summer.
After high school, she attended the University of Washington to study education and that was where she developed a love of theater. She tried out for numerous productions and was frequently cast.
After graduation, she took a teaching job in Orting, not far from Mount Rainier. In 1931, she went to a church outing at the YMCA pool in Seattle and that was where she first met Al, although it would be some time before they would really connect.
Six weeks later, she met him at a second gathering but that time, according to Jackson, he was accompanying another young woman. Al ended up giving both young women rides home. Alfred dropped off Elma last and said he would call her the next day, which he did. They were an item for the next three years. One of the highlights of their time together was a 1933 pack trip to the Hoh River wilderness on the Olympic Peninsula that foreshadowed their later life together, according to Jackson.
Elma quickly became the chief organizer for the couple, according to letters in the family archives. She was also the main negotiator when it came to working with film companies and others.
In 1934, Al saw an advertisement for a photography studio, the Fisher Studio, in Alaska.
Elliot Fisher had come to Ketchikan in the mid-1910s to work as an immigration officer, but, according to a 1934 Ketchikan Chronicle story, he quit the government and opened up a photography studio in 1919 which he operated until 1934. Fisher had recently visited Asheville, North Carolina and had decided to move there for health reasons.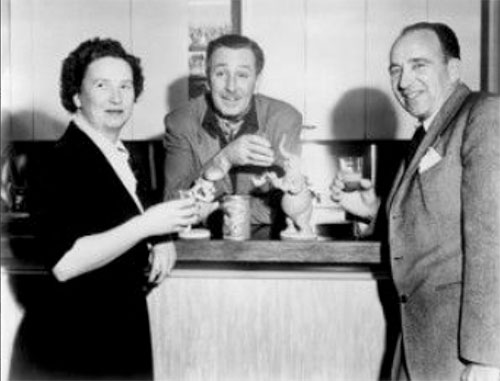 Alfred and Elma Milott pictured with Walt Disney
Photo courtesy University of Alaska
Al went to Elma, showed her the ad, and proposed marriage. They contacted Fisher and made an offer. The couple pooled their funds and then Al boarded a steamship for Ketchikan.
The offer was $2,200 with $100 down and $75 a month for the next 28 months, according to Jackson. When the school year was over, Elma joined Al in Ketchikan. They were married on June 15, 1934. The Milottes would quickly turn their studio into the largest portrait studio in the territory.
"The newlyweds immersed themselves in the life and culture of the small fishing town" Jackson wrote in 2012. "They quickly became known for their quality portraits, fishing industry images, photo engraving, and line cuts for commercial, newspaper, and book work. Before the arrival of the Milottes, this type of work would have to be outsourced to Seattle, losing thousands of dollars in Alaskan revenue. The Milotte Studio was the only one of its kind in Alaska, providing up-to-the-minute news pictures referred to as spot news."
Jackson wrote that Al was active in the Ketchikan Rotary and that he was a "very speedy" forward on a local basketball team as well as an enthusiastic softball player. Jackson noted that Elma had a "love of theater" and found an outlet with the Ketchikan Repertory Players where she "directed plays and even convinced Alfred to act in some."
But the couple's real passion, Jackson wrote, was the outdoors.
"Just a short walk away from their home in Ketchikan, they could follow the trail of a wolf, a bear, or a moose and snap photos of the animals in their natural habitat. Alaska was so vast and so full of amazing scenery and an abundance of wildlife," Jackson wrote in 2012. " The couple talked of exploring the interior and following the proposed route of a highway that could connect the United States to the Territory of Alaska. They embarked on a journey that would mark another change in their career path. Over a period of fifteen months, they traveled by horseback filming the little known and rarely seen views of the Alaskan interior and capturing the animals of the north in their wild environment."
With them were two movie cameras, two Leica still cameras and thousands of feet of film.
"A rifle was taken for protection but was only shot once into the air when a bull moose was threatening to charge," Jackson wrote. "Not all photos turned out well. When a grizzly came a bit too close for comfort, Elma became a little flustered and forgot to focus the camera, wasting precious color film. Weather was also a factor that they had to contend with. At one point they made their way from camp on the Stikine River through a snowstorm that developed into a blizzard."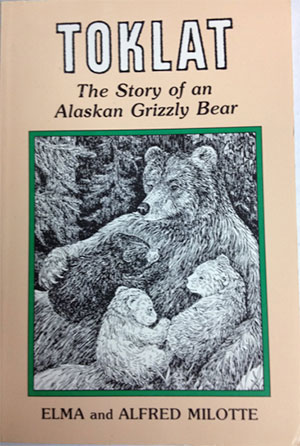 Courtesy Amazon.com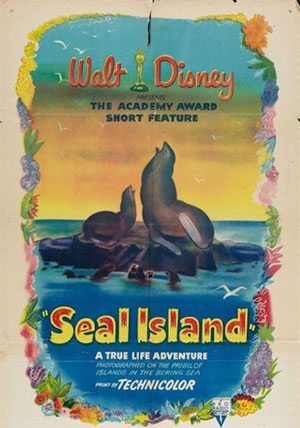 Courtesy www.wikipedia.org
While in Fairbanks in 1940, the Milottes were taken with the Golden Heart City and opened a second photo studio, planning to split their time between Ketchikan and Fairbanks in the future. They also made plans to use their film for a lecture series that could tour the country.
"Having a new base of operations in Fairbanks afforded Alfred and Elma greater access to the sights of the interior of Alaska," Jackson wrote. "From the jeweled colors of the Aurora Borealis as it danced across the heavens to the heights of Mt. McKinley Park, the Milottes recorded thousands of images that would also offer later inspiration for Alfred's oil paintings."
It hadn't taken long after his arrival in Alaska for Milotte to begin to market his Alaskan images elsewhere. A story in the 1937 Ketchikan Chronicle reported that three of his Ketchikan photos were part of a major exhibition in Los Angeles. By 1941, the Milottes were spending so much time outside of Ketchikan on their photographic and film excursions that they sold the local portrait studio to Inabel Elliot. Ellliot operated it until 1947 when it was sold to Eldon Coon, who would change the name and then provide portrait photography in Ketchikan well into the 1960s.
During World War II, Al filmed instructional videos for North American Aviation. But as soon as the war was over, the Milottes rekindled their interest in wilderness and wildlife film and photography.
According to a 1975 article in the Seattle Times magazine, after the second World War Walt Disney was interested in producing a series of nature "biographies." They were inspired by the footage his camera crews had brought back from Maine that was used by the animators of Bambi. He wondered if there might be a similar way to get footage from Alaska and contacted The Alaska Sportsman Magazine which was then located in Ketchikan, just a couple of blocks from the Milotte studio. The Sportsman editors knew that the MIlottes had spent a lot of time filming in the Alaskan interior and recommended Disney view their work. He was impressed enough to essentially give them a blank check.
"His initial instructions were vague: Any documentary footage that would mirror the development of Alaska - mining, fishing - anything might be of use," The Times reported in 1975. "The Milottes traveled and filmed. They sent Disney footage on panning gold, salmon fishing, and dozens of other fields."
But Disney was looking for something else and wired back "too many mines, too many roads, more animals."
Al Milotte had just the right idea and suggested going to the Pribilof Islands to film the fur seals. Disney okayed the project and the Milottes eventually produced more than 30,000 feet of film on the fur seals. It became a 30-minute film "Seal Island." It won the short subject Academy Award in 1948 and was the first of six Academy Awards the MIlottes would win.
Soon they were filming Native villages in Alaska and other subjects. Three more Oscar winners, "The Alaskan Eskimo," "Bear Country" and "Nature's Half Acre" followed. Eventually they would go farther afield, to Africa where they would spend three years, and 100,000 feet of film creating "The African Lion," which was eventually broken down into three separate films. Their north American films "Beaver Valley" (filmed partly near Loring) and "Waterbirds" also won Oscars.
The Milottes were responsible for creating the "True Life Adventure" series for Disney. It would run for nearly three decades and produce dozens of short films that were used in theaters during the years when it was normal for every night at the movie house to also have short features before the main features. The Disney true adventure films have been credited with creating significant public interest in preservation of animal species and wilderness protection, much in the same way that Jacques Cousteau films did for the oceans and sea life.
Also noteworthy was that nearly all the animatronic animals created for both Disneyland and Walt Disney World were based on the footage from Milotte productions.
In 1959, they moved to an 128-acre hilltop retreat outside of Sumner, Washington, which they eventually named the "Sky Ranch." They semi-retired from most filmmaking but they continued to travel. Only now it was to gather material for books such as the "The Story of a Hippopotamus," "The Story of The Platypus" and "The Story of An Alaskan Grizzly Bear" which were big sellers in the early 1960s. They also continued some filming. Al even contributed footage of seagulls and crows for Alfred Hitchcock's horror classic "The Birds"" in 1963.
"I hated it (the film)," Al Milotte told the Times in 1975. "The story was just terrible."
By the mid 1970s, both of the Milotte were teaching and Alfred was also painting. He would go on to have several gallery shows in the Puget Sound area. The Milottes were also popular on the national lecture circuit giving hundreds of presentations all across America. They were also "tree farmers," growing various types of trees on their Sumner property.
After spending nearly every minute together for more than half a century, Alfred and Elma Milotte both died in April of 1989. Alma died on April 19 at 81 and Alfred passed away on April 24 at 84.
In 1998, the Walt Disney Company named the Milottes "Disney Legends."