A late night visit to Creek Street
Old memo details a 'meeting' between police chief, Dolly Arthur
By DAVE KIFFER
April 29, 2019
Monday PM

(SitNews) Ketchikan, Alaska - History and time have a way of rubbing the rough edges off a person.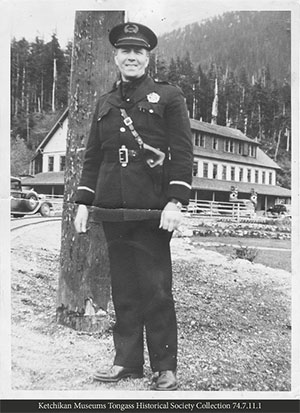 Ketchikan Police Chief Samuel Shirley Daniels,
better known as S.S. Daniels
Courtesy Ketchikan Museums
Tongass Historical Society Collection
A perfect example is Ketchikan's most famous "madam" Thelma Copeland, AKA Dolly Arthur. The one-time proprietor of the brothel that is now Dolly's House Museum, was one of hundreds of women who worked Creek Street during its half century. During much of her lifetime she was not thought particularly noteworthy, but the fact that she outlived the closing of the Creek by two decades and was the subject of a biography by Ketchikan historian June Allen gave her a certain notoriety.
By the time she passed away in 1975, she was the grand doyenne of a bygone Ketchikan era. Four decades later she has become one of Ketchikan's most famous residents, her face on everything from T-shirts to posters to coffee mugs.
But recently the Tongass Historical Museum received a copy of a long ago "memo" from the hand of a long time Ketchikan police chief that reminds us of Dolly's more rough and tumble character during the height of the infamous Creek Street Red Light District.
The police chief was Samuel Shirley Daniels, better known as S.S. Daniels, a fifteen-year member of the Ketchikan police force and chief from 1932 to 1943. The memo was called "Just a Typical Night for the Police Department." It is undated, but clearly happened during the time Daniels was chief.
The memo began with a time, "10 PM"
"Lefty Shoel came to the station," Daniels wrote. "Said Dolly Arthur had called him on the phone at the Stedman Hotel and said there was no use of him coming down there as he would be too late to do anything and it would be all over."
Chief Daniels wrote that he and Shoel went over to Dolly's House and found her in the hallway at the top of the stairs.
"She asked what I was doing there," he wrote. "Told her I came to see what the trouble was. She said 'well get out of here you s. of b. and came at me."
That's when things got interested, according to Daniels.
"Grabbed her hands, held her for a short time," he wrote. "Thot (sic) she had cooled off and released her hands. She grabbed a tea kettle of hot water from the stove and tried to throw it on me. Both got burned. Threw the tea kettle at me when nearly empty. Grabbed her again and held her down and she started to cry and let her go again.
That, of course, was not the end of it.
"She got up and grabbed a glass of something off the dresser," Daniels report continued. "Got most of it away from her and she got another glass that was setting (sic) there and drank some of that. Also tried to drink a bottle of chloroform. Took it away from her."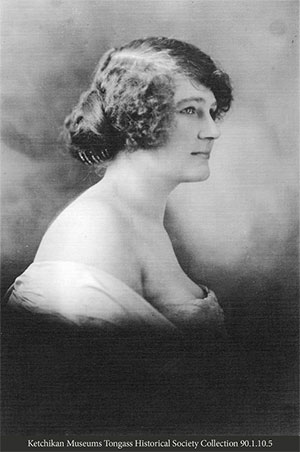 Famous Ketchikan "madam" Thelma Copeland,
AKA Dolly Arthur
Courtesy Ketchikan Museums
Tongass Historical Society Collection
Daniels had Shoel summon Dr. Arthur Wilson.
"She grabbed a bottle of booze and took a drink from that," Daniels wrote. "Soon she fell to the floor moaning and groaning. Soon after Dr. Wilson came. Gave her something to vomit. Very abusive and rough. Dr. said she was in no danger, so left her lying on the floor."
And that was that for Daniel's visit to Dolly's house that night.
As noted, Arthur went to become a fairly well known story in the First City. See "Dolly Arthur: Now Ketchikan's Poster Girl, SITNEWS, May 7, 2002."
A search through the Tongass Historical Museum archives by Registrar Erika Brown turned up a fair amount of biographical detail on Daniels. He was born in 1891 and married Winifred December 20, 1922 in Washington. The marriage record listed him as being from "Ketchikan Alaska" He joined the Ketchikan police department as a patrolman on December of 1928. He became chief in May of 1932 and resigned in April of 1943.
He first shows up in Ketchikan phone books in 1926 and his address is first listed at 2104 First Avenue in 1933. He was shown paying taxes in 1926 on a house worth $2,600. S.S. and Winifred Daniels continued to own the house until 1955. Daniels died in Curry, Oregon in June of 1977 at the age of 86.
He first showed in the Ketchikan Chronicle newspaper on July 4, 1921 listed amongst other locals who was one of Ketchikan's 119 World War I veterans. On Dec. 6, 1928 it was noted that he was one of three new patrolmen on the Ketchikan force with a salary of $175 a month. On June 29, 1929, Daniels was one of several police officers who testified during a coroner's inquiry into the death of David I. Chess, "alias Tiny Walker, prohibition informer" according to the Chronicle.
In 1930, Daniels was the "acting chief of police" and was involved into the investigation of a car, driven by two local men plunging into Thomas Basin off of Stedman Street.
In 1932, the Chronicle reported that Daniels - still the acting chief - was involved in the investigation of a local missing man, John Bakken, whose hat was found floating in the harbor near Northern Machine Works. When no sign of Bakken was found in the water, plans were made to "drag" the bay, but an officer made a second trip to Bakken's lodgings, "the latter was in bed. His clothes were still ringing wet. He had no explanation to offer."
In May of 1935, the Chronicle reported that Chief Daniels had come up with a plan to put habitual drunks to work in city streets on a "chain gang."
"Testifying mutely although earnestly to the seriousness of the announcement of city officers to establish such a chain gang, the necessary balls and chain are now reposing under the desk of S.S. Daniels, chief of police," the paper reported breathlessly. "They were made in Ketchikan by the Ketchikan Foundry and were delivered this week. Each consists of an 18-pound brass ball attached to a 6-foot chain which is equipped with an anklet lock."
The Chronicle went on to note that an ordinance approving use of chain gangs was first approved in 1902 but had never been enforced. The paper also noted that public drunkenness had dropped dramatically in the previous few weeks when word had gotten out about the potential chain gang use. Two months later, though,, Matt "Blackie" Jeff, was convicted of drunkenness and sentenced to five days on the chain gang.
The next month, June, the Chronicle reported that Chief Daniels had received a phone call from a person staying in one of the downtown hotels reporting that a large green parrot was flying about the downtown causing a ruckus. Daniels determined that the parrot was an hallucination.
In March of 1943, the Chronicle reported that Chief Daniels had resigned as of the first of April. The city council accepted the resignation "with regrets."
"He has been faithful, upright," said Mayor Harry McCain. "There has been no breath of scandal or accusation against his honesty in all that time."
Daniels told the Chronicle he had no definite plans after the resignation. But within a couple of months he was chairman of the local Red Cross effort and helping with the local war preparation efforts.
Daniels would apparently leave the community in the middle 1950s, but his son, Leland would become well known as the skipper of the Christian, a vessel that would visit communities in the region bringing a rare commodity, fresh food, throughout the year.
Related: