Not all came back
Local man was on Navy sub that disappeared in WW II
By DAVE KIFFER
June 26, 2020
Friday PM


(SitNews) Ketchikan, Alaska - Some 850 men and women from Ketchikan took part in military service in World War II. Six died in the war and five were buried with honors, either in Ketchikan or at military cemeteries elsewhere. But one "local" man who died in World War II, Jerome Richard Rice, isn't buried anywhere.
Jerome Rice was lost with 59 other crew members on the submarine USS Gudgeon when it disappeared in the western Pacific in 1944.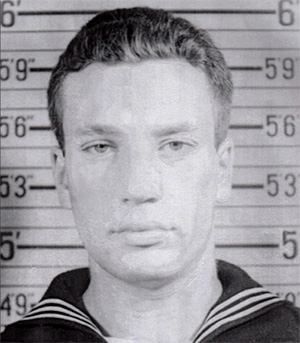 Jerome Richard Rice
Awarded Purple Heart - World War II
Petty Officer Third Class
Torpedoman's Mate Third Class
USS Gudgeon (SS-211)
Missing in action, Lost at sea
July 30, 1923 - April 18, 1944
That Rice never returned home is not usual in the submarine fleet. The mortality rate in the 30,000 men of the American "silent service" in World War II was 20 percent. The overall mortality rate for soldiers and sailors in that war was 2.5 percent. It was worse if you were a submariner for one of the countries that came on out on the wrong end of the score. For example, of the 40,000 men who served on German U-Boats, only 10,000 survived, a staggering loss of 75 percent.
But even if American submariner losses were lower, anyone who signed up for US sub duty - and it was all volunteer - knew they had a much greater chance of not coming home than other sailors in the war.
And if Rice had survived the war, would he have returned to Ketchikan? Well, the historical record on him is limited. It's not even clear if Ketchikan was his long-term home. His father, Maurice Rice, was a lieutenant commander at the Ketchikan Coast Guard base from 1941 to 1945, so the Navy considers Jerome Rice's hometown to be Ketchikan.
According to the 1930 census, Rice was born in New York. According to the 1940 census, he was living, with his family, in Cleveland. But by 1944, his father was clearly in Ketchikan and - as far as the United States Navy is concerned - Rice is one of the six Ketchikan men who died during service in World War ll.
The length of Rice's service on the USS Gudgeon is also unclear. All we know for sure is that Rice was on the ship when it disappeared in 1944. During the war, it was normal for submariners to do at least three "patrols" on a ship before cycling into a shore side duty. Since the Gudgeon underwent major overall and brought on an entirely new crew before its ninth patrol, it was likely that he was on the ship for its 9th, 10th, 11th and final patrols.
While Rice's own history has been a challenge to trace, the Gudgeon, one of the most honored ships in the war, has a clear history. The Gudgeon is credited with being the first American submarine to sink an enemy warship in World War II on January 27, 1942. The long-range Tambor-class sub scored 14 confirmed kills of 71,000 tons, making it 15th in terms of US subs during the war before it disappeared in early June of 1944 and was presumed lost.
It was built at the Mare Island Naval Shipyard in Vallejo, California, some 25 miles northeast of San Francisco in the upper reaches of San Pablo Bay.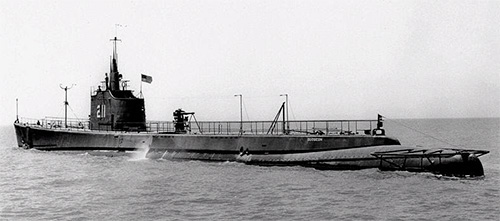 During her three-year war career, Gudgeon sank 14 ships totaling over 71,372 tons, placing her 15th on the honor roll of American submarines. For her first seven war patrols Gudgeon received the Presidential Unit Citation and she earned 11 battle stars for World War II service.
Photo U.S. Navy
Construction began in November of 1939 and it was launched in late January of 1941, nearly a year before Pearl Harbor. The 307-foot submarine had a crew of 6 officers and 64 enlisted men. It had a speed of slightly more than 20 knots on the surface and approximately 8.75 knots submerged. At 10 knots it had a surface range of 11,000 nautical miles. It could stay submerged up to 48 hours. It carried a total of 24 torpedoes and had six forward tubes and four aft tubes. The overall cost of the submarine was $6 million.
The Gudgeon's first mission was to visit Alaska on its way to Pearl Harbor. First , it undertook a shakedown cruise off California and then on August 28, 1941 headed to Seattle and then further north. It was part of a mission to assess Alaskan ports for their suitability as naval bases and along the way it stopped in Sitka, Kodiak and Dutch Harbor. It reached Pearl Harbor in early October where it underwent training exercises.
On December 7, 1941, it was out of the base when it was attacked, in Lahaina Roads near Maui. It immediately returned to Pearl Harbor. Four days later it left Hawaii on the first submarine patrol of the newly declared World War II. Three weeks later it was the first US submarine to reach Japan patrolling for a month off the island of Kyushu. On January 27, 1942 while it was preparing to return to the Pearl Harbor, it encountered the Japanese submarine 1-73 and sank it with three torpedoes.
From February 22 to April 15, the Gudgeon returned to east Asian waters where is sank an unknown freighter and then the 6,500-ton Nissho Maru near Kuman Island. She returned to Pearl Harbor for drydock but left early to participate in the Battle of Midway. She returned to Pearl Harbor in mid-June.
It's third patrol began on July 11th. It sank the 4800-ton transport Naniwa Maru off Truck on August 3 before heading to Australia in early September.
On its fifth patrol it sank the 6700-ton Choko Maru near Rabaul on October 21.
During its 6th patrol, from December 1942 to February 1943, it was involved in two important missions, landing several men in the Philippines to carry out guerrilla missions and rescuing 28 shipwrecked sailors from Timor Island and taking them the Australia.
The Gudgeon continued to be based out of Australia. It's seventh patrol in March and April of 1943, netted two more Japanese ships, the 5400-ton Meigen Marun in the Java Sea and the 9900-ton Toho Maru in the Makassar Strait. The Gudgeon seriously damaged but did not sink three other ships.
On her eight patrol, a return from Australia to Pearl Harbor, the Gudgeon had three more confirmed kills, First, it sank the Kamakura Maru, a 17,000-ton former ocean liner converted into a troop ship near the Philippines. The it sank the 500-ton Naku Maru and the 5800-ton Sumatra Maru. The submarine returned to Pearl Harbor and then traveled to San Francisco for a major overhaul. Mostof the crew was swapped out at this point and here it is likely that Rice joined the ship as a torpedoman third class.
On board the submarines it the torpedoman's job to keep the armaments in top shape according to an 2015 interview in the New York State Military Museum with Charley Carson, a torpedoman third class, who served on the USS Redfish during World War II. Carson said that torpedomen underwent basic training and then 16 weeks of submarine training, followed by 16 weeks of torpedoman training. They were tasked with making sure the torpedoes and the propulsion systems were always in fighting form and that the deck machine gun and the small arms were ready if need be. He said one of the biggest challenges was getting the propulsion systems on the torpedoes to work properly and that in the early stages of the war those systems failed up to 40 percent of the time. Making it more complicated was that the Navy was trying to switch over from alcohol-based torpedo engines to electric ones and the electric ones failed at an even higher rate.
Carson also noted that torpedomen slept in bunks right next to the torpedoes that were stored on the ship.
With a new crew on board, the Gudgeon left Pearl Harbor on its ninth patrol on Sept. 1, 1943, patrolling the Marianas Islands. It had another confirmed sinking in the 3100-ton Taian Maru. It's 10th patrol from October to December took it to the China coast, where it sank the 870-ton Wakamiya and the 6,700-ton Nekka Maru.
On its eleventh patrol, it was able to hit a damaged Japanese aircraft on Feb. 2, 1944 but did not sink it. On Feb. 11 it sank the 3000-ton Satsuma Maru and a smaller Japanese fishing boat off Wenchow, China. The submarine returned to Pearl Harbor in early March of 1944.
The Gudgeon left Pearl Harbor for the last time on April 4, 1944. It stopped at Johnston Island on April 7 for additional fuel and that was the last time it was seen or heard from. A month later, June 7, it was declared overdue and presumed lost. There have been at least two different conjectures about its fate. One story has it being sunk on the 18th near Iwo Jima. Another posits it was attacked and sunk near the Maug Island in the Northern Marianas.
Mike Ostlund's uncle Bill was a lieutenant on the Gudgeon and disappeared with the rest of the crew in 1944. In 2006, Ostlund wrote "Find Em, Chase 'Em, Sink 'Em: The Mysterious Loss of the WWII Submarine USS Gudgeon." Ostlund extensively researched the story of the ship, talking to numerous surviving crew members, who had left the ship before its final patrol.
He also researched Imperial Japanese war records, including a report from a Japanese pilot that had reported sinking an American submarine near "Yuoh" Island on April 18, 1944.
The pilot reported that a submarine had been seen on the surface the day before and he was ordered to be on the look-out. Shortly after dawn, he saw a submarine surface and he bombed it. The first bomb exploded on the bow and the second exploded on the conning tower bridge and the submarine quickly sank, He gave the location as 160 miles from Yuoh Island, according to the translation of the report. US officials have long disregarded that report, according to Ostlund, because there is no "Yuoh" Island anywhere in the Pacific.
But Ostlund believes there was a translation error and the Yuoh actually is Iwo, as in Iwo Jima, as both Yuoh and Iwo are Japanese word for Sulpher, which is another name for Iwo Jima, Sulpher Island.
Ostlund believes that the final resting place for the Gudgeon and her crew - including erstwhile Ketchikan 'resident' Jerome Rice - is in some 4,000 feet of water in the vicinity of Iwo Jima.
Related: