When JFK Came to Ketchikan
Future president was most likely laying the groundwork for his eventual campaign
By DAVE KIFFER
October 30, 2020
Friday AM

(SitNews) Ketchikan, Alaska - Among Ketchikan residents of a certain age there is a strong memory of John F. Kennedy coming to Ketchikan in 1960 and speaking to a packed audience at the Coliseum Theater shortly before he became President.
The event itself did happen, but Kennedy wasn't yet running for President when he visited Alaska for the first time.
On November 10, 1958, Kennedy stepped off a Pacific Northern airplane from Seattle at Annette Island. He was flown to Ketchikan on Grumman Goose piloted by Bob Ellis.
Ellis - with help from local Democratic leader W.O. "Bo" Smith - introduced Kennedy to the more than 500 people who crowded into the Coliseum Theater to hear the young US Senator from Massachusetts speak. Kennedy had just been reelected to the US Senate by what was then the largest margin in Massachusetts history and was being touted as a likely contender for the Democratic presidential nomination in 1960.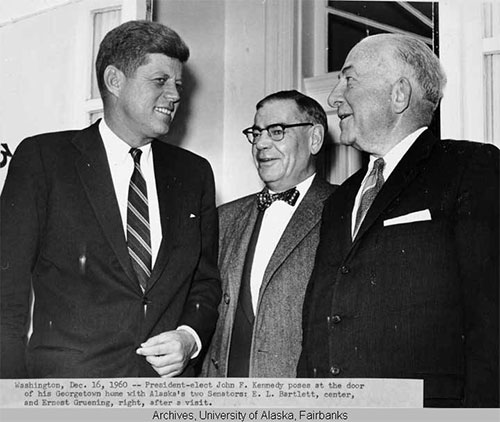 December 16, 1960
President Elect John F. Kennedy poses at the door of his Georgetown home with Alaska's two Senators: E. L. Bartlett, center, and Ernest Gruening, right.
Courtesy Alaska and Polar Regions Collections, Elmer E. Rasmuson Library, University of Alaska Fairbanks
Politlcs was the heart of Kennedy's Alaska visit - which would also include stops in Juneau, Anchorage and Fairbanks. But he was looking toward an election on November 25 and not the presidential race in 1960, although that was likely in the back of his mind at the time.
Kennedy was in Alaska to speak in support of the two long-time Alaskan politicians who were seeking to become Alaska's first US Senators in January of 1959, longtime territorial Governor Ernest Gruening and longtime Alaskan delegate to Congress, E.L. "Bob" Bartlett.
Alaska was sent to become a state on January 3rd and Kennedy wanted to make sure the Alaskan Senatorial Delegation was firmly Democratic.
The fact that the most prominent politicians in the soon to be state were Democrats seems far-fetched 60 years later, but Alaska was perceived as a "blue" state in its early years. In fact, Alaska statehood was delayed in the 1950s, because Republican politicians in Congress objected to a "Democratic" state being added. It wasn't until Hawaii - then a solid GOP stronghold - was ready to statehood that the two were voted in as a "package deal" to not upset the political calculus in Washington D.C.
Kennedy's 1958 arrival in the First City was heralded with a front-page story and photo in the Thursday , November 6, edition of the Ketchikan Daily News.
The story of speech also received coverage in the afternoon edition of the Monday November 10 edition of the Daily News. But it was not the lead story.
The Daily News used a rare full-page headline to announce to its readers "Fish Traps to be Abolished."
The federal government - after supporting the use of the traps for decades - was finally bowing the concerns of most Alaskans who had opposed the traps for many years. But it was a somewhat empty gesture. The Alaska Constitutional Convention, which was soon to be the basis of the new state government in January, had already declared that fish traps - except those on Native land - would be abolished when the state took over management of its fisheries.
Still, the Kennedy visit was front page news in the local newspaper under the headline "New State Should Join Democratic Trend - Kennedy".
"Democrats entered the 1958 campaign seeking an opportunity to the job that needs to be done," Kennedy told the Coliseum audience. "That job needs to be done in Alaska, our newest state perhaps more than any other state in the Union."
Kennedy noted that Alaska needed infrastructure like schools and hospitals, dams and even "atomic power plants" and that it would be up to Congress to make that money available to the state.
"I would not attempt to tell voters of another state their business," he continued. "But it seems to me that the voters of this brand-new state of Alaska, regardless of party would see the wisdom of electing Democrats to state and national office this year. The reason is simple - to share in the Democratic sweep of 1958."
In 1958, there was a national recession going into the end of Dwight Eisenhower's second term and Republican candidates fared poorly in both the House and Senate elections with narrow Democratic majorities being expanded to commanding ones in both bodies.
Kennedy noted that some in Alaska were suggesting that voters elect one Democrat and one Republican to the Senate to take advantage of "both sides of the aisle."
"This is no time for Alaska to speak with a divided voice in Washington D.C.," Kennedy told the Ketchikan audience. Then he went on to extol the Washington experience of both Gruening and Bartlett as key to making sure that Alaska got as much infrastructure money and federal support as it needed.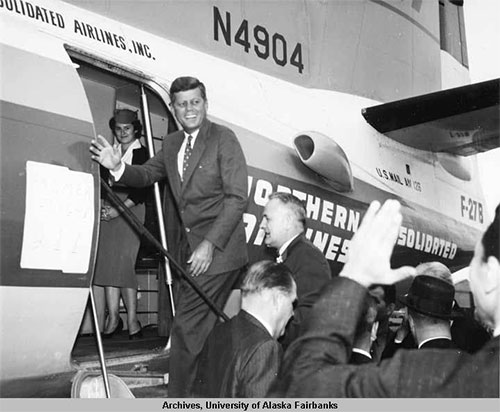 Senator John F. Kennedy during his 1960 campaign for the Presidency. The Senator is waving, his entourage behind him, as he stands on the stairways about to enter a Northern Consolidated Airplane.
The sign at the door reads: Palmer Flight 211.
Courtesy Alaska and Polar Regions Collections, Elmer E. Rasmuson Library, University of Alaska Fairbanks.
The Daily News noted that the weather had delayed Kennedy's arrival in Ketchikan and - as a result - he needed to leave immediately for Juneau after his speech. A planned luncheon in the First City was scrapped to allow him to get on his way.
He arrived in Juneau in time for an evening speech, then spent the night at the Baranof Hotel before flying on Pan Am to Anchorage and then Fairbanks.
The week before, Vice President Richard Nixon had also been in Alaska, supporting Republican contenders for the Senate seats as well. He also stopped in Juneau, Anchorage and Fairbanks, but did not visit Ketchikan. Nixon, of course, would later lose to Kennedy in the 1950 Presidential Race, one of the closest on record. Interestingly enough, although most people thought that Kennedy would easily defeat Nixon in Alaska in the 1960 race, Nixon edged out Kennedy by just over 1,000 votes in the Last Frontier.
Although Kennedy did not address the upcoming election, the story noted that he was asked by "newspapermen" if he had an "aspirations" for the Presidency.
"I have just been re-elected to the Senate," he said. "And that's my job."
But Kennedy did tell the "newspapermen" that he planned to return to Ketchikan at some point in future.
That time was expected during the 1960 campaign. Kennedy would come back to Alaska in September of 1960 - visiting Anchorage and speaking at the Alaska State Fair to fulfill a campaign pledge to visit "all 50 states" before the election, but he did not return to Southeast Alaska.
But in February of 1960, the Kennedy campaign planned to send Kennedy's 28-year-old younger brother Ted to Ketchikan to do some campaign work and also set the stage for a potential return to the First City.
The negotiations for Ted Kennedy's visit take up small file cabinet in the JFK files at the Kennedy Presidential Museum in Boston and are available on-line.
The discussions for Ted Kennedy's visit to Ketchikan began in earnest in January of 1960 when he met with Ketchikan residents C.A. Carroll and W.C Stump in Senator Bartlett's office in Washington D.C. to discuss a Ketchikan visit in toward the end of February. Kennedy wrote several memos regarding that and other meetings to his brother's campaign staff.
Senator Kennedy then wrote brief notes to both Carroll and Stump.
"My brother Ted has told me how very much he enjoyed meeting with you Senator Barlett's office this morning," John Kennedy wrote on January 6. "This is just a note to thank you for your helpfulness to Ted at that time. We both appreciated your advice and suggestions with regard to his proposed trip to Alaska."
Then Ted Kennedy sent a memo to his other brother Robert Kennedy noting that his discussions with the Alaskans had convinced him to delay his trip until the end of February.
On January 12, John Kennedy wrote to Maurice Oaksmith at Bucey Motors in Ketchikan, thanking him for two earlier letters and asking Oaksmith to contact Ted Kennedy directly with advice and suggestions for his upcoming Alaskan trip.
On January 4th, Oaksmith had written to Kennedy (Calling him Jack and signing the letter Maury) to tell him about recently spending several weeks in Washington, Oregon and northern California and hearing a lot of people talking positively about the potential nominee. He mentions reading about Kennedy's potential rival in the upcoming contest and calls him "Tricky Dicky Nixon."
"Received your lovely Christmas card and enjoy it very much," Oaksmith writes. "It occupies a special spot in our house."
On the Web: