The Drs. Dickinson; Husband and Wife Team Served Ketchikan for Half a Century
By DAVE KIFFER
October 03, 2021
Sunday PM

(SitNews) Ketchikan, Alaska - George Dickinson, who practiced for 50 years in the First City, may not have been Ketchikan's first doctor, but he was Ketchikan's "first Medicine Man" according to those that knew him.
In 1980, Dr. Arthur Wilson, Sr. was interviewed by James Lindstrom, a young medical student. Wilson had come to Ketchikan in 1931 and knew Dickinson who practiced for more than half a century in the First City.
"George Dickinson was one of the last traveling medicine men," Wilson told Lindstrom in 1980. He said that Dickinson had traveled in the interior of Alaska for many years before coming to Ketchikan with Dr. Henry Story in 1899. Wilson said that Dickinson practiced - at least in his early days - without a license, which was in stark contrast to his wife Beatrice who was a graduate of the Northwestern University Medical School and one of the first female doctors in the Chicago area.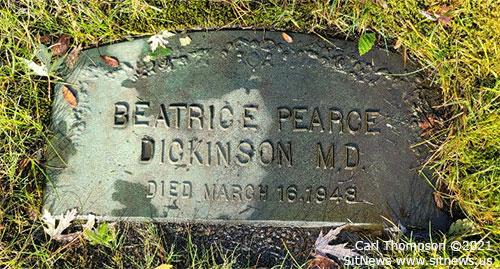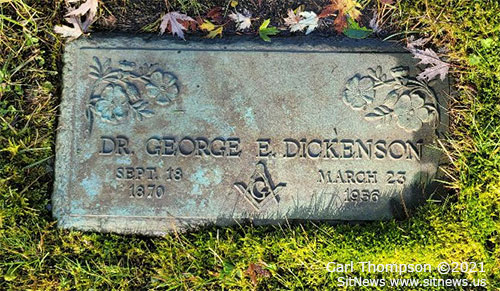 George Dickenson is buried along with his wife in Bayview Cemetery.
Photographs By CARL THOMPSON ©2021
George Dickinson was particularly known for salves and potions and other products that were very popular with fishermen and miners in the early days. In his first years in Ketchikan, he also concentrated on operating the community's first drug store, where he could sell his potions, but later on he worked more as a doctor.
Lindstrom wrote that Beatrice Dickinson "kept George from overstepping his limitations" as a doctor, a characterization that Dr. Art Wilson Jr. recently agreed with.
Beatrice Pearce Dickinson was the daughter and sister of doctors in Lake County, Illinois and was supported by her family in her desire to be a doctor - eventually becoming the first female doctor in Lake County, according to a 2013 article on the Lake County Historical Society website. She had graduated from medical school in 1887 and started her own practice, specializing in women's and children's health in Waukegan, Illinois. She was also a prominent suffragette and served as treasurer of a regional woman's suffrage organization.
According to the historic society website, in 1908 she was attending a medical convention in Chicago when she met Dickinson. They married later that year. He was 38 and she was 42.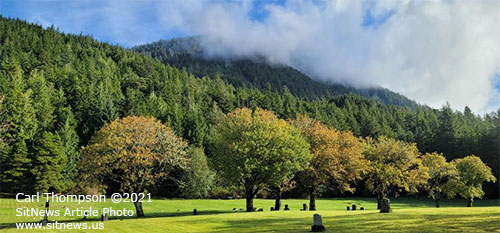 A glimpse of Bayview Cemetery - Ketchikan, Alaska
Photo By CARL THOMPSON©2021
They returned to Ketchikan where Dickinson had had a practice for nine years. When he and Story had arrived on May 25, 1899 on the steamship Dirago, their first office had been a tent on Front Street, but eventually moved in an office on Front Street that Dickinson used for the next 50 years.
"Their office was at the site of the present Ketchikan tunnel, rank with the smells of the nearby fishmarket," Lindstrom wrote in 1980. ( Dickinson) was best known for some salves and lotion that the fisherman swore by, but he did a lot of work among the Indians, sometimes rowing to Chief Johnson's camp on Carroll Inlet, and also making 36-hour rowing trip to a mining camp at Sulzer on Cholmondeley Sound."
Sulzer was actually on the western side of Prince of Wales, not far from where Hydaburg is today. But people accessed it in those days by traveling up Cholmondeley Sound and then portaging to the other side of the island. (See "A Prince of Wales Canal" SITNEWS, Nov. 15, 2020)
According to an article in the February 3, 1947, Ketchikan Chronicle, Dickinson and Story were partners until 1902 and also operated the community's first drug store, where the Gilmore Hotel now stands, from 1899 to 1906.
According to the minutes of the Aug. 7, 1900 session of the federal commissioner - the government authority in Ketchikan before the town incorporated later that month - Dickinson was fined $1 for operating a drug store without a license.
According to research by Ketchikan historian Pat Roppel, Dickinson went into partnership with a Dr.. Strickler in 1901 and officially dissolved his partnership with Dr. Story in 1902.. He made numerous medical trips to Metlakatla from 1901 to 1904 and was credited for saving a woman's life there in 1902. He built a combination office/residence on Front Street in 1904.
Dr. Arthur Wilson Jr. said recently that he used to deliver newspapers to the home of the Drs. Dickinson. It was located on Front and Grant right where the Ketchikan tunnel now is. He confirmed that George Dickinson was known for rowing back and forth to many of the outlying communities, most notably across Clarence Strait to Prince of Wales Island.
In 1906, Dickinson went to Sulzer and Coppermount on Prince of Wales Island where he worked full time for several years for mines in the area. The Chronicle noted that Dickinson was born in 1870 in Derbyshire, England and came to the United States in 1894. It said that he and his wife had a "homestead" on Gravina Island and a large vegetable garden.
His wife Beatrice died on March 16, 1947 "after a long illness" according to the Ketchikan Chronicle.
"Mrs. Dickinson, who refused to let an affliction that kept her from walking keep her from (her profession)," the Chronicle noted, saying that she was a familiar site at various events around the community in her wheelchair. She was 82 when she died. In its obituary, the Chronicle also gave a different version about how the two doctors met.
"She first came north after the turn of the century for a medical convention in Whitehorse, Yukon, meeting Dr. G.E. Dickinson, who operated Ketchikan's first drug store, enroute," the Chronicle reported in 1947. "She corresponded with him and returned here in 1908 after they were married."
The newspaper noted that in addition to her husband, she was survived by a niece, Harriet Stensland and a nephew,, Herman Kallor, both of Ketchikan. She was buried in Bayview Cemetery.
Dr. Art Wilson Jr. said that Dr. George Dickinson did not practice locally the last decade or so of his life.
According to Ketchikan Cemetery records, George Dickinson died in 1956 on a flight between Chicago and England and is buried along with his wife in Bayview Cemetery. He was 86. .






On the Web: