Firsthand Account of Ketchikan's Early Days
By DAVE KIFFER
December 12, 2012
Wednesday AM

Ketchikan, Alaska - It has been more than a century since Ketchikan was carved out of the Revillagigedo hillside and the mudflats of what was then called Fish Creek.
All of the original founders are now deceased and if modern Ketchikan residents want to find out about the days when Ketchikan was just a collection of very humble shacks on Tongass Narrows, they have to rely on second and third and fourth hand accounts.
Most of Ketchikan's early residents were boomers and builders who left few journals or letters behind. But one family, the Hunt family, left behind a treasure trove of early photographs of the growing community.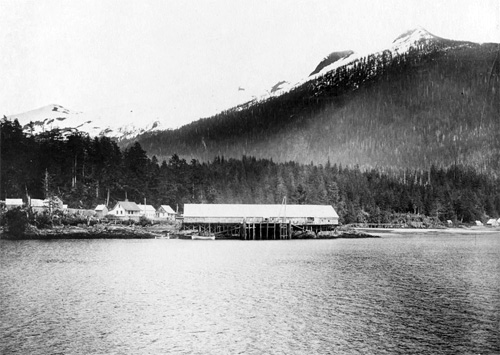 1899 Ketchikan, Alaska
Frank and Frances Carpenter collection (Library of Congress). Gift; Mrs. W. Chapin Huntington; 1951. Library of Congress Prints and Photographs Division Washington, D.C.

Forest Hunt, who brought his family to Ketchikan before the town incorporated in 1900, also left a firsthand account of the early days in the form of a radio address that he gave on KGBU, Ketchikan's first radio station in 1930.
The 10 page radio script resides at the Tongass Historical Museum and it is Hunt's recollections of the founding of Ketchikan more than 30 years previously. Hunt would live another 17 years in the First City, dying in 1947.
In the radio talk, Hunt noted that he became inflicted with "Klondike Fever" in 1898. He headed north from Seattle on March 3, 1898 for the established community of Wrangell which was then the headquarters for gold fields of the "Stickeen" and Lake Teslin in northern British Columbia.
On the way, his steamer, the Rosalie, stopped at the U.S. Customs Station on Mary Island and at the community of Metlakatla which had been established more than a decade earlier.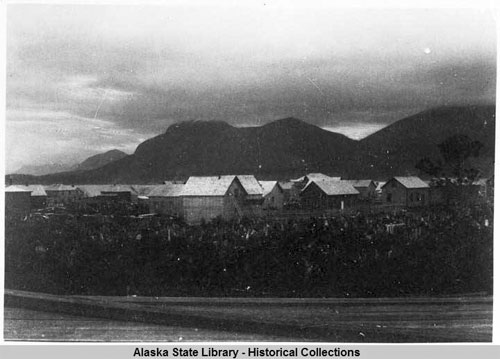 Metlakatla 1896
Jessie J. Trowbridge Photograph Collection, 1896
A general view of Metlakatla taken at 9:30 p.m., 1896.
Buildings and dwellings, with mountains in background
Creator Trowbridge, Jessie June -- Date.original 1896
Alaska State Library - Historical Collections, Juneau AK

"Our surprise and curiosity was appeased by the evidence of civilized activities; here Mr. Mather, father of Casper and Paul, was offering for sale, hand carved silver spoons and bracelets, the finest that I had ever seen," Hunt wrote about Metlakatla.
He was less impressed with "Ketchikan" which he noted was "very insignificant" compared to Metlakatla.
"The warehouse was a crudely constructed frame building, used as a fish saltery, the wharf a small unsubstantial structure," Hunt noted. "I recall several buildings scattered about, first in importance being the Clark and Martin Store, which stood on the present site of Tongass Trading Co., the Clark residence standing on a rise near the street corner, on the present site of the Stedman Hotel. This house has been remodeled and belongs to Hans Andersen, and now stands back of the First National Bank, facing Main Street and is, I think, the oldest remaining residence in town."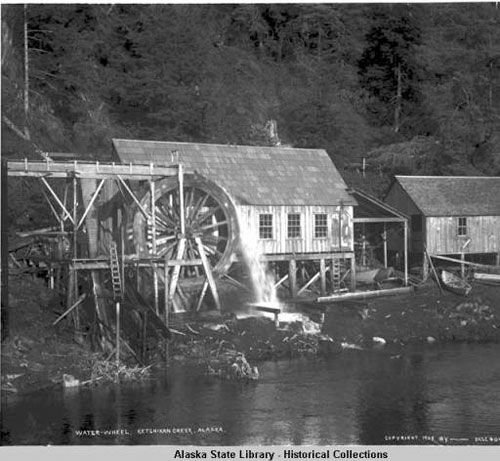 Water-wheel - Ketchikan Creek, Alaska. 1905.
Collection Name William R. Norton. Photographs, ca. 1890-1920.
Creator Case & Draper Photography
Alaska State Library - Historical Collections, Juneau AK

He also noted several other structures.
"There was a good sized building standing about where the Butterhorn Bakery now stands, afterwards converted into a restaurant, and another just above the upper corner of Dock and Main Streets, also, Mike Martin's residence, on the site of the Commercial Building, a small frame dwelling about where the Knickerbocker Rooms are and St. Agnes Mission, the only church in town, stood on the Episcopal Church property, with Miss Agnes Edmonds, missionary in charge. There were a few Indian shacks near the mouth of the creek. This was about the appearance of Ketchikan in the spring of 1898. Simply a frontier trading post, or fishing center without streets or organization."
Hunt headed on for Wrangell, where he found a thriving community supplying the mining activities up the Stikine River.
"At this time Wrangell was a congested, busy place, a city of upwards of 5000 frenzied people housed mostly in tents, but cheap frame structures were going up all around and work being pushed on three different wharves and warehouses. Hammers were being wielded night and day and the constant tramp, tramp, tramp resounded on the rickety sidewalks constantly."
But even then, the community was under a cloud because Canadian officials were moving to supply the gold fields via an overland route that would bypass Wrangell.
Hunt established his mining supply business in Wrangell and his family joined him from Washington state. His wife Harriet opened the Blue Front Café in Wrangell.
Rumors of significant gold deposits at mines in the Ketchikan area - primarily Helm Bay and Sealevel - caused the Wrangell interests to look southward, according to Hunt.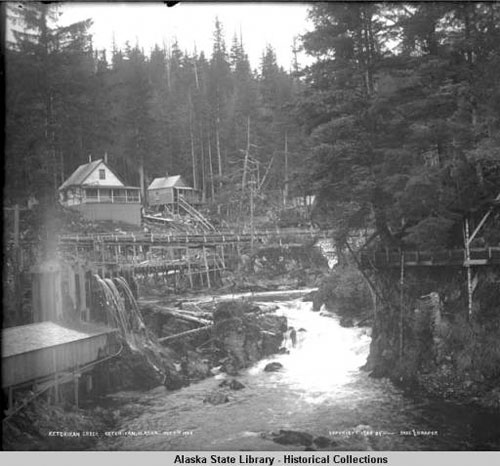 Ketchikan Creek. Ketchikan Alaska. Oct. 7, 1905.
Case & Draper Photography
Collection Name William R. Norton. Photographs
Alaska State Library - Historical Collections, Juneau AK

"The Sea Level Mine was owned by Seattle parties and interest was aroused to such an extent that the homestead of Mike Martin, which encompassed the townsite of Ketchikan, was sold to Seattle parties who organized the Ketchikan Improvement Company and surveyed the first plat of a town here in the fall of 1899. H. C. Strong, who with Seattle associates, operated a hardware store in Wrangell, investigated and became interested in Ketchikan and in the fall of 1899 the firm of Strong, Johnston and Company was incorporated and purchased the Clark and Martin Store, which was improved and enlarged and operated under the management of Mr. Strong, who was soon appointed post-master which position he held until the following year when he and associates were the successful bidders on the local mail routes diverging from Ketchikan, which he resigned to give his personal attention to his first venture in steam boating, and Miss Bessie Baird, who later became Mrs. Robert T. Graham, was appointed to the position of post-master."
The next year, 1899, Wrangell businessmen began relocating to Ketchikan. Hunt says that H.C. Strong, Chas. Ingersoll, Cas. Deppe, W.J. Broderick, J.H. Garrett, N.G. Zimmerman and I.G. Pruell were among the business people who moved from Wrangell to Ketchikan.
"On March 9th, 1900, I landed in this embryonic city and, finding myself disappointed in securing the location which I expected to occupy, after a diligent effort to secure a proper location for my business of meat market, fruits and vegetables, I made a second determined attack upon Mr. Bryant, manager of J. R. Heckman and Co. for a space on their platform on Dock Street, now occupied by a portion of the hardware store of Heckman, Carrington and Co. which was granted and on which I pitched my 14x20 tent where I did business until the first of July when I rented the building now occupied by McDonald's Confectionary, on Front Street."
Five months later, Ketchikan incorporated as a city. Hunt served on the first community school board.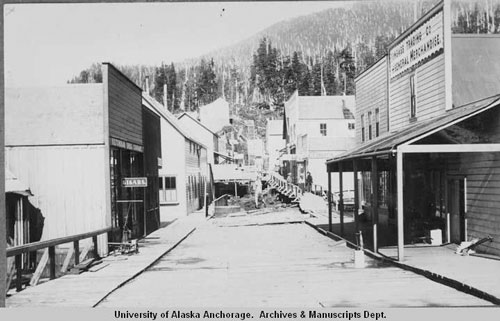 Ketchikan, Alaska, ca. 1900 -1910.
Collection Name Julia Willma Weber (b. 1904). Papers, ca. 1890-1901.
University of Alaska Anchorage. Consortium Library. Archives & Special Collections.

"I will state here that I came to Ketchikan from Wrangell during the previous February to investigate the situation and, at that time ex-Gov. A. P. Swineford and a man by the name of Harper had platted a town site at Ward Cove which was being agitated as the coming city, the better harbor facilities being urged in its favor, and the Pacific Coast Steamship Co. was induced to construct a wharf there during that spring. I invested $15.00 in a lot there and quite a little activity was manifest during the early part of 1900; a store, sawmill and saloon were established at, what was then called Revilla and strong efforts were made for the removal of the custom house to Revilla, but the influence of Ketchikan overcame it and when the custom house came here the competition ended in favor of Ketchikan."
Hunt noted that the Revilla businesses failed and the Ward Cove was generally forgotten until Eugene Wacker built a homestead and created a small community with a school and post office on the opposite side of Ward Cove a few years later.
When he arrived in Ketchikan, Hunt said, the fishing industry was very small with only a couple of canneries in all of Southern Southeast Alaska. It would be nearly a decade later, that J.R. Heckman would invent the floating fish trap that would lead to Ketchikan becoming the "Salmon Capital of the World."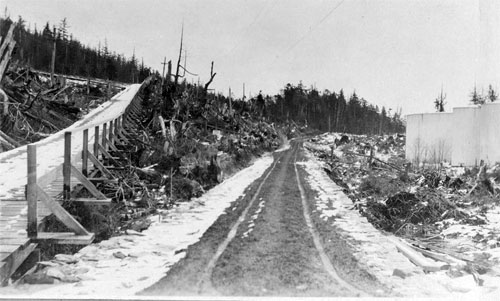 Ketchikan, Alaska - Plank Road
Date Created/Published: 1916.
Forms part of: Frank and Frances Carpenter collection (Library of Congress).
Gift; Mrs. W. Chapin Huntington; 1951.
Repository: Library of Congress Prints and Photographs Division Washington, D.C. 2

Mining activity sustained the community.
"Prospecting was quite active and mining ventures were promoted vigorously, in fact, too much so for the good of the country, as many Ketchikan merchants can testify. There was a 32 stamp mill installed at Sea Level, which soon proved to be far beyond the capacity of the mine to supply and led to complicated business differences between the Marmond Mfg. Co. of Portland, who had supplied the operating machinery and the Sea Level Company which resulted in the closing of the mine; the sale and removal of the machinery and the end of that venture and, thus far, continued successful mining in that locality has not been manifest, although it is generally conceded to be a well mineralized zone. Several promising copper properties were worked and developed to a considerable extent. There were smelters erected and operated at both Copper Mountain, on the west coast of Prince-Of-Wales Island and at Hadley on the east coast of the island, just above Clarence Straits and about 30 miles from Ketchikan, were a commodious hotel was erected and operated by Hans Andersen, and the nucleus of quite a mining town started, but both of these ventures failed. The It Mine of Prince-Of-Wales Island was promoted and operated, for a time at a profit by H. C. Strong and Associates, when it was disposed of and, like several others such as the Niblack, Rush and Brown, Salt Chuck and others which have failed to attract working capital since the collapse in copper prices in 1907."
Hunt said that around 1904, the community began looking at ways to catch and ship fresh king salmon to market. He said those efforts led to the establishing a troll fleet and cold storages in the community.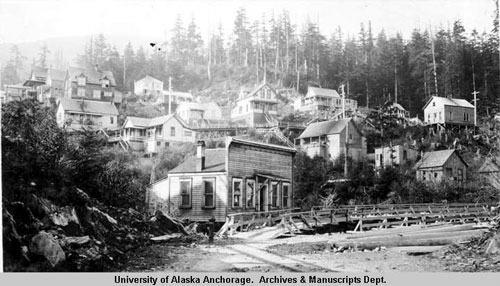 Ketchikan 1913-1919
Collection Name National Geographic Society. Katmai Expeditions. Photographs, 1913-1919. Photo taken during National Geographic Society expedition on the way to Katmai area. 1918. Creator Sayre, Jasper Dean, 1893-
Alaska State Library - Historical Collections, Juneau AK

"Up to that time very few gasoline boats were in evidence; the Indians were doing their boating by canoe or small sailboats and sloops. All early trolling was done by small boat and the industry was confined to the inside channels. As with every other new undertaking, new fields and methods were tried and it was found that there was good trolling out in the ocean and that the scope arid profits could be increased by employment of machine power, hence the introduction of the gasoline and diesel factor to extend its importance until it now stands as one of Alaska's great industries, and the halibut industry, which was, in 1900, being prosecuted, mostly in the inside waters of the coast, and by a few steamers, has grown to such proportions as to constitute a fleet of substantial high-powered and seaworthy boats. "
Of Ketchikan itself, Hunt noted that transporation was pretty rudimentary with no streets being improved enough to "permit the use of any vehicle larger than a handcart and in many places not even a wheelbarrow could be used. Store deliveries were made by hand or cart."
Many of the things that Hunt noted in his radio talk are familiar to Ketchikan history aficionados. He mentioned the founding of Newtown and the footpath to it around the outside of the bluff that was eventually hollowed out for the tunnel. He noted Jacob Pittenger's Dairy just uphill from Downtown Ketchikan. He also noted the construction of the Fidalgo Island Cannery south of Ketchikan Creek that was also connected to "town" with a rudimentary foot path.
"What now constitutes the principal business section of the town was all tide flats and ocean beach. The Heckman block was almost entirely built on tideland, as was the Red Man's Hall. At high tide the water came across Dock Street to the very front of the present Butterhorn Bakery. Lower Front, Main and the entire length of Mission Streets are constructed over tide water, and our streets that are not built on piles are carved generally from solid rock. "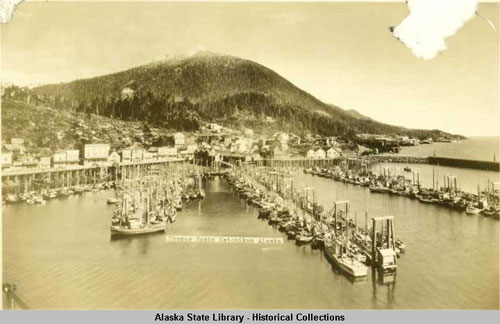 Thomas Basin, Ketchikan Alaska.
Skinner Foundation. Photographs, Alaska Steamship Company, 1890s-1940s.
Alaska State Library - Historical Collections, Juneau AK

He also noted that there was little interest on the early town councils - on which he served until 1908 - for building significant infrastructure.
"There were many who could not vision a future need of streets for traffic or travel (for) without some manner of employment to occupy the mind, it (proved to be a) lonesome town where diversion had to be provided within the town except when boats were resorted to for fishing arid outing excursions, which were not as available as now, as power boats were scarce and it was not to be wondered at that many women became homesick for the outside. "
Hunt said that there was improvement in 1903 when Mike Connell and Fred Billiard started the first "draying" business with Ketchikan's first horse and wagon.
"It was no lazy man's job, delivering coal and (the) occasional piano and other heavy household goods up long flights of steps and over difficult roads and trails, but it was soon a competitive business. "
Hunt reported that despite the fact that Ketchikan was located on a large creek, the water supply was one of the biggest inconveniences for the community. Attempts to pipe it from the creek to the rest of the town failed and eventually led to the forming of Citizen's Light, Water and Power, the forerunner of Ketchikan Public Utilities.
He remembered a particularly brutal winter in 1907-08. That was also the year he served as Ketchikan's Council President or Mayor.
"We had almost continuous freezing weather from the latter part of December to the following March. On Feb. 12 we attended Lincoln's birthday exercises at the Redmens' Hall, where it was too cold for comfort, and upon our return home we found the water off, which was the condition all over town. It was found that the water main was frozen and the entire line to the power house had to be taken up and thawed out and was not in use again until the 23rd of March, which kept us in a somewhat nervous state from fear of fires during that period; meanwhile, Dick Harris was waxing wealthy by supplying water from the creek at $1.00 per barrel. "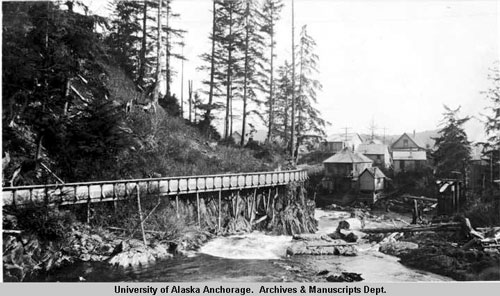 River and Water Main 1918
Collection Name National Geographic Society. Katmai Expeditions. Photographs, 1913-1919.View of the water main and river behind Kethchikan, Alaska. Photo taken during National Geographic Society expedition on the way to Katmai area. 1918.
Creator Sayre, Jasper Dean, 1893-
National Geographic Society Katmai expeditions photographs, Archives and Special Collections, Consortium Library, University of Alaska Anchorage.

In 1913, there was a major change for the growing community.
"The first passenger auto, was introduced into Ketchikan during the summer of 1913 by Newt Casperson, when the extreme length of our streets that could be traversed by auto was from just beyond the Beegle cannery, in Newtown to the F.I.P. cannery, the plank way from Indian town to the cannery being 10 feet wide. Many thought Mr. Casperson approaching a condition to call for examination of his sanity, but he proceeded to learn to drive the machine with the result that he ran off the cannery street extension sustaining severe bruises but no broken bones. After this mishap he engaged a driver and, as it had been a prosperous season for fishermen, he coined money for some time, mostly from the natives, who would ride back and forth by the hour, night or day, with the result that another machine was shipped in the very near future."
Around that same year, Hunt noted, the narrow beach road was constructed from Newtown north to what is now the Ketchikan West End. A few years later, community members spent four long years extending that road to Ward Cove and followed that up with another "beach" road south to Herring Cove.
Remembering back to 1900, Hunt noted that Ketchikan had no church, no school house and a single church (Episcopal).
"The only public buildings in evidence then were the saloons, of which there were several."
But 30 years later Hunt was clearly proud of Ketchikan.
"The Ketchikan of today is a far call from that of 1900. In their wildest dreams none of the (people) 30 years ago foresaw the city of the present with its complete light, power and water system, its concrete blocks, paved streets and fine highways and the hundreds of automobiles often congesting street traffic; nor did they anticipate the enormous fleet of power boats engaged in the various phases of the fishing industry, or the better accommodation of which increased harbor facilities are now being made by the dredging of Thomas Basin. Now we are preparing for the new and important factor, air transportation, which is making positive entry into the field of our future development."
Hunt noted that, in 1930, there were some in Ketchikan who were worried about the future and possible declines in the salmon canning industry. Hunt saw Ketchikan's future tied to a proposed "Pacific Highway" from the lower 48 to Alaska that would have a spur road connecting Ketchikan to the rest of the continent through either the Unuk or the Chickamin rivers.
"This would enable tourists to stop off here and enjoy everyday outings for the finest of hunting, fishing and sightseeing. This will also connect us with the paper mills wherever located on this island. This road would be expensive to build but the returns would be wonderful and the necessity is great; it will take time and the National Highway is likely to be completed far past us before we are ready to connect with it."
With that look to the future, pioneer businessman Forest Hunt signed off in his 1930 address to the listeners of Ketchikan radio station KGBU.
"Let us co-operate and work. We have no time for pessimism; it is a foe to progress. What we want is united action for the greater and continued prosperity of Ketchikan
I have spoken my piece, which I hope has merited at least passing interest. I thank you. Good night."
On the Web:
More Columns by Dave Kiffer

Historical Feature Stories by Dave Kiffer
Dave Kiffer is a freelance writer living in Ketchikan, Alaska.
Contact Dave at dave@sitnews.us
Dave Kiffer ©2012

E-mail your news & photos to editor@sitnews.us


Publish A Letter in SitNews Read Letters/Opinions
Contact the Editor
SitNews ©2012
Stories In The News
Ketchikan, Alaska

Articles & photographs that appear in SitNews may be protected by copyright and may not be reprinted without written permission from and payment of any required fees to the proper sources.