E.B. White sailed to Alaska in 1923
Famed writer visited Ketchikan as a 'callow' youth.
By DAVE KIFFER
January 17, 2018
Wednesday PM

(SitNews) Ketchikan, Alaska - Alaskans are very familiar with the famous authors who have come to Alaska and used it as their literary canvas. Jack London, James Michener, John Muir, and many others have written of the north, carrying our stories – and sometimes our myths - to a broader public.
But few Alaskans – or Ketchikan residents – are aware that the world-famous creator of "Charlotte's Web" also visited Ketchikan in the early years. E.B. White, one of the most famous American "men of letters" of the 20th Century came north on a voyage in 1923.
Like most young writers he kept a journal and documented his trip, which was later turned into an essay called "The Years of Wonder" that White wrote in 1961, nearly three decades later. The essay was collected in "The Essays of EB White" which was published in 1977.
White was born in New York in 1899 and graduated from Cornell University where he had worked on the school newspaper. He then took several journalism jobs, which was how he ended up all the way across the country, in Seattle, in 1923.
"My trip to Alaska, like practically everything else that happened to me in those busy years, was pure accident," White wrote in 1961. "I was living in Seattle; I was unemployed, my job on a newspaper having blown up in mid-June; and although I had no reason for going to Alaska, I had no reason for staying away either."
While casting about deciding what to do, he noticed a newspaper story about the San Francisco Chamber of Commerce planning an 8,300-mile steamship trip to Siberia and back. The group would visit Seattle on the way and that caught White's interest.
"I had broken the hard roll countless times with Chamber of Commerce people, had laughed courteously at their jokes and listened patiently to their tales of industrial growth," White wrote, noting that he felt a "proud distain" for business and businessmen because he was under the sway of such writers as H.L. Mencken and Sinclair Lewis. "It was important to me at that time to move among people toward whom I felt aloof and superior, even though I secretly envied their ability to earn a living."
But what really entranced the young man most was the list of port calls of the voyage. Ketchikan, Taku Glacier, Juneau, Skagway, Sitka, Cordova, Seward, Kodiak, Cold Bay, Lighthouse Rocks, Dutch Harbor, Bogoslof Island, the Pribilof Islands, Cape Chaplin, Anadir, Nome, East Cape, and Siberia. The entire trip would take 40 days.
"All I needed was a job on the ship," he wrote. "The (SS) Buford arrived in (Seattle) in due course…every day she was there I sneaked aboard and hung about the corridors, waylaying ship's officers and offering my services in any capacity. "
He discovered that he could book passage on the ship as far as Skagway for $40 and he did just that, hoping to ingratiate himself with the crew and be allowed to continue further.
The day after leaving Seattle, on July 22, 1923, they passed another ship anchored just north of the Seattle. The SS Henderson was returning from Alaska with a very special passenger. President Warren G. Harding was returning from the first ever presidential visit to Alaska. (See "A President's Ill-Fated Trek to Alaska, SITNEWS, July 23, 2003" and "Ketchikan's Only Presidential Visitor Back in the News," SITNEWS, Aug. 16, 2015).
"A band on his ship played, and the President came to the rail and waved a handkerchief borrowed from his wife," White wrote. "The incident caused a stir among the passengers and crew of our ship, seeing the President of the United States in such an unlikely spot … about a week later came the radiogram telling us of his death."
Quickly, White noted, the passengers fell into the "tedium" of an ocean voyage.
"For some the Buford became a high class floating jail – the food good, the scenery magnificent, but no escape," White wrote. "One hundred and seventy-odd passengers did a six-week stretch and their spirits sagged as the scenery became increasingly familiar."
The cruise was beset by fog most of the way up the British Columbia coast, White noted. The only diversions were music, dancing, gaming and drinking. For music, a well-known vaudeville saxophone combo called the "Six Brown Brothers" was on board, a famous post card photo of the Brown Brothers would be taken of the musicians and their instruments standing next to a whale carcass in Akutan later in the voyage.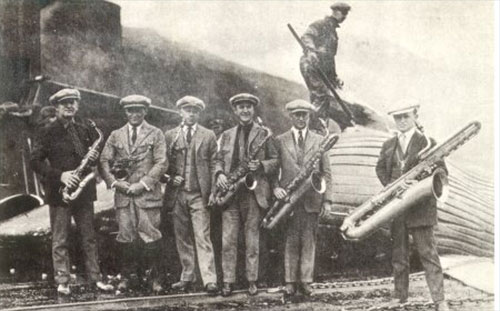 Six Brown Brothers
Then the excursion reached Alaska.
"Ketchikan was our first Alaskan port of call and the scene of the passengers' first disillusionment," White wrote in 1961. "In the minds of most of us aboard was an image of Alaska formed by Robert W. Service and Jack London – a land of deep snow, igloos, Eskimos, polar bears, rough men, fancy women, saloons, fighting sled dogs, intense cold and gold everywhere. "
That was not what they found in the First City, then at the height of its salmon canning boom and, briefly, the most populous city in Alaska.
"Ketchikan as we rounded the bend, delivered a shattering blow to this fine image; the village was a warm, mosquitoey place, smelling of fish," White wrote. "Not an igloo was in sight, and on the dock to greet us was a small, moth-eaten band of Shriners in their caps."
But what even surprised White more was the reaction of his fellow passengers. The Shriners on board the ship shouted down to the greeting committee to ask whether there was going to be a Shriner "ceremonial" that night. Another member of the group wanted to know if any of the Shriners were representing the "Ketchikan Commercial Club" with whom he had been in contact to arrange the visit.
"I sat on a bollard in the warm sun, watching these antics indulgently … studying the spectacle of Babbittry (small town narrow-mindedness) northbound – men visiting a strange land yet craving not strangeness but a renewal of what was familiar," White wrote. He noted that one of the passengers was so exited to get ashore and meet the local businessmen that he briefly attempted swinging ashore on a rope before the boat was docked. Prudence prevailed and he gave up his attempt, White noted, after several tense minutes.
"That evening the Shriners had their ceremonial, the Commercial Club had its meeting, the ladies from the ship bought great numbers of Indian baskets," White wrote, also noting that some of the crew members engaged in their own "trade relations" with women in Ketchikan's Red-Light District on Creek Street.
"When everyone had satisfied his own particular needs and refreshed himself in the way he knew best, the Buford let go her lines and continued north through the tortuous straits of the Alexander Archipelago," White concluded. "I was an extremely callow and insecure young man, but as I examine my record of Ketchikan … I can see that I was not alone in my insecurity, all of us were seeking reassurance of some sort or another … I was enraptured with my surroundings – contemptuous of all, envious of all, proud, courageous, scared to death."
White would continue north with his voyage, a chance run in with the daughter of one of the owners of the ship led to him being offered a series of jobs on board the vessel after Skagway. White wrote that he generally preferred working on board the ship to being a passenger on it, that the daily (and sometimes nightly) toil gave a structure and purpose to his time.
He also met a fellow crewman who became a good friend and was named Wilbur, leading some to speculate that White was remembering his trip to Alaska when he named the pig in "Charlotte's Web" Wilbur decades later.
After White returned to Seattle, he ended up back in New York, just in time to join the staff of a new magazine called the New Yorker. White would work with the New Yorker for half a century.
During that time he would also edit "The Elements of Style" the most commonly used writers guide in American history. Among the two dozen books he wrote were forays into Children's Literature with "Charlotte's Web" and "Stuart Little" two of the most famous children's books of the 20th Century.
White would be honored with the Presidential Medal of Freedom, a Caldecott Medal and a special Pulitzer Prize for his contributions to American Letters.
He died in 1985 at the age of 86.
On the Web:
Columns by Dave Kiffer

Historical Feature Stories by Dave Kiffer
Dave Kiffer is a freelance writer living in Ketchikan, Alaska.
Contact Dave at dave@sitnews.us
Dave Kiffer ©2018
Representations of fact and opinions in comments posted are solely those of the individual posters and do not represent the opinions of Sitnews.

Contact the Editor
SitNews ©2018
Stories In The News
Ketchikan, Alaska

Articles & photographs that appear in SitNews may be protected by copyright and may not be reprinted without written permission from and payment of any required fees to the proper sources.

E-mail your news & photos to editor@sitnews.us

Photographers choosing to submit photographs for publication to SitNews are in doing so granting their permission for publication and for archiving. SitNews does not sell photographs. All requests for purchasing a photograph will be emailed to the photographer.