Drency, Lillian Dudley were pioneers for Civil Rights
Local couple faced racism, but were community leaders
By DAVE KIFFER
February 14, 2021
Sunday PM

(SitNews) Ketchikan, Alaska - One of the primary sports fields in Ketchikan is the Drency Dudley Field. More precisely, it is the Drency Dudley Bicentennial Field.
If you ask most people why the field is named after Drency Dudley, they will say it is because Dudley, a local civic leader from the 1940s to the 1960s, owned the land that became Dudley Field, which is the sports area adjacent to Ketchikan High School.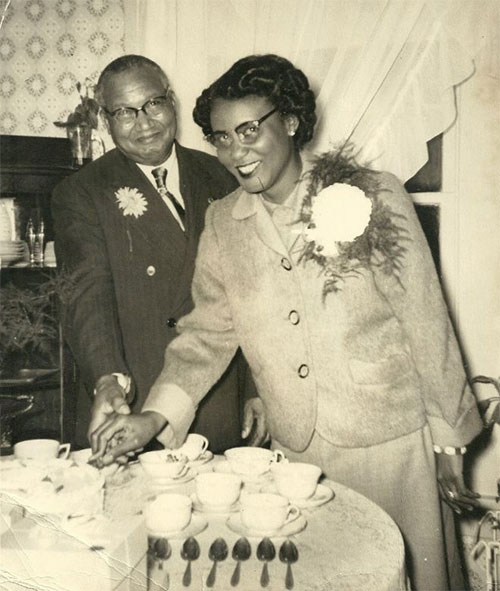 Drency and Lillian Dudley, December 04, 1953
Photo courtesy JUDY ZENGE
Not surprisingly, that common belief is not true.
While Dudley was a leader in promoting local youth sports and led the Lions Club to build the field on Jackson Street between Fifth and Seventh avenues in the mid-1950s, the land actually belonged to several private property owners, local government and the Ketchikan Pulp Company.
But who was Drency Dudley? And who was his wife, Lillian, who outlived him by four decades and became legendary in the memory of many locals as the "duck lady?"
Drency Dudley and Lillian Dudley were two of only a handful of African Americans in Ketchikan and, as such, were involved in promoting civil rights for local people of color. Drency was one of only two non-Natives to ever lead the local Alaska Native Brotherhood Camp in its century long history. Lillian Dudley was one of the first African Americans to work on the Marine Highway System. And while most people remember that the Dudley's were a very important part of the Ketchikan community for decades, there is no question that both faced instances of racism in the First City.
Drency Dudley was born in Tennessee on May 1, 1896, the son of Oscar and Emma Dudley and the grandson of slaves. He served in the military in World War 1, at a time when African Americans service was limited to segregated groups. In 1920, he married Pauline Smith in Flint, Michigan, but they divorced. His second wife was Olive Marie Johnson, known as Marie. By the 1940s, they were living in Petersburg and later Craig. Drency Dudley was a commercial fisherman, a troller. Eventually, they moved to Ketchikan, where Marie died in 1953.
By the late 1940s, the Dudley's owned a building at 325 Stedman Street. They lived on the second floor, where they also rented out rooms. The bottom floor was rented to several businesses, including a pool hall and an ice cream parlor.
Later Dudley, and his third wife, Lillian would own several properties in the Bar Harbor area.
"Dudley was dedicated to improving opportunities for Ketchikan youth, particularly creating places to play and enjoy athletic opportunities," Edward Brown said recently. "Dudley was also active in the local Alaska Native Brotherhood, serving as President of that organization in 1951."
Susan Thompson noted some of the challenges the Dudley faced in Ketchikan.
"Even in Ketchikan, however, where we often assume that we are all treated more of less equally, there were places he was not allowed to go, businesses who would not serve him, and service clubs he could not join because of the color of his skin," she said recently. "My parents always spoke of him and Lillian with respect and also with sorrow because of the poor treatment they often endured."
In 1951, Drency Dudley ran for Ketchikan City Council.
In a candidate statement published in the Ketchikan Chronicle on Sept. 26, 1951 he noted that one of his biggest concerns about the community was "juvenile delinquency." He was also concerned that there were no female officers on the Ketchikan Police Department to "handle cases where women and young girls are concerned."
"It is my belief that our police department should answer directly to the City Council," he wrote. "I am firmly convinced that more crime prevention and better control could be secured if we placed our policemen walking a beat instead of riding in a patrol car."
Dudley also noted that he wanted to see the licensing system in Ketchikan be improved to ensure "more control over all business establishments in the city and fair law enforcement."
Dudley was right to concerned about the fairness of law enforcement in the early 1950s. A 1954 grand jury would eventually determine that police officers – including the chief – and city officials were being paid to look the other way regarding law violations, particularly with regards to Creek Street, which was still operating as a "legal" brothel zone in those days.
As a fisherman, Dudley pledged "adequate waterfront facilities for small boats and the fishing fleet and (to make) Ketchikan more attractive to fishermen."
He also noted his World War I service as well as his work with American Legion, the Alaska Native Brotherhood, the Alaska Trollers Union and the First Presbyterian Church.
Dudley did not win election. It was the only time he ran for public office.
In 1953, Dudley served as the Fourth of July Parade chairperson, according to the Ketchikan Daily News. In 1952 and 1953, Marie Dudley served as a leader in the Democratic Womens' Club.
In 1954, Dudley represented the American Legion on a local committee to develop an armory-community center. Also, that year, he was a member of a local committee that formed a "Citizen's League." In a September 3, 1954 article, the Daily News noted that the Citizen's League objective was "sound government, responsive to citizens' needs and obtained by education of the citizenry."
In 1961, he was an elder in the Presbyterian Church when it built a new church on Second Avenue in Ketchikan's West End after being at 123 Stedman St since 1932.
Drency Dudley was primarily a custodian in his later years, working at the Ketchikan General Hospital among other places. He was also the elevator operator at the downtown Federal Building for a time.
"My parents were good friends with the Dudleys," Heather Robertson said recently. "Drency was a Lion with my Dad. My Dad loved boxing and Drency had been involved with boxing before coming to Ketchikan. I remember when Archie Moore came to town and my Dad took him and Drency to dinner at the Narrows. They sat for hours and talked boxing."
Drency Dudley died on Aug. 19, 1969.
Twenty years after he died, the community was looking at building a new high school and there was a suggestion that Dudley Field be used for the new construction. It didn't get very far.
Daily News Sports Editor Ron Gullberg wrote about the situation in a 1989 column entitled "Think Twice about Dudley Ballpark."
In the column, Gullberg noted that ballpark had "dodged another bullet."
"It seems the man who was an instrumental figure in Ketchikan and Alaska political and civil rights activities still has his say 20 years after his death in August of 1969," Gullberg wrote, adding that School Superintendent Richard Clevenger had sent a memo to City Parks and Rec Director Susie Daly informing her that the field would not be used for the new school.
"Dudley, the man, along with members of the Lions Club, was determined enough in 1957 to turn a swampy muskeg lot filled with stumps into a viable ballpark," Gullberg wrote. "He sure as heck wasn't going to let as trival a thing as death stop him from keeping the locals from tampering with his project."
Gullberg interviewed Dudley's widow Lillian and she suggested that Drency was still pulling strings from beyond the grave.
"Lot of them (her friends) said 'what are you gonna do?' "Lillian Dudley told Gullberg in 1989. "I said 'Nothing, it'll solve itself.'"
And that's just what happened, she told Gullberg. Lillian said that Drency Dudley would have cautioned anyone thinking about making changes to the field to "think twice before you move."
And they did," she said. "Somebody thought twice, obviously. That field was put there through honesty and hard work. If they take away away they're just throwing citizens time and money away."
Lillian Dudley said her husband, who volunteered for many years as a local baseball coach and an umpire, realized the need for the field when Ketchikan High School was built in 1954. She said it took two years for a rudimentary field to be carved out of the site. Since then the site has been expanded and now there two multi-purpose softball and soccer fields on the property that is adjacent to the high school which was almost completely rebuilt in the early 1990s.
In 1976, Lillian Dudley donated her husband's memorial fund to the Lions Club towards upkeep for the field and the city matched that donation with $1,500 of its funds. The field was then officially named the Drency Dudley Bicentennial Field.
Some 13 years later, officials - when asked to consider sacrificing the field to the new school project – noted that it was one of the most used sports fields in the community and that covering it up with an expanded Ketchikan High School was a bad idea.
"We could use more fields period," Ketchikan Little League President Dave Brown told the Daily News in 1989. "You can't replace Dudley Field. You can't give us a comparable field."
In celebrating the field in his column, Gullberg also celebrated the man behind it.
"Drency Dudley was one of the few people who actually died for his city," Gullberg wrote. "From the time he moved to Craig then Ketchikan from Flint, Michigan to begin a 20-year career as a salmon troller, Dudley served his community."
Gullberg said that Lillian Dudley insisted that her husband's many civic activities including the Lions Club, American Legion, Alaska Native Brotherhood, Fourth of July committee, Presbyterian Church and the Democratic Club, along with his commitment to promoting youth sports "probably overworked her husband to an early grave."
"He wouldn't have it any other way," Lillian Dudley told Gullberg. "His doctor told him he was going to have slow down or he would have a heart attack. His doctor told him he was going to have to watch what he ate. He enjoyed cooking. He loved apple pie and he told me that if he couldn't eat his apple pie, life wasn't worth living."
Gullberg noted that Dudley also arranged for groups like the Harlem Globetrotters and other touring basketball teams to come to Ketchikan. He was also what his wife called a "silent leader" Gullberg noted.
She said he frequently corresponded with political leaders such as Alaskan Governor Bill Egan and Alaskan US Senator E. L. "Bob" Bartlett, especially in the run to the Civil Rights Legislation of 1964. In one letter, in 1964, Bartlett even asked after Dudley's health, noting that he hoped Dudley's doctor could "restore your vigor."
Dudley would celebrate the passage of the Act and continue to push for equal rights in Alaska right up to his passing in 1969 of that heart attack that the doctor had warned him about years before.
Lillian Dudley was born in Colorado on Dec. 14, 1917, the daughter of Matthew McDaniels and Bertha Edwards. She grew up in Texas to become a nurse. She had an early marriage that ended. Lillian came to Alaska in the 1940s to work as a nurse after she was encouraged to do so by the Bureau of Indian Affairs. At one point, while she was living in Juneau, she applied for a nursing position in Wrangell and was told she was qualified for the job but that Wrangell wasn't ready for an African American.
Lillian was also acquainted with Marie Dudley and when Marie died in early 1953, Lillian sent Drency a condolence letter. That started a correspondence and they were married on Dec. 4, 1953.
After Drency died in 1969, Lillian went to work on the Alaska Marine Highway System as a steward. By all accounts she was a great shipmate, even though early in her tenure she suffered some hazing that later in life she considered to be racially motivated.
Marlene Steiner worked with Lillian on the state ferries. She remembered a time when they were on the Malaspina and it had to go off the run for repairs, stranding the crew in Ketchikan.
"She put us (the stewards) up at her house that night," Steiner said recently. "She did not take no for answer. I sure liked Lil a lot."
It seems like everyone from that time period remembers Lillian Dudley as their parents' best friend. They also remember that racism continued to effect her.
"Lilllian Dudley was my mom's bosom buddy," Rosemary Royer Nelson said recently. "They yacked on the phone for hours at a time. Once (the owner of a local flower shop) wouldn't wait on Lil. She kept helping tourists before Lil. Thus ended my Mom ever going to (that flower shop) again. My Mom (Agnes Royer, The Story Lady) loved Lil."
Lillian Dudley spent most the last 40 years of her life in Ketchikan, although she did live with relatives in Texas for several years. Many people have memories of their interactions with Dudley who is still called the "duck lady" by those who knew her.
"I just wanted to hug her every time we met," Mary Kauffman said recently. "Like old souls meeting... she was so special that she made folks feel like they were her best friends always. After Lillian returned from Texas, I chatted with her briefly about her geese and how much I always enjoyed them and how because of her I also decided to have a flock of geese. She said it broke her heart to have to get rid of her geese and she said she had nightmares about her beloved geese while living in Texas. Of course, we talked about my birds and she was happy to hear about my wonderful birds. She never had a chance to come out and visit before her death. She was a wonderful lady."
"I lived next to Lillian on Alaska Avenue for 12 years," said Bill Hartley recently. "She had a backyard full of ducks and geese.. One of the funniest things I ever saw, and still makes me smile was the site of her walking around in a full-length mink coat with a fork and a coffee can spearing slugs to take back to her flock! One year I made a video of a hawk that swooped down on a pigeon that was eating the grain for the ducks. I went over and told her about that and she invited me in to her house and showed me a pistol (loaded) she kept in the kitchen for the hawks, should they ever get a duck. They never did as far as I know, but I believe she may have used it. Like I said the sight of her in that mink coat walking around spearing slugs was a sight site I'll never forget."
Janalee Minnich Gage also remembered the ducks.
Mrs, Dudley used to live behind us and had ducks and cute little dogs," Gage said recently. "She and my Grandma Jane Church could go on for hours and used to go grocery shopping together in their later years. They were tough women, full of love. They gave beyond themselves."
Lauran Woolery remembered both the Dudleys as "great people."
"I met Lillian when she was a counselor traveling to Rainbow Glacier Cap on the church boat, the Anna Jackman," Woolery said recently. "The kids called her Lil Dud. She received a radiotelephone call that she had to return home to Ketchikan. They pulled into Port Protection and I had to row her out to the Grumman in our rowboat. We didn't have an airplane float. That is how I met Lillian, she promised me a Siamese kitten as a thank you. So I went to her house (in Ketchikan) and received my kitten."
Karen Decker Jones also remembered the Dudleys from Alaska Avenue.
"Mrs. Dudley sold clothing from catalogs for the American Hosiery Company," Jones said recently. "My Mother bought Dad's underwear from her. There was a time when Mom received received a package of mixed boxer shorts. One pair was white with large blue polka dots. The Dudley's were wonderful people and were in our home regularly."
Jenny Betterson said that the Dudley's were their landlords when they lived near Bar Harbor.
"They were wonderful people and considerate landlords," she said recently.
Nicole Esau also fondly remembered Lillian Dudley.
"She was awesome," Esau said recently. "Strong sprited. Gentle hands."
The Dudleys also served the community as foster parents for many years. They fostered more than a dozen children over the years. Originally, they had wanted to adopt children but because they African American, they were not allowed to adopt either white or Native children.
Winnie Daetwiler one of those foster children.
"He (Drency) was my foster father at one time," she said recently. "He and Lillian were awesome foster parents."
Judy Zenge worked with Lillian during her later years, she said that Dudley was already starting to suffer from Alzheimers when she met her. Dudley was in Long Term Care for a while before going into the Pioneer's Home.
Zenge said that in Dudley's last years at home, she was helped by many members of the community, notably the mail carriers who would check on her during their daily visits and help her with some of her daily tasks, like putting on her socks.
"She loved them," Zenge said about Dudley's mail carriers.
She was a complicated woman, stubborn as a mule," Zenge said recently. "I met her when she was 90. I had the BEST times being ordered around by her. She would have me push her in her wheelchair, chasing the ducks that got away."
Lillian Dudley died at the Ketchikan Pioneers Home on Aug. 5, 2014. She was cremated and Zenge arranged for some of Dudley's ashes to be put in Tongass Narrows. The rest were buried with her husband at Bayview Cemetery.
On the Web: