CRY VENGEANCE:
A video post card from
Ketchikan in the 1950s
By DAVE KIFFER
November 26, 2014
Wednesday PM

Ketchikan, Alaska - Ketchikan has been the subject in a handful of movies and television shows over the years. In the late 1920s and 1930s, two "major" motion pictures, "Spawn of the North" and "The Silver Horde" were partially filmed here. It is always a bit of a shock to see a young Henry Fonda strolling along the Ketchikan waterfront on the silver screen.
Although both were set in Ketchikan, most of the footage was filmed elsewhere and only a few "establishing" shots are recognizable as Ketchikan. In the early 1970s, "The Timber Tramps" was filmed in the area but nearly all the recognizable shots feature local logging camps or Wrangell.
But there is one Hollywood film that was primarily film in Ketchikan. "Cry Vengeance" was released nationally 60 years ago this month.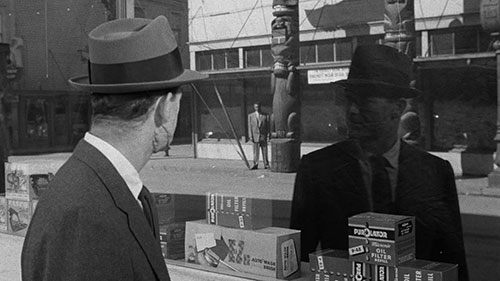 Mark Stevens stars as "Vic Barron", a one-time San Francisco cop who has crossed some mobsters. Across the street is Douglas Kennedy who stars as Tino Morelli, a mob boss who has moved to Ketchikan and reinvented himself as just another resident of Ketchikan.

It would probably not be fair to call "Cry Vengeance" a "major" motion picture. By all accounts it spent only a short time in theaters, but now it can be readily found on DVD, which is more than you can say about a lot of 1950s era movies.
It is part of genre popular then called the Film Noir. Film Noirs, French for black films, were highly stylized Hollywood crime dramas that were popular from the early 1940s to the late 1950s. They featured lots of terse dialogue and what almost seems to modern eyes as "cartoon" violence.
If you have ever seen movies like "The Big Sleep" or the "Double Indemnity" you have seen a film noir. And pretty much any movie of the 1940s and 1950s that starred a private eye as the main character was a film noir.
One of the bigger stars in the Film Noir genre was Mark Stevens. In 1946, he had been tabbed as one five stars of tomorrow by Variety magazine, beating out such future stars as Robert Mitchum, Sid Caesar, Elizabeth Taylor, Angela Lansbury and Peter Lawford.
By 1953, Stevens and the rest of the movie world was starting to feel the heat of competition from television. Stevens decided to broaden his portfolio and was looking to not only star in a movie, but also direct it.
His first opportunity to do both would be "Cry Vengeance" which was released in November of 1954. It was filmed several months before in Ketchikan, a community that was facing its own upheaval.
The Ketchikan economy had been turned on its head by the opening a huge Pulp Mill. The town population had nearly doubled over a few short years and all manner of construction was taking place to catch the boom. Some of that new infrastructure would figure prominently in "Cry Vengeance."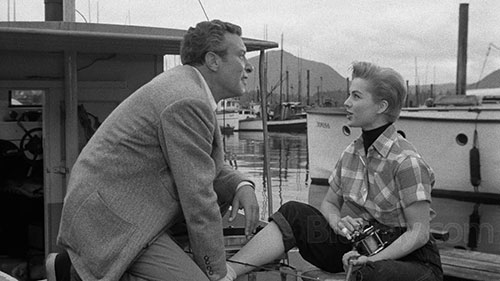 Douglas Kennedy is Tino Morelli, a mob boss who has moved to Ketchikan and reinvented himself as just another resident of Ketchikan.
Joan Vohs stars as Lily Arnold.


As the title makes clear, "Cry Vengeance" is a revenge drama, a popular theme is Film Noir.

Stevens stars as "Vic Barron," a one-time San Francisco cop who has crossed some mobsters. They murder his family and frame him. He is the one seeking vengeance.

The movie opens with lengthy aerial shot of Ketchikan, clearly filmed from a Grumman Goose that flies over Ketchikan from the West End to Downtown. In the fly over, you can see the new construction, such as the 10 story apartmenyt buildings on the West End, and older buildings like the giant wooden shipyards and the Spruce Mill.

We next see a Goose landing in the water at the Ellis Terminal and then we are shortly in Thomas Basin where we are introduced to Tino Morelli, his young daughter, and a beautiful blond woman who is meeting them at the dock. Morelli has been out fishing. We soon learn that he is not what he appears to be.

Douglas Kennedy is Tino Morelli, a mob boss who has moved to Ketchikan and reinvented himself as just another resident of Ketchikan, although we never actually learn what it is he actually does in Ketchikan. He and his one of his henchmen, simply called Johnny don't seem to have jobs, but they do wear clothes, such as suits and ties, that would make them instantly stand out amongst the flannel shirts that all the Ketchikan locals wear in the movie.

Anyway, Kennedy's "escape" is about to end because Barron is being released from prison. Barron believes that Corey is responsible for a car bomb that killed Barron's wife and child and severely injured Barron. Of course, it will only be a matter of time before Barron tracks down Corey/Morelli in Ketchikan.

One of the great joys of watching "Cry Vengeance" is that you see a Ketchikan that in many ways no longer exists. You watch as passengers deplane from larger airlines on Annette Island and transfer to Grummans for the short trip to Ketchikan. You see the wooden docks and many of the wooden staircases.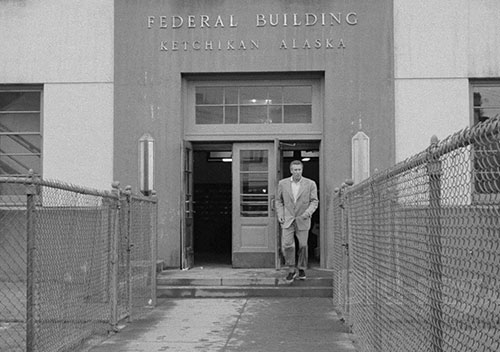 Tino Morelli, played by Douglas Kennedy, as as he leaves the Federal Building in Ketchikan.

Some areas that figure prominently, like Barney Way, also no longer exist. It was razed to create the Centennial Building and its parking lot a decade after Cry Vengeance was filmed.
Of course, long time Ketchikan residents also see things that aren't "real" in the movie. For example, one minute one of the characters is walking by a building near the Federal Building. Instantly, he is climbing the Edmonds Street stairs. Then he immediately enters a house that is on hillside above where the tunnel is being built.
At one point, a car heads the wrong way up Grant Street. In another shot, a character leaves a house downtown and walks down some stairs and is instantly on a beach.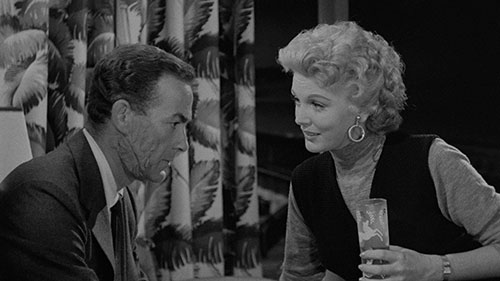 Mark Stevens stars as "Vic Barron," and
Martha Hyer as the bar owner "Peggy Harding"

But you are seeing Ketchikan, even if it is a bit jumbled.
An important scene takes place at the Totem Bight park, there is another scene in Ward Cove and you can see the new pulp mill in the back ground. The climactic scene takes place on the Connell Lake dam, built to provide water to the pulp mill.
Quite a few scenes take place in a local bar that is clearly patterned after the Frontier Saloon, but in a very Hollywood sort of way. After all, the beautiful blond woman, Peggy Harding, turns out to be the bar owner who becomes Barron's love interest by the end of the movie. She is attracted to him despite the fact that the Barron character spends 90 percent of the movie with the angry, psychotic expression of a soon to be killer.
While all the main roles were taken up by the Hollywood actors, there are apparently quite a few locals who were extras in the background of many scenes. Picking familiar faces out of a crowd is one of the pleasures of watching "Cry Vengeance."
The plot of "Cry Vengeance" zips right along with just enough killings and terse dialogue to come in at around 1 hour and 20 minutes.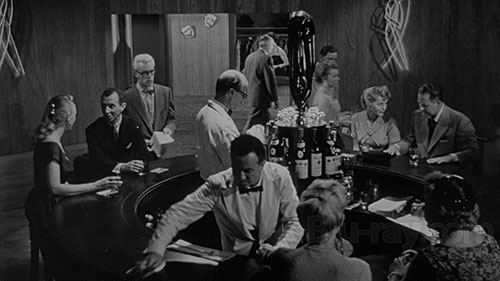 Richard Deacon is the Bartender at "The Cameo Room".

The movie opened nationally on November 21, 1954. None of the 1950s movie databases record what its receipts were, but it was clearly not showing in many theaters after early 1955. It made its Ketchikan appearance in January of 1955 and likely did better locally as residents were very interested in seeing how their community was portrayed.
It's not clear if "Cry Vengeance" helped Mark Steven's career. He went on to star in several more B movies including "Escape from Hell Island" in 1963. Like many movie actors and directors, he found a home on television, directing many episodes of the popular "Wagon Train" series and appearing from time to time in shows like "Magnum PI" "Simon and Simon" and "Murder, She Wrote." He retired in 1987 and died in 1994 at the age of 77.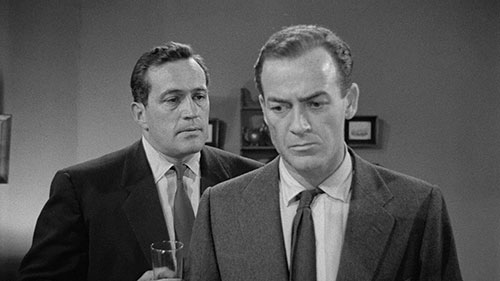 Don Haggerty stars as "Lt. Pat Ryan";
Mark Stevens stars as "Vic Barron"

Other cast members faired similarly.
Johnny Doucette, a longtime character actor who portrayed policeman Red Miller in the film, went on to have roles in some of the most famous Hollywood movies of the era, including "Cleopatra," "Patton" and "True Grit". He died in 1994 at the age of 73.
Martha Hyer, who played the bar owner Peggy Harding, went on to star in "Sabrina" and "The Sons of Katie Elder" before finding her way into television and guest spots on such shows as "Bewitched," "The Beverly Hillbillies" and "McCloud." Hyer died this past May at the age of 89.
Hyer also returned to "Alaska," at least in the movies.
In 1960, she had a starring role in the movie version of the Edna Ferber novel "Ice Palace," which also featured Richard Burton, Robert Ryan and Jim Backus. The movie centered around the debate for Alaska statehood and much of the action was took place in a salmon salmon cannery in the fictional town of "Baranof."
Baranof, in the book, is clearly an amalgamation of Sitka and Ketchikan. Yet, when an "Ice Palace" film crew came north for a few "establishing" shots, they filmed them in Petersburg.

On the Web:
Columns by Dave Kiffer

Historical Feature Stories by Dave Kiffer
Dave Kiffer is a freelance writer living in Ketchikan, Alaska.
Contact Dave at dave@sitnews.us
Dave Kiffer ©2014

E-mail your news & photos to editor@sitnews.us


Publish A Letter in SitNews Read Letters/Opinions
Contact the Editor
SitNews ©2014
Stories In The News
Ketchikan, Alaska

Articles & photographs that appear in SitNews may be protected by copyright and may not be reprinted without written permission from and payment of any required fees to the proper sources.