WW II Bomber honored the First City
By DAVE KIFFER
April 15, 2014
Tuesday PM

Ketchikan, Alaska - Nearly seventy years ago, the City of Ketchikan was taking the war to the Japanese in the Pacific.
It wasn't the city itself that was fighting, it was a a B-29 bomber named the City of Ketchikan. The bomber was named after the First City because of a connection its commander, Richard "Dick" Brinck, had with the first city.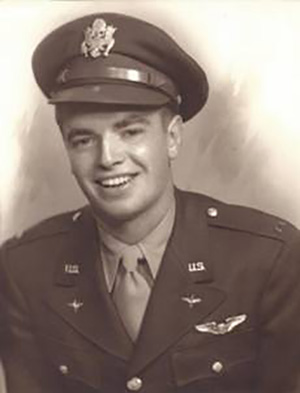 1st Lt Richard "Dick" G. Brinck
Airplane Commander
Courtesy 39th Bomb Group - Crew 6
www.39th.org
Brinck was the son of long time Ketchikan resident and pioneer businessman George Brinck. He was born in Anacortes, Washington in 1922. Hi mother died when he was a young child and he spent most of his youth in Seattle with his aunts and uncles. According to his half sister, Louise Brinck Harrington, Dick Brinck moved to Ketchikan when he was 16 and finished high school here.
Dick Brinck attended the University of Washington and Seattle University and joined the Army Air Corps in 1942. He was an instructor in AT6s and B-17s.
After the war, Brinck was posted in Okinawa and in the Philippines to train pilots to fly the B-29s. According to his bio on 39th Bomb Group Website. Brinck had intended to begin a float plane operation in Alaska, but after spending some time with Ketchikan Air in Ketchikan and Alaska Island Airlines in Wrangell, he ended up settling in Seattle instead.
At one point, he opened a gas station with his City of Ketchikan crewmmate Cecil Davis. Both men were recalled to active duty during the Korean War. Brink continued to serve in the Air Force through 1968 when he retired as a Lt. Colonel.
One of the highlights of Brinck's military career came in the late 1950s and early 1960s when he flew with Operation Windlass and Operation Dominic. Those operations consisted of multiple nuclear weapons drops in the Pacific. On the 39th Bomb Group website, it is noted that – although the missions remain classified – it is believed that Brinck flew a significant number of "live drops."
After retirement, Brinck went to work for Boeing as a pilot and instructor. He retired from Boeing in 1982 certified to fly 707, 727, 737 and 747 jets. In retirement he spent a lot of time at his cabin on the Skagit River. He died in 1993.
Other members of the City of Ketchikan's crew were pilot Cecil Davis, radar operator Hollis Logan, engineer William O'Brien, navigator Elmer Anderson, bombardier Julian Radziewitz, radio operator John Buell and gunners Joseph Nalepa, Harvey Schwartz, George Dellopoulos and William Leonhardt.
The City of Ketchikan crew trained together at Davis-Monthon Air Base in Tucson, Arizona beginning in July of 1945. The plan was for them to pick up their B-29 at Kearney, Nebraska, but when they arrived there, no plane was available so they were sent on to Guam, where they flew several missions as part of the 39th Bomb Group of the 60th Squadron of the 20th Air Force shortly before the end of the war.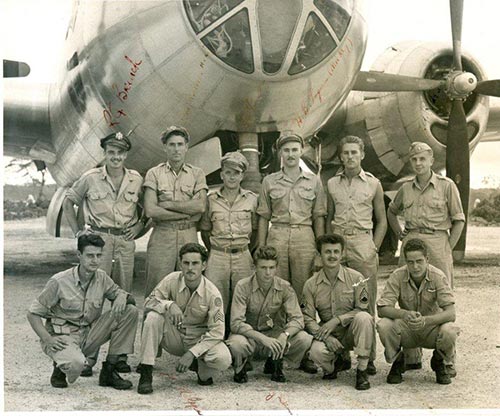 "City of Ketchikan" Combat Crew
Photo Courtesy of Cecil E. Davis
Once in flight, the B-29 was a stable, relatively easy to fly bomber, according to most former pilots. But getting off the ground in a fully loaded B-29 was a challenge and quite a few of the bombers crashed on takeoff, according to US Army Air Corps records.
World War II pilot Fred Gardner described the challenge of taking off in a B-29 as a "urgent struggle for airspeed" in "A Year in a B-29 Superfortress" on his website in 2005.
Gardner wrote that the plane's four radial engines needed a significant amount of airflow for cooling and failure to get plane up to speed soon enough often led to overheating and engine failure.
City of Ketchikan Pilot Cecil Davis is 90 years old and lives in Israel. He retired from the Air Force in 1967 as a Major and then spent 26 years flying all over the world for the Mission Aviation Fellowship.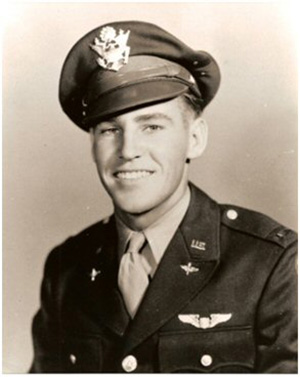 2nd Lt Cecil Davis - 1944
Army Air Corps Pilot
Photo courtesy 39th Bomb Group
www.39th.org
Davis recently said he was preparing for his first training takeoff in a B-29 in Arizona and witnessed the B-29 in front of him crash on take off. He said B-29s frequently did overheat and have engine problems. Davis said the "fire problems" on B-29s were on the carburetor models and was solved on the later ones with fuel injection.
"It is the best three-engine bomber in the Pacific," Davis said, repeating a frequent joke about the B-29. "It is a triple threat aircraft; we can bomb the enemy, strafe them with machine guns, and fall on them."
Davis remembered the plane as being a challenge to get airborne but then easy to fly. He says the conditions on Guam were more of a challenge,
"I had arrived fully trained in an airplane for combat, but was not mentally prepared for the living conditions of the war," Davis said recently. "Our toilets were slit trenches, long trenches dug into the ground about a foot wide with alkaline near them to toss in after you were finished. I realized this was paradise compared to what our infantry soldiers coped with."
And Davis also had to learn to be careful because there will still plenty of Japanese soldiers on Guam after the Americans invaded and set up an air base.
"When taking a shower we had someone standing near with a weapon, the Japanese would kill in order to get clothing, food, weapons and ammunition," Davis said. "One night a Japanese lady and two Japanese soldiers were captured in our mess hall attempting to take food; later one of our drivers was shot and killed while working on his jeep in the motor pool parking lot. I always had my 45 automatic with me."
Davis said the crew's combat flight's, from Guam to Saipan and Okinawa, were routine, except for one fire.
"We had departed Okinawa after a mission," he said. "The turbo amplifiers that are directly behind (the pilot), in the engineer's compartment caught fire. Our engineer jumped out of his seat and was doing all he could to extinguish the flames. The thick smoke was filling our cockpit and another B-29 crew who took off behind us was "goofing around" flying under us, sliding up and over us in close formation. I radioed "knock it off, we're in trouble" and then he turned away."
Davis said the engineer finally put the fire out and the plane returned safely to Guam.
Davis said the City of Ketchikan crew was an interesting one, the navigator was always interested in the star formations and showed Davis the ones that normally couldn't be seen from America.
"Our airplane commander Dick Brinck had a brilliant mind, he could one time read and understand our aircraft's operations manual whereas I had to study it," Davis said. "Dick was also an outstanding mechanic."
Davis said the radar operator talked about becoming a lawyer and succeeded after the war. The engineer was also trained as an air corps pilot.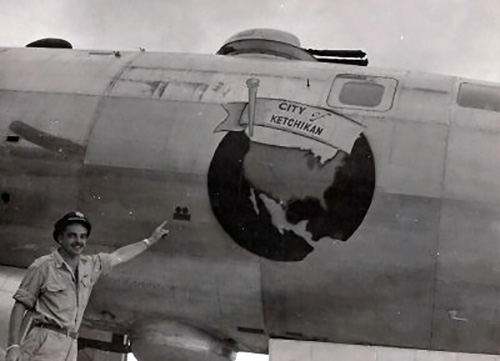 1st Lt Dick Brinck on Guam, beside the B-29 "City of Ketchikan" so named after the city in Alaska, where his father George was from.
Photo courtesy 39th Bomb Group www.39th.org

In addition to staying in touch with Brinck after the war, Davis also reconnected with another surviving crewmember, radio operator Hollis Logan, a few years ago.
According to Logan's Bio on the 39th Bomb Group's website, he also met up with Brinck after the war.
"I have only seen one of my old crew since WWII and that was in the 50s," Logan wrote in 2004. ""I had an occasion to remain over night at Kirkland, AFB in Albuquerque, New Mexico, and in the flight-line kitchen the next morning, I noticed a Major off at a table and he looked familiar. He looked at me and had the same look on his face. I approached him and said 'you're Dick Brinck aren't you?' He said 'you're Bud Logan.' Well it was my old airplane commander."
After retiring from the Air Force, Logan became an attorney. In 2001, he was elected President of the 20th Air Force Association.
Davis is not sure what became of the City of Ketchikan after the war, and government records aren't clear about that particular plane. B-29s continued to be used through the Korean War, but most of the World War II bombers were either sold to other governments or scrapped. The last B-29 was retired in 1960.
Only about two dozen of the nearly 4,000 Superfortresses built between 1943 and 1946 exist today, with a single one, the Fifi, still in airworthy condition. It is owned by the Commemorative Air Force in Midland, Texas and occasionally appears at air shows around the country.
The most famous B-29, the Enola Gay which dropped the atomic bomb on Hiroshima, is on display at the Smithsonian Air and Space Museum.


Editor's Note: A big thank you to Don Davis, son of Cecil Davis, for corralling most of the existing information about the City of Ketchikan!
On the Web:
Columns by Dave Kiffer

Historical Feature Stories by Dave Kiffer
Dave Kiffer is a freelance writer living in Ketchikan, Alaska.
Contact Dave at dave@sitnews.us
Dave Kiffer ©2014

E-mail your news & photos to editor@sitnews.us


Publish A Letter in SitNews Read Letters/Opinions
Contact the Editor
SitNews ©2014
Stories In The News
Ketchikan, Alaska

Articles & photographs that appear in SitNews may be protected by copyright and may not be reprinted without written permission from and payment of any required fees to the proper sources.