Famous steamer captain remembered in local landmark
Carroll Inlet named after early ship captain
By DAVE KIFFER
February 25, 2019
Monday AM

(SitNews) Ketchikan, Alaska - When you live in an area for any length of time, you usually begin to ignore the place names. If the names have a particular significance, their meaning may linger awhile in the consciousness, but usually they become just part of the generally forgotten background to the community.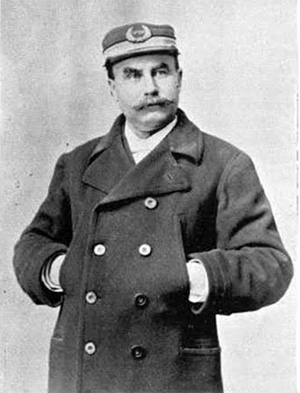 Captain James Carroll
From page 150 of Lewis & Dryden's Marine History of the Pacific Northwest, edited by E. W. Wright. Published in 1895.
This image is in the public domain in the United States. In most cases, this means that it was first published prior to January 1, 1924
A perfect example is Carroll Inlet. The 29-mile long fjord starts just south of Ketchikan and meanders well into the center of Revillagigedo Island. Locals use it to access prime hunting and fishing areas during certain seasons, but who was this major feature of Ketchikan's island even named after?
Many of the local and regional landmarks were named by the English and Spanish explorers who mapped this area in the late 1700s. But not so Carroll Inlet.
It was named by the US Coast Survey in 1903 after a man more interested in trade than in finding the fabled Northwest Passage. It was named after Capt. James Carroll, one of the first ship captains to roam this area after Alaska was purchased from Russia.
James Carroll was born in Ireland in 1840 and came to America with his parents when he was one year old. The family settled in Kendall County, Illinois and Carroll moved to Chicago when he was 16 and became a sailor.
He sailed on the Great Lakes for two years and then went to New York where he joined the United State Merchant Marine, eventually sailing as far as China and Japan. He also made trips to California, Europe, the South Sea and the Sandwich Islands (Hawaii).
He continued to sail with the Merchant Marine during the Civil War and was eventually promoted to second officer on the brig, Swallow in 1866. By then he was primarily sailing in the Pacific, for the National Steamship Company. In 1870, he commanded his first ship. He was later to command the Colorado, Pelican, Great Republic, California (later called the Eureka), Idaho, Queen and the Ancon.
In 1878, he began sailing to Alaska from Seattle and Portland with the Pacific Coast Steamship Company. He initially piloted the Harris and the Juneau into Southeast Alaska. When gold was discovered in Juneau he was one of the early investors in the rapidly growing community, establishing the first wharf in Juneau and financially supporting mining interests in the area. In 1883, he took the Idaho into Glacier Bay, the first steamer to enter the bay when the glaciers began to recede late in the 19th Century.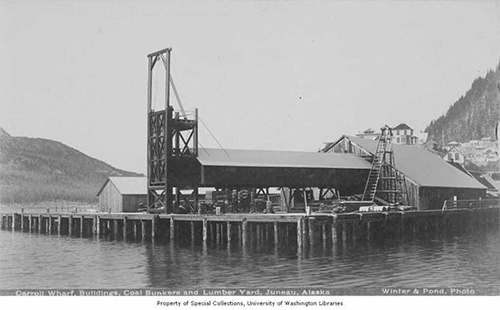 Carroll Wharf showing coal bunkers and lumber yard, Juneau, Alaska, between 1895 and 1905. Named for Captain James Carroll, steam ship captain and early Juneau property owner.
Winter and Pond, Photograpghers, et al.
Courtesy University of Washington Libraries, Special Collections,
Carroll also famously ran the Idaho aground in what is now Idaho Inlet on Chichagof Island. According to Sitka Historian Bob DeArmond, Carroll had been convinced by Dick Willoughby that the inlet was part of a "shortcut" to Sitka from Chatham Strait.
Carroll also got some negative renown when he captained the steamship Ancon onto what is now called Ancon Rock near Point Gustavus at the entrance to Glacier Bay in 1886. Carroll managed to safely beach the Ancon inside Glacier Bay and the ship was returned to Juneau where it was repaired. Carroll was not a the helm of the Ancon when she struck a rock near Loring and was a total loss in 1889 (See "A Famous Artist Runs Aground in Loring" SITNEWS Feb. 13, 2007).
While helming the Ancon in the mid 1880s, Carroll was believed to be the first mail boat Captain in Alaska.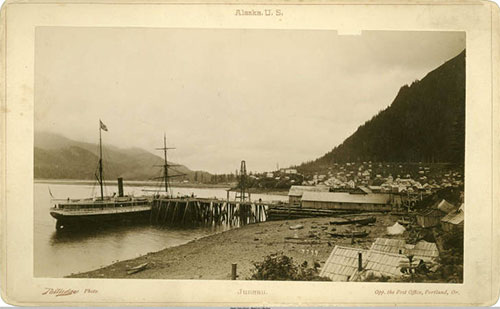 The IDAHO at Carroll's wharf, near South Franklin Street 1887.
William H. Partridge, Photographs - 1866-1887
Courtesy Alaska State Library - Historical Collections
He later also gained fame as the master of the Queen and made one of the earliest transits by a large vessel of Wrangell Narrows.
Carroll also dabbled in Alaskan politics. In 1890, according to DeArmond, Carroll was elected in Juneau to represent the region's interests in Washington DC before Congress. With the support of several wealthy individuals Carroll made a proposal to the US government to purchase Alaska for $14 million, roughly twice what the US had paid Russia two decades before. The proposal got a lot attention back in Alaska, but drew no response from the Federal Government.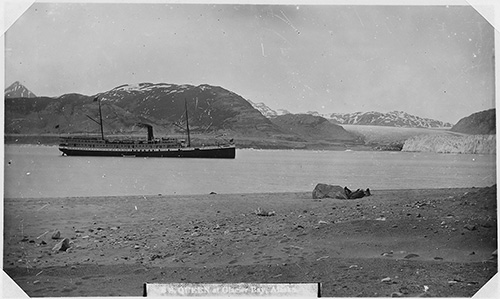 SS Queen at Glacier Bay
Courtesy: U.S. National Archives and Records Administration
Carroll eventually returned to captaining ships in Southeast Alaska. He once again gained a bit of notoriety when two of his ships were found to be transporting opium to canneries in the region. DeArmond writes that Carroll was thought to be involved in the illegal transport but was never charged. His last command was the Spokane and he retired in 1906, at the age of 66. After retirement he continued to promote mining in Alaska.
He was 72 when he died at his Seattle residence in May of 1912. A nearby street was named Carroll Way.
Of course, Carroll Inlet is not the only place in Southeast where Carroll is remembered. A glacier in the central part of Glacier Bay is named Carroll Glacier. An island in Frederick Sound is named Carroll Island and Carroll Place in Juneau's Mendenhall Valley is also named for the ship captain.