Bill Mitchell's last blaze was 60 years ago
Firefighter responsible for at least 5 local arsons in 50s and 60s
By DAVE KIFFER
July 11, 2021
Sunday PM

(SitNews) Ketchikan, Alaska - On July 3, 1961, Ketchikan was ramping up for another Fourth of July celebration. Loggers and fishermen were flooding the town, Dock Street was closed off to vehicle traffic and residents were flocking to the food and game booths. It seemed like all 6,750 residents were in the downtown prepping for the next day's parade, logging show and fireworks.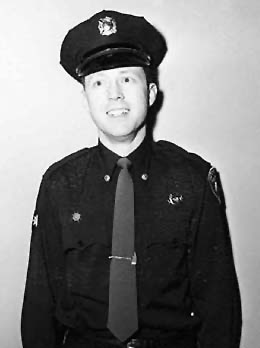 William (Bill) Mitchell
Bill Mitchell's K.V.F.D. portrait, 1960
Donor: Ketchikan Volunteer Fire Department
Courtesy Ketchikan Museums
SitNews 2002
Then, shortly before 3 pm, fire alarms sounded and smoke began pouring out of the Tongass Trading building on Dock Street housing the hardware and grocery store. Firemen had to fight through the milling crowd to get to the second floor of the building only to find that the building firehose had been sliced open. As they worked to control the fire, another fire was reported in the Federal Apartments building two blocks away. As they fought the first two fires, a third blaze was reported in the Stedman Hotel across from Tongass Trading.
Soon every able-bodied person, including Coast Guardsmen and Boy Scouts, were pressed into the fight to keep the entire town from going up in flames. The fires would continue until 2:20 in the morning on July 4 and cause an estimated $500,000 in damage, or $4.5 million in 2021 dollars.
Immediately, locals recognized the handiwork of local firebug, Bill Mitchell. But Mitchell had left the community months before, after a Grand Jury weighed the evidence that he had started several local fires in the community, going back to at least 1956 but probably even earlier.
Mitchell was a tall, handsome lieutenant in the Fire Department and president of the junior chamber of commerce. His mother and step-father, Mae and Jess Ison owned the Ben Franklin Five and Dime store that his step-father had opened in Ketchikan in 1936 and they were still operating it in the early 1960s. Mae Ison was the president of the local Soroptimists Club and Jess Ison served briefly on the Ketchikan City Council. Jess Ison also served on the Ketchikan Fire Department.
Bill Mitchell was born in 1928 in Tulsa, Oklahoma, according to genealogical researcher - and former Craig resident - Betty Marker. His mother was Mae Wrightsman who was born in Missouri and his father was Aubrey Mitchell, an Oklahoma highway patrolman who had been born in Texas. By 1940, the Mitchells were living in Salt Lake City and Aubrey Mitchell was an auto salesman and Mae was a stenographer, according to the 1940 census. Shortly thereafter, they divorced, and Mae Mitchell married Ketchikan resident Jess Ison in 1947 in Seattle. The marriage certificate listed Fort Smith, Arkansas as Mae Mitchell's current home. If that was when she moved to Ketchikan, Bill Mitchell would have been 19.
In Ketchikan, Bill Mitchell managed the Ben Franklin store for his mother and step-father. In 1951, he married Lucia Walther, a Petersburg woman who was a teletype operator. They divorced in 1953. In 1954, he married Lona Spurgeon, a reservations clerk and occasional flight attendant for Pan Am in Ketchikan.
By all accounts he was an active member of the community, well liked and an enthusiastic volunteer firefighter like his step-father. He developed a reputation as always being the first firefighter on the scene of fires and was mentioned several times in the Daily News and Chronicle newspapers for his firefighting prowess. But that would soon change as a rash of fires hit the Downtown area and suspicion narrowed toward him.
By July of 1961, it was pretty much accepted that Mitchell was responsible for several major fires that destroyed hundreds of thousands of dollars of property in the downtown area. Investigators even found a candle and wastepaper in another building that had not caught fire. That was Mitchell's modus operandi.
But on July 3, 1961, Bill Mitchell was 1,200 miles away from Ketchikan in Auburn, California with relatives. Or so everyone thought.
In reality, Mitchell had flown into Ketchikan the morning of July 3, dressed as a woman and using the name Helen Monson to fly in and Julia Dunton to fly out. He had set several fires and then vamoosed. Several people, including fellow firefighter Wally Kubley and police officer Ray Hackstock, noticed the unusual person in Downtown that day but they never made the connection to Mitchell.
Hackstock would late comment on how attractive the large, six-foot-tall woman was. She was well dressed in harlequin sunglasses, high heels and carrying a large purse. Kubley said that the woman looked vaguely familiar and he said "hello" but she didn't respond. Later at the departure lounge on Annette Island, a logger reportedly asked the woman to look him up later in Seattle and bought her a coffee.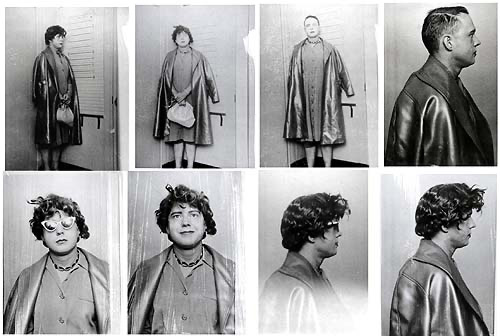 Bill Mitchell's F.B.I. Mugshots, July 4, 1961
Donor: Ketchikan Volunteer Fire Department Photo
Courtesy Ketchikan Museums - SitNews 2002
Meanwhile, a completely unrelated crime was about to undo Mitchell's plan.
The FBI had messaged police departments statewide to be on the lookout for a man wanted for passing bad checks in Fairbanks who sometimes dressed as a woman to evade detection. One of the employees at the local Pan Am ticket office in Ketchikan was suspicious about "Julia Dunton" and alerted Ketchikan Police Chief Hank Miller. Miller alerted the FBI and "Julia Dunton" was detained when the flight reached Seattle. When they determined that "Julia Dunton" was not the check forger they let Mitchell - who readily admitted who he was - go and he continued on to California.
After a couple of days, the local police and fire marshal had collected enough evidence to charge Mitchell for the July 3 fires and he turned himself in to the Placer County Sheriff's Office in Auburn, near Sacramento. He was brought back to Ketchikan and held on $150,000 bail, the largest bail ever levied in Alaska, according to the Ketchikan Daily News.
He eventually pled guilty to five charges of arson and was sentenced to 10 years at the McNeil Island Penitentiary near Tacoma. He served seven years and then was paroled, at the behest of a member of the Alaska parole board who lived in Fairbanks and offered him a job working at the Manley Hot Springs where he lived for nearly a decade before relocating back to California. He apparently stayed out of trouble with the law for the rest of his life. He died in Utah in 1984 and was buried in San Diego, where his mother lived.
Sometime in the early 1960s his mother and step-father sold the Ben Franklin store. They were still in ketchikan in 1965 when Jess Ison served briefly on the Ketchikan City Council. They moved to San Diego, California where Mae Ison died in 1987. Mitchell's wife, Lona, divorced him and moved to San Francisco where she continued to work for Pan Am.
It's not entirely clear when Mitchell first started setting fires in downtown Ketchikan, but he had joined the fire department in the late 1940s. He would eventually admit to setting five fires after 1954, but some believe they started earlier.
As a city mostly built on pilings soaked with highly flammable creosote, Ketchikan was susceptible to fires. Some of the first concrete buildings in Alaska were erected in Ketchikan as businesses tried to limit fire damage, but fire remained a constant in the First City for most of its early decades.
In the early 1950s, there were several small fires that appeared to be deliberately set. They had a similar modus operandi, lighted candles being left near paper trash. At first it appeared to be negligence. But soon it became a trend. Nearly all of the fires were small and the department didn't spend much time investigating any
connection.
In retrospect, a fire on April 2, 1954 is now thought to be linked to Mitchell. It occurred near the base of Grant Street where it meets up with Front Street and started in the Tongass Laundry and Dry Cleaning business. It spread to a nearby house owned by Floyd Knickerbocker. Nearby houses owned by Robert Gregory and V.M. Koul were also damaged, as was the Masonic Temple building.
The first fire that has been definitely linked to Mitchell was on May 21, 1956 when the Red Men's Lodge, the Ketchikan Meat Company, the Coliseum Theater, the Coliseum Barber Shop. Herb's Sporting Goods, Ann's Beauty Salon, the Champion Shoe Store, the Thunderbird Bowling Alleys, the Bamboo Room, Coon Brothers Photo Studio, the Ketchikan Meat Company, Peter Pan restaurant, Martine's Dress Shop. and Ralph's Liquor Store were all destroyed when an entire block burned.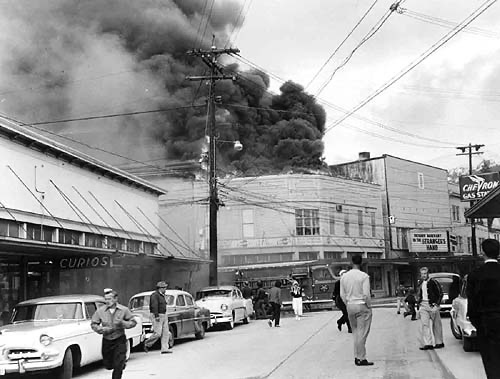 Coliseum Theater fire, May 21, 1956
Donor: Estate of Ralph M. Bartholomew
Courtesy Ketchikan Museums - SitNews 2002
A year and a half later, on Jan 1, 1958, several businesses on the waterside of Front Street, including the Alaska Steamship Ticket Office, Stan's Music Shop, the Rainbird Bar, the Ryus Drug Store, Schmolck's Plumbing Shop. Art's Time Shop, Porter & Spaulding Insurance, Alaska Bottling Works, Lloyd's Menswear, Champion Shoe Store (which had also burned in the 1956 fire), Dr. E.E Smith, Erskine's Gift Shop and Dorothy's Apparel and several second story apartments went up in flames.
Ketchikan's Coast Guard ships fought the fire from the water side and the National Guard helped as well. Five firefighters; Stanley Adams, Mike Kouni, Joe Diamond, Wally Perry and Carl Erickson, were injured fighting the blaze which wiped out more than a block of businesses on the water side of Front Street and created the open space that was later used to berth large ships in Ketchikan.
For a year, things were quiet on the arson front, but then a fire damaged the Hunt Building near the Ketchikan Tunnel on January 12, 1960. The fire department managed to save the building but then another fire set on January 25 destroyed it.
On May 10, 1960 another fire caused significant damage to the Marine Hotel on Mission Street and even damaged the nearby Ketchikan Welcome Arch.
By now, it was clear there was a problem and Fire Chief Ralph Bartholomew, Police Chief Hank Miller and State Fire Marshal Jerry Phillips began working together to track down the arsonist(s).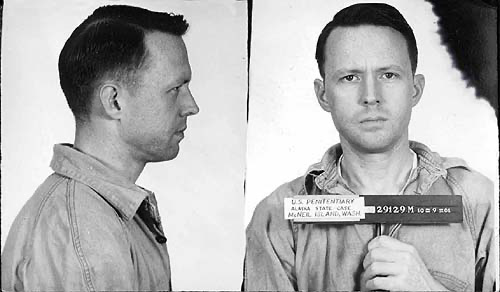 Bill Mitchell's mug shot, October 9, 1961
Donor: Ketchikan Volunteer Fire Department
Courtesy Ketchikan Museums - SitNews 2002
The fire and police departments also began nightly patrols of the downtown, checking buildings hourly. On August 13, they found an unsuccessful attempt in an empty apartment building, the candle had not set the paper on fire. By now they were narrowing the list of possible suspects down. State Trooper Ed Dankworth, a polygraph expert, came to Ketchikan and gave more than 100 lie detector tests to various members of the community. Everyone passed the test.
They also investigated possible causes such as insurance or revenge and found no likely connection between the fires. Then they focused on the volunteer firefighters themselves, fearing that a "pyromaniac" on the squad could be responsible. Dankworth returned to Ketchikan to test the volunteer firefighters.
The firefighters were told to be ready to test on August 27. Sixteen did and passed the tests. Eleven, including Mitchell, were unavailable that day. Mitchell had the most dramatic reason for missing the test, he was hospitalized for a drug overdose. Mitchell left the state for "rest" after the overdose.
In looking into his background, investigators learned that Mitchell was a well-liked member of the department and very enthusiastic about attending fires, often he was the first to show up on scene and had no problem shutting down the Ben Franklin store - which he managed for his parents - to respond to every alarm.
Isobel Daigler, the longtime manager of the Coliseum Theater, later said that Mitchell was a "nice young man" who often came by the theater to tell her about the fires, except of course, after the 1956 fire which destroyed the theater which was quickly rebuilt. By mid 1960, the investigators were convinced that Mitchell was the arsonist, but they lacked proof.
"I remember him as a very nice, well liked guy," said former Fire Chief Walter Winston recently. Winston joined the department in 1960. "Everyone in the department got along with him. Not a clue he was the cause of all those fires."
On January 25, 1961, another blaze broke out, this one destroying the Ketchikan Mortuary, the 108 Bar and part of the Bon Marche store. It stopped just short of damaging the adjacent Ben Franklin on Mission Street. Immediately the focus was on Mitchell again. He was informed that Dankworth was headed back to town for more polygraph tests. Mitchell immediately caught a plane south, telling the fire department that his father, Aubrey Mitchell, was seriously ill in Salt Lake City. When Dankworth arrived he tested the other 10 firefighters. All passed.
Then the department decided to try to trick Mitchell.
The Daily News carried a story that Dankworth had returned to Juneau, but instead he holed up in a local hotel. When Mitchell came back, he was informed that Dankworth was still in town and would test him. Mitchell immediately ingested a large amount of phenobarbital and was hospitalized again. While in the Ketchikan hospital, he arranged to go to Juneau for mental health treatment. While in Juneau, he reportedly confessed the arsons to an old friend from the Ketchikan Fire Department and in March he was indicted by a grand jury on two counts of arson. He was arrested and pled not guilty. He paid a $7,500 bond and was allowed to leave the state to await his next court date.
That court date was set for the second week of July.
But Mitchell came back to town a a few days early and the downtown area burned for one last time.
Related Article: