Alaskan pardons are rare
Gov. Knowles once pardoned a man over a racial attack in Wartime Wrangell
By DAVE KIFFER
August 20, 2019
Tuesday PM


(SitNews) Ketchikan, Alaska - Gubernatorial pardons are a very rare thing in Alaska. In fact, there hasn't been one since the early 2000s and there have been barely 100 pardons issues in Alaska's 60 years of statehood.
In fact, for most of the past decade, prisoners and those convicted of felonies were not even allowed to petition the Governor for clemency, but that situation was changed in 2018.
Still, ever since Alaska's first Governor, Bill Egan, issued more than 60 pardons in his three terms, clemency has been a rare thing in Alaska. The most recently high profile pardon was issued in 1997 by Gov. Tony Knowles and it involved a killing in Wrangell at the end of World War II that was race related.
James Willis was a Coast Guard engineer who was serving on the USS Sellstrom, a Navy destroyer escort that was operating in Alaska at the time. In October of 1945, the ship was docked in Wrangell and a local dance hall was having an end of the war celebration.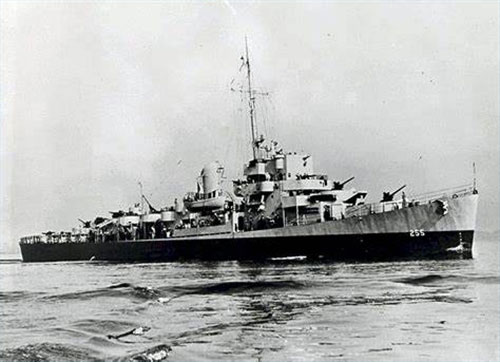 USS Sellstrom
US Navy Historical Photo
According to eyewitness accounts quoted by the Governor's office, Willis - an African-American - was dancing with a woman who was either white or Native American. There was a scuffle at the dance and Willis returned to the ship. But the trouble followed him back aboard.
According to an affidavit from fellow sailor Norman Smook of Wantagh, New York, an Oklahoma sailor named Leonard Supernaw was most offended by Willis' actions. Smook said Supernaw chased Willis through the ship, caught him and began beating him.
"Supernaw was pounding Willis with his fists and savagely beating him," Smook wrote. "Willis was no match for Supernaw. I feared for Willis' life."
Smook said that Willis broke free from Supernaw and grabbed a knife from his locker. When Supernaw came at Willis again, Willis stabbed him.
When Supernaw died, a riot broke out on the ship and Willis and three other black crewmembers were taken from the ship and put in the Wrangell jail for their protection. Willis' clemency attorney Raymond Zuppa told the Empire than an officer, according to one affidavit, had to pull his pistol to keep several crew members from firing the Sellstrom's main gun at the jail.
"They almost fired on an American port,'' Zuppa said. "I think that's extraordinary."
Eventually the four black sailors were transferred to the federal jail in Ketchikan.
Willis was later charged with second-degree murder. He contended that he acted in self defense but pleaded guilty to manslaughter and was sentenced to five years in prison.
Willis was 72 when he pardoned in 1997 and living in New York City. He was deaf and suffering from colon cancer. Zuppa said that Willis died a few years later.
Zuppa spent more than a year working on the case, beginning when he was a law student in New York.
"All we had was his word,'' Zuppa told the Juneau Empire in 1997. "A lot of it was quite extraordinary. It was a long, tedious process tracking people down.''
It was a challenge finding Willis' old shipmates and getting affidavits from them. Nearly all of them supported Willis's version of the events and several noted that the integrated ship had a "tense racial climate" because the vast majority of the sailors were southern white men.
"Everyone has a different glimpse of what happened that night,'' Raymond Zuppa told the Empire. ``It was pandemonium.'' He said that time, and perhaps shame, worked against him. Some of them were covering up a lot. Whatever happened here . . . after 50 some-odd years it's amazing that people didn't want to talk about it.''
After he was released from prison, Willis worked as an umbrella maker and a bookkeeper until he retired in 1985. His back had been broken during the shipboard attack and he also suffered from hearing loss from an infection he got during prison.
"I have suffered for over 50 years, to this day I cannot understand how all of these terrible things have happened to me because I danced with a woman whose skin was a different color then mine," Willis wrote in an affidavit in the governor's file. "I would like to live my last days with dignity, my good name and die as a soldier that served his country proudly."
After the pardon was issued, Willis spoke to the New York Daily News.
"I am glad someone saw the light while I am still alive, usually with a black man, they clear his name after he's dead," he told the newspaper.

But even with the 1997 pardon, there was one but of unfinished business, Willis had been given an "undesirable" discharge from the Coast Guard and he needed to have it changed to "honorable" so that he could get veteran's medical benefits.
The Coast Guard originally turned down the request, saying that it hadn't been filed in timely manner and that too much time had passed. After Knowles issued the pardon, Zuppa tried again to get the discharge changed to "honorable."
Knowles encouraged the Coast Guard to reconsider.
"Mr. Willis' quest is not at an end,'' Knowles said at the time. "In signing my first pardon . . . I would encourage Coast Guard officials to take another look at this case.''
But it was not to be.
Contacted in 2016, Zuppa said that the Coast Guard had refused to change Willis discharge status. Zuppa said that the Coast Guard upheld the "undesirable" discharge because Willis had been "unable" to satisfactorily discharge his duties. The reason? He was in jail awaiting his murder trial.
"The reason it was not changed was because his performance ratings were bad," Zuppa replied in 2016. "The member of the panel that wrote the dissent pointed out that the reason why his performance levels were bad -- zeros for a period of time -- was because of his incarceration."