2020 Year in Review
COVID cancels entire cruise ship season; International pandemic affects all residents, even those that remained healthy
By DAVE KIFFER

January 02, 2021
Tuesday AM


(SitNews) Ketchikan, Alaska - Like the rest of the world, the biggest news story in Ketchikan was the quarantine caused by the Corona Virus or COVID 19. Most of Ketchikan was shut down from mid-March through the end of April harkening back to the month- long closure of the Ketchikan economy and social world for a month during the Great Flu Pandemic of 1918.

By the end of the year, the COVID 19 virus had infected more than 250 residents and local visitors. One Saxman resident, Julie Wasulli, 56, was medivaced to Bellingham in November and died on December 11.

The economic effects were extremely serious as the 2020 Cruise Ship season was cancelled and the community had to hunker down to survive the loss of more than 1.2 million visitors and more than $150 million in economic activity in 2020.

Local school children also experienced a major disruption when in-person classes and activities were canceled and students were sent home in March to finish their school year on computers. The high school spring sport seasons were cancelled and summer sports like soccer and Little League had shortened seasons. Fall sports like cross country, swimming and volleyball also had shortened seasons or were limited to home meets instead of traveling in the region.

Numerous other activities were affected as many local restaurants and entertainment facilities faced closures or were limited to being half full because of state COVID restrictions.

Many traditional local events like the salmon derby, the Blueberry Festival, the Clarke Cochrane Basketball Tournament and the Winter Arts Faire were also cancelled. Other events were held over the internet and many local residents became familiar with zoom meetings replacing in-person meetings for local government and other functions. A significant portion of the community workers also spent time "telecommuting" to work when offices were closed.

Federal and state relief money arrived in the community and more than $20 million had been doled out by the end of the year, providing rent, utility and business assistance.

JANUARY

Ketchikan's first significant snowfall of the past three years arrived shortly after New Year's when more than a foot of snow descended on much of the community. A spate of cold weather and some additional snowfall, kept the snow around until the last week of January

Longtime Ketchikan city councilman and Mayor Lew Williams III died on Jan. 4 after a three-year battle with cancer. Williams, who served for more than 30 years, was also the co-publisher of the Ketchikan Daily News.

The first Ketchikan baby of the new year was…from Wrangell. Braven Hunter Gillen, the son of Michaela Larsen and Tyver Gillen of Wrangell was born on Jan. 7.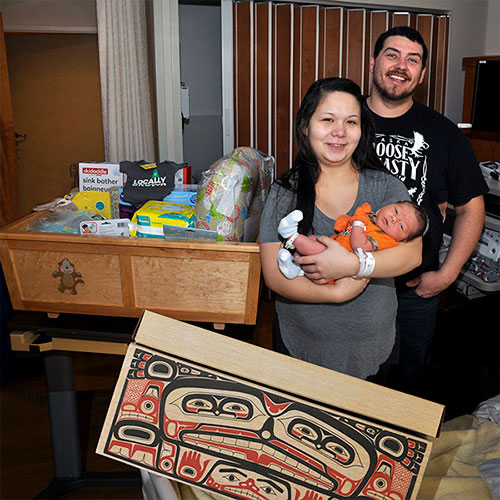 Braven Hunter Gillen, the son of Michaela Larsen and Tyver Gillen of Wrangell was born on Jan. 7, 2020
Photo courtesy PeaceHealth Ketchikan Medical Center
The US Army Corps of Engineers approved a permit for the Ward Cove Dock group to build a cruise ship terminal in Ward Cove to handle two 1300-foot cruise ships. Construction started almost immediately. In the meantime, because of previous delays, Norwegian Cruise Lines – which will have preferential berthing at Ward Cove – announced it would likely continue to berth ships in downtown Ketchikan after the original July 1 switchover date. Those plans became moot when the season was cancelled several months later.
Paul Robbins was appointed to a seat on Ketchikan School Board, replacing Matt Eisenhower who resigned in December.
Randy Williams, Judy Leask Guthrie and Lloyd Ruaro won seats on the Ketchikan Indian Community Tribal Council. Kevin Johnson and Dawna Hull were elected to the KIC Health Board
Emily Chapel was appointed to a seat on the Ketchikan City Council, replacing Lew Williams III who resigned in December.
Several Ketchikan residents returned from a nearly year-long deployment to Kuwait. Sgt. Patrick Brown, Sgt. Charles Cessnun, Spc. Tiara Manalo, Spc. Kodie Moss and Staff Sgt. Keefe Blankenship are part of the Alaska Army National Guard's 297th Military Police Company.
The Ketchikan Chamber of Commerce celebrated its community members and businesses of the year. The late Lew Williams III was named the Citizen of the Year. Theresa Hamilton received the outstanding community service award, Brittany Pope received the emerging leader award. Island Pharmacy was the business of the year and the Alaska Crepe Company was the entrepreneur of the year.
Tessa Axelson was named the new executive director of the Alaska Forest Association, replacing Owen Graham who had held the post since 2001.
The Ketchikan City Council's long process to determine how to manage the local ports took a big step when three companies offered proposals for future port management. All three companies, Global Ports Holding, SSA Marine/Royal Caribbean and Survey Point Holdings proposed getting management concessions from the city rather than seeking preferential berthing opportunies.
The state ferry Matanuska – which just returned from a lengthy overall – suffered a broken reduction gear and was taken out of service, leaving the AMHS with a single operating state ferry, the Lituya, making runs between Ketchikan and Metlakatla. After several weeks, the ferry system – plagued by budget cuts and ferries needing maintenance – got the Tazlina on the Lynn Canal route and serving some smaller SE communities. Governor Dunleavy appointed a commission to determine the future of the system.
FEBRUARY
Lifelong residents Jim and Juanita Diamond celebrated their 72nd wedding anniversary.
Tom Heutte was appointed to a seat on the school board that was vacated by Rachel Breithaupt in January.
The project to eliminate a rock pinnacle off the shore from Berth 2 turned up a historical oddity. An old "admiralty" anchor was uncovered. The nine-foot, 1,000-pound anchor was the type used on ships between the Civil War and the mid-20th Century. It will be displayed on the docks near Berth 1.
Houghtaling Elementary School Fourth Grader Thierry Oyedeji won the school district spelling bee. The winning word was b-e-a-t-b-o-x-i-n-g.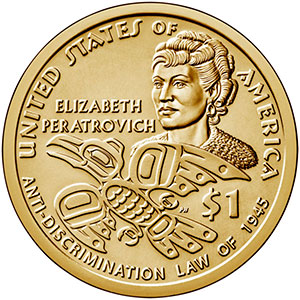 The US Mint released a commemorative $1 dollar coin featuring Alaska Native Civil Rights Leader Elizabeth Peratrovich.
Photo courtesy U.S. Mint
The US Mint released a commemorative $1 dollar coin featuring Alaska Native Civil Rights Leader Elizabeth Peratrovich. Peratrovich lived in Klawock and graduated from Ketchikan High School.
Kayhi senior Chris Lee became the all-time Ketchikan High School boy's basketball scorer, passing Steve Ortiz who had held the mark since 1974.
US Senator Lisa Murkowski visited Ketchikan meeting with local officials and Kayhi students.
A landslide seriously damaged Tatsuda's IGA causing the closure of the store and the adjacent Alaska Liquor Store. Eventually the stores were torn down and – at year's end – there was no announced plan to replace them. Tatsuda's has operated in Ketchikan since 1916 and went through a major remodel to celebrate that anniversary four years ago.
MARCH
The city began negotiations with the state and the federal government over ways to mitigate the need for a $70 million drinking water filtration plant. Part of the reason for the filtration need was blamed on increased turbity in the Ketchikan Lake water supply because of recent heavy rainfall. Federal officials also pointed to increased fecal coliforms in the water that had been traced to a growing mountain goat herd in the area.
Darrell Ryan, 40, was sentenced to 25 years in prison after pleading guilty to the stabbing death of Aaron Dixon in January of 2018.
The former Ketchikan Fire Station on Main Street was sold for $343,000 in an auction. A group of local residents wants to turn in into a liquor distillery.
Kayhi student Tyler Merle was named a National Merit Scholarship finalist.
The Borough Assembly approved an ordinance that would allow food trucks in the community and honored Roy McPherson for his years of service to Ketchikan's music community.
Cameo McRoberts, Danielle Duckworth, Deb Anderson, Rhonda Bolling and Sonya Skan were named Ketchikan "Women of Distinction" by Women in Safe Homes.
The Thorne Bay boy's basketball team won the Southeast Region V Division 1 tourney.
Women in Safe Homes (WISH) received an $800,000 federal grant that will allow it to remodel the former Ketchikan Regional Youth Facility into a new shelter.
Kayhi senior Chris Lee was named to the basketball all-state first team. Elijah Casperson, Colton Hayward and Alexis Russell, all of Metlakatla, were also named to state 2A honor teams. Russell was named the girl's player of the year for Division 2A. Thorne Bay coach Mark Gunkel was named the 1A coach of the year and one his players, Jacob Congdon was named to the 1A first team. Taya Marvin of Klawock was named to the 1A second team.
Ketchikan resident Annie Ruaro celebrated her 100th Birthday in late March.
The Corona virus arrived in Ketchikan March 13 when a local resident who returned from the Lower 48 tested positive. By mid-month, there were five other positive tests and – like much of the rest of Alaska – Ketchikan was under a "shelter in place" recommendation that closed most businesses and offices. By the end of the month, there were 14 cases in the community, but none reported in any other SE communities other than Juneau. A Petersburg resident getting medical treatment in Seattle died of COVID. Residents were told to not gather in groups of 10 or more. Schools were closed until May 1 and all spring sports were canceled.
Students at UAS-Ketchikan began taking classes on-line. Residents who returned to the community from travel elsewhere were required to self-quarantine for two weeks and Gov, Dunleavey banned any non-essential travel within the state. Canada announced it was closing its cruise ship ports until July 1 meaning that few cruise ships would visit Ketchikan prior to that time. The port of Seattle also closed its ports until July 1.
By the end of March, the community was on an unofficial lock down and transportation in and out was limited to one flight in and one flight out. The Marine Highway System – which had been expected to resume service by early April - was also on hiatus through May. The IFA also cut back on its trips to Prince of Wales Island.
The City Council stepped into some controversy when it briefly considered allowing idled cruise ships to dock at the port, but then said no when public opposition was vociferously opposed.
Initially public parks and beaches were kept open, but by the end of the month they had been closed because people were not practicing social distancing.
Amidst the corona virus outbreak, another tragedy struck Ketchikan when five-year-old Jaxson Brown died in the woods near the Lunch Creek Trail. Brown and his mother were hiking and became lost. When the mother decided to go for help, she was severely injured and both spent the night out in freezing temperatures. The mother was rescued but it was two more days before searchers found Jaxson's body.
The local lockdown would last from March 17 to April 26, with businesses such as bars and restaurants, as well as churches, remaining closed until mid-May.
APRIL
Kayhi senior Carter Thomas installed his Eagle Scout project an installation on the front wall of Ketchikan High School with the names of more than 200 Kayhi grads that have served in the military.
Work began on $11.5 million KPU fiber optic cable to Prince Rupert. Officials said it would be completed by October.
Leslie Becker, a member of the school board, filed to face incumbent Dan Ortiz for the Distict 36 House Seat.
Ketchikan High School Cross Country coach Leigh Woodward resigned her position. Her family is moving to Kuwait. She was replaced by Katie Sivertsen.
The Alaska Marine Highway announced it would not restart runs to Prince Rupert when the ferry shutdown ends.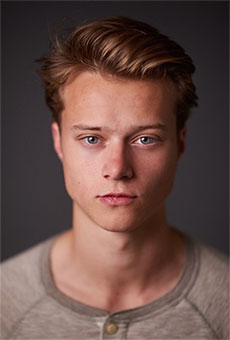 Rudy Pankow starred as JJ in 'Outer Banks' on Netflix.
Press Photo
Kayhi grad Rudy Pankow starred in the Netfix television series "Outer Banks" which streamed in April. The 10-episode series was ranked in the top 10 by the streaming service and was approved for another season.
The City Council decided to delay an already approved .5 mill tax increase due to economic concerns over the corona virus.
Mischa Chernick was named the new director of the Peace Health Ketchikan Foundation.
Kayhi senior Chris Lee signed a letter of intent to play basketball at Pima Community College in Tucson, Arizona.
The annual Ketchikan Indian Community herring egg giveaway caused a traffic jam on Stedman Street as more than 600 people turned out for the event.
Kayhi senior Dearly Villaflor went straight from high school into the work world, getting hired as a certified nursing assistant at the Ketchikan General Hospital long term care unit. She had been taking college level university classes while still in high school.
Dori Stevens was named the new chief administrative officer at Peace Health Ketchikan.
MAY
Holy Name School announced it would not have classes for 1st through 6th grades for the first time since the mid -1960s because of declining enrollment and uncertainty over Covid 19 restrictions. The school will have pre-school classes in the fall.
Early in the month, Princess and Holland America joined Carnival in announcing the cancellations of their entire summer cruise seasons in Alaska. Royal Caribbean, Norwegian Cruise Lines and Celebrity announced cancellations through the end of July.
The Borough Assembly approved a $39 million budget for FY 2021 which began on July 1. The Assembly also set the School District Budget at $45 million.
Kayhi Junior Henry Clark won the statewide American Legion Oratorical Contest.
Ketchikan's Memorial Day activities took part but with only dignitaries on hand. The events were streamed live to residents who could not attend.
With the lessening of some COVID 19 restrictions, Little League baseball and softball teams began practicing in hopes of starting seasons in June. With no regional or national tournaments this year, league officials say they would extend the baseball/softball seasons into August.
After numerous complaints that the potholes on South Tongass Highway between Ketchikan and Saxman were big enough to have their own area codes, the state Department of Transportation found some extra money and paved the two-mile stretch, which is scheduled for major re-construction in two years.
Further chaos hit the local ferry system as the IFA's Prince of Wales suffered a massive engine failure and went off-line leaving POW without service until the AMHS Lituya altered its schedule. The Lituya, along with the Tazlina in northern Southeast remained the only ferries operating in the state through the end of May.
In the last week of May, Canada announced that it would not allow cruise ships with more than 100 passengers to use its ports until October, which effectively ended the 2020 cruise ship season in Southeast, although several smaller American flagged ships still planned to attempt to come to Alaska beginning in July.
Parents of the Kayhi and Revilla classes of 2020 organized an outdoor parade from Berth One to Berth Four for the graduating seniors, who were allowed to walk in their caps and gowns to the cheers of several hundred onlookers.
JUNE
Longtime resident Paul Enright, 90, died in a fire at his North Tongass home.
A 36-year-old man suffering from a heart attack was airlifted from the Minerva Mountain Trail. He recovered later at the hospital.
Ketchikan, which had had no positive COVID results since mid-April, started seeing more positive local results, primarily through the new testing station at the airport for passengers arriving from Seattle.
At mid-month, a local resident didn't quarantine after returning and was found to be positive after attending several local gatherings, leading to more than 200 people who came in contact needing to be tested and temporarily quarantining until their test results were known, but none of those individuals turned out to be positive.
The end of the school year brought the retirements of several longtime district teachers and staff including Marian Gonzales, Ole Sullivan, Katy Hook, Laurie Northrup, Judy Christensen, Lane Johnson, James Connelly and Gary Boatwright.
Despite concerns over social distancing, there were two large demonstrations in Ketchikan in June. First more than 100 people rallied near City Float to draw attention to a local business that refused to provide service for a wedding involving a same sex couple.
In the second demonstration, more than 400 people turned out at the corner of Jefferson and Tongass to rally for racial justice in the wake of the national rallies over the killing of George Floyd. Over $14 million was raised for George Floyd's family through GoFundMe donations nationwide.
Ketchikan Pioneer's Home director Julie Sande retired after more than 20 years at the facility. Her mother, Shin Berkey, also retired from the Pioneer's Home after more than 30 years
The local youth baseball/softball season that was delayed by concerns over COVID 19, began in mid June. With no regional tournaments, the season was able to continue through July and August rather than ending in early July.
Limited service on the Marine Highway system resumed toward the end of the month.
First City Rotary announced it will build an interactive music park at Rotary Beach. It will dedicated in honor of Pat Doherty who died in 2009.
A federal judge blocked the proposed opening a 37-square-mile section of Prince of Wales for logging.
JULY
The annual fourth of July festivities were generally cancelled. The were no booths or parade, although the Chamber of Commerce did promote a reverse parade in which residents were encouraged to decorate their houses and property. The fireworks display was held. US Congressman Don Young visited over the holiday weekend.
A Colorado company agreed to spend $7 million to clean up the remains of the Ross-Adams uranium mine on Southern Prince of Wales.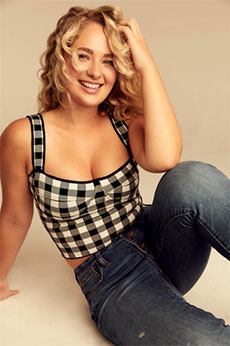 Skylar Joy appeared as a regular in the television show, "P-Valley" on the Starz Channel.
Press Photo
Former Ketchikan resident Skylar Joy began appearing as a regular in the television show, "P-Valley" on the Starz Channel. Joy was a participant in First City Players productions when she was a child. She graduated from Revilla High School.
The Ketchikan City Council backed off on a proposal to require residents to wear masks in public indoor spaces after intense public opposition.
The Ketchikan VFW announced that it was selling its building near Bar Harbor.
Tyler Cavanaugh. 22 was charged with second degree murder following an altercation in which his step-father Peter Jensen died on July 17.
The City Council approved an equal rights ordinance that prohibits discrimination based on race, color, age, religion, sex, marital status, sexual orientation, gender identity, gender expression, ethnicity or national origin.
The Ketchikan Gateway Borough School district found itself in a major controversy over how to reopen school in the fall. The District developed a plan that would have limited class sizes to half of normal, with the other students taking classes over the internet. But after several meetings with heated public comment, the board decided to shelve that plan and to have all students attend classes in the fall. But the district decided to rent space in some other facilities in order to bring down class sizes.
AUGUST
The annual Blueberry Arts Festival and the Gigglefeet Dance Festival were both cancelled.
Work began on a replacement NOAA dock on Stedman Street that would allow the research vessel Fairweather to dock year-round in Ketchikan.
The state began a project to expand the 1970s era airport terminal. Eventually, the expansion would allow for three jetways for passengers and a larger waiting and checking in area. The state also began a nearly $100 million project to expand airport facilities on the Revilla side of Tongass Narrows. Included in that project were an second ferry landing terminal, an expanded parking are and new indoor waiting facility.
US Senators Dan Sullivan and Lisa Murkowskli both visited the First City, as did US Representative Don Young. Sullivan returned a month later with US Navy Secretary Kenneth Braithwaite to visit the Back Island Acoustic Measurement Facility.
The Silver Salmon Derby was cancelled because of COVID concerns, the first time there was no salmon derby in Ketchikan since 1948. The traditional king salmon derby had been shifted to a silver salmon derby in 2018 because of concerns over low king salmon runs in the area.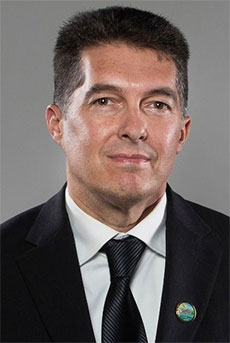 Ketchikan Borough Mayor
Rodney Dial
Courtesy Rodney Dial
Borough Mayor Rodney Dial vetoed a resolution by the Borough Assembly asking the state legislature to protect Alaskans from sexual orientation discrimination. Dial called the measure "anti-Christian." The Assembly later overrode Dial's veto by a 5-2 margin.
The Metlakatla Indian Community filed suit against the state of Alaska over the limited entry fishing system. MIC contends that it prevents tribal fishermen was accessing their traditional fishing grounds, some of which are outside Annette Island reservation waters.
The Southern Southeast commercial seine season ended weeks earlier than usual in mid-August. Overall catch estimates placed the return at less than a third the normal amount of returning salmon
Longtime city finance director Bob Newell announced that he would retire after 29 years on the job. The city later appointed comptroller Michelle Johansen to his position. Longtime Ports and Harbors director Steve Corporon also retired.
Longtime resident Joseph Romero was found dead in the woods near 4000 North Tongass Highway. City Police were still investigating the death a month later.
SEPTEMBER
Libertarian Presidential candidate Jo Jorgensen visited Ketchikan as a part of a campaign swing through Alaska.
A two-vehicle head on crash on Prince of Wales claimed the lives of both drivers, Jennifer Dietrick, 25, of Naukati and Kerri Hansen, 33, of Thorne Bay. Four children riding in the two cars were seriously injured and had to be hospitalized.
An orphaned bear cub got a new lease on life when it was captured on Coburn Road. The cub was transported to the Alaska Zoo in Anchorage.
Retired local pilot Herman Ludwigsen, 93, was honored by the national Federal Aviation Administration with its Wright Brothers Master Pilot Award. Ludwigsen flew from 1947 to 1998 and amassed more than 32,000 hours of flight time.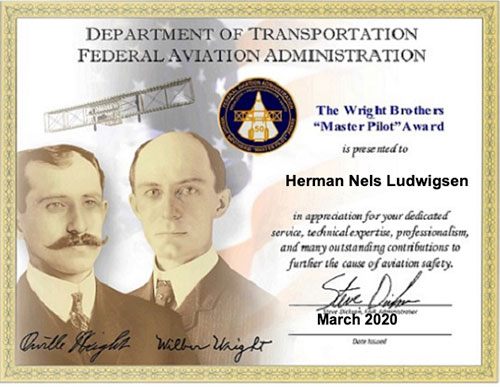 Award presented to Herman Ludwigsen
Courtesy FAA
Mary Goodwin retired as working as a customer service agent and departure coordinator for Alasaka Airlines after 47 years.
Two local landmark buildings on the opposite sides of town came down in September. First, the long empty Chief Shakes House in Saxman finally succumbed to the elements. The Shakes house was one of the oldest buildings in the community, dating to the mid-1890s. Then a decades-old boat shed at Murphy's Landing near Ward Cove was taken down by its owners after it too began to collapse.
OCTOBER
The Yates Building, which housed the Ketchikan Hospital beginning in 1905, was placed on the National Trust For Historic Preservation's 11 Most Endangered Properties list for 2020. The building has been vacant for 17 years and is deteriorating. Historic Ketchikan wants to renovate the building into a visitor's center.
Local elections were held. Because of COVID concerns, Ketchikan like many other communities saw a record number of absentee and mail in ballots turned in.
Dave Kiffer, Riley Gass, Abby Bradberry and Mark Flora were elected to seats on the City Council. Judith Anglin, Amanda Pearce and Jeremy Bynum were elected to seats on the Borough Assembly. Diane Gubatayo, Paul Robbins, Kim Hodne and Nicole Anderson were elected to the School Board.
Valerie McLaren and James North were named 2020 Divo and Diva at First City Players annual - in this case socially distanced – event.
The federal government announced that it was ending the "roadless rule" restrictions in the Tongass National Forest bringing hope to timber industry proponents. But there was immediate concern the decision could be reversed by the new federal administration.
After discussing the process for more than a year, the city council decided on a 4-3 vote to end the process of seeking a firm to manage the Ketchikan cruise ship docks. By the end of the year, no firm decision had been made what direction to go on future port management.
NOVEMBER
Dan Ortiz was re-elected to represent Ketchikan in the Alaska State House, defeating former Ketchikan school board member Leslie Becker. Bert Stedman ran unopposed for the southern Southeast regional State Senate seat.
Ketchikan saw a large increase in COVID 19 cases with more than four dozen new cases in less than two weeks. Many were traced to an outbreak at a single local business. There was also a large spike in cases later in the month, most due to people engaged in holiday traveling. The community risk level was raised from moderate to high early in the month, but went back down to moderate by the end of the month.
On a happier note, residents enjoyed a whale watching frenzy for several weeks as a humpback named "Phoenix" spent most of the month bubble feeding back and forth between Ward Cove and the Coast Guard base. He spent much of his time surfacing again and again between Berths One and Four and even between the floats at Casey Moran Harbor (City Float) and also swam inside the breakwaters at Thomas Basin and Bar Harbor often surfacing just a few feet away from happy onlookers. Hundreds of pictures and dozens of videos were taken, making "Phoenix" one of the most documented humpbacks ever.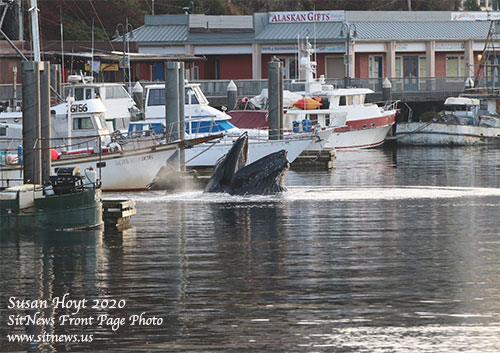 Humpback named "Phoenix"
Photo By SUSAN HOYT ©2020
Eight new residents to the community got a rude welcome when the skiff they were riding in overturned in rough seas between Ketchikan and Pennock Island. All eight were wearing life jackets and were rescued by good Samaritans who responded.
Local Coast Guard petty officer Alta Jones was given a meritorious advancement by the district Coast Guard command for work above and beyond the call of duty, Jones was noted for several significant accomplishments, most notably the prevention of marine disaster when a 250-vessel drug anchor in 115 mph winds and threatened to cause major environmental damage. She also served as a training officer for the Ketchikan base and filling other leadership vacancies at the base.
DECEMBER
The last month of the year kicked off with a series of rainstorms throughout Southeast that caused a significant amount of flooding and led to landslide deaths in Haines. The First City received a near record-22 inches of rainfall in an eight-day period that led to significant flooding at Ward Lakes and a near overflow at Ketchikan Lakes that caused emergency officials to call for a volunteer evacuation of homes along Ketchikan Creek for several hours until the threat lessened. The 22 inches in eight days was the most rainfall in that period since 1920.
Work continued on the $90 million upgrade to airport facilities on the Revilla side of Tongass Narrows. A second ferry slip will be built, along with a an indoor waiting facility. The parking lot will significantly expanded as well. The project will be completes in the Fall of 2022.
A Ketchikan man drowned in Ketchikan Creek while allegedly trying to evade Ketchikan Police investigating a domestic violence complaint on Park Avenue. Brandon Larson was 32.
A Metlakatla man, William A. Taylor, 36, was charged with first degree murder after the stabbing death of Edward "Buddy" Starrish on Dec. 6.
The seemingly endless monthly rain broke just in time for the Ketchikan holiday boat parade. Some low level fireworks and music was a welcome addition to this year's socially distanced parade.
The City Council approved the 2021 budgets for the city and Ketchikan Public Utilities. The city budget was $87 million and the KPU budget was $67 million
By the second half of the month, the first doses of the COVID 19 vaccine arrived in Ketchikan and were given out to emergency services and health care workers.
The year 2020 ended with a last tragedy, as a house fire on Denali Street on December 30th caused the death of two people, an adult man and young girl, who were trapped in the burning house. One person in the house managed to escape the fire. No names had been confirmed officially by the end of the year.
Rest In Peace
2019
Terry Lesko. 71, national Soapbox derby winner and former Ketchikan radiologist, Sept. 21, 2019.
Diane Taylor, 62, lifelong Prince of Wales Island resident, Nov. 28, 2019.
Mary Ellis, 94, longtime Ketchikan and Juneau resident, Dec. 1, 2019.
Denny Zeiser. 69, longtime local IBEW business manager, Dec. 1, 2019.
Mary Moyer, 57, longtime Ketchikan resident, Dec. 17, 2019.
Emery "Bud" Hurley, 88, longtime Metlakatla and Ketchikan FAA employee, Dec. 21, 2019.
Ralph Shafer. 88, former city police officer and state trooper, Dec. 24, 2019.
Gerald Williams, 60, lifelong Ketchikan resident, Dec. 27, 2019.
John Steinberg, 76, longtime Metlakatla and Craig Church of God minister, Dec. 29, 2019.
Virginia "Mary" Fox, longtime local commercial fisher, Dec. 31, 2019.
2020
Lew Williams III, 62, long time Ketchikan Mayor and City Councilmember, Jan. 4, 2020
Frances "Lady Bug" Booth, 87, Jitterbug queen and lifelong Metlakatla and Ketchikan resident, Jan. 6
Lynda Davidson Adams, 75, co-founder of Madison Hardware and founder of Alaskans for Drug Free Youth, Jan. 12
Michael Jausoro, 71 longtime general manager of Alaska Escrow and Title Insurance, Jan. 13.
Harry Elie, 61, longtime Ketchikan resident. Jan. 17
Arnie Iverson Jr. 90, chief accountant for Ketchikan Pulp Mill, Jan. 17
Dick Shaffer, 84, longtime Ketchikan attorney, Jan. 17
Pat Moore, 86, longtime Ketchikan resident, Jan. 20.
Gary Croy, 74, longtime construction company owner, Jan. 22
Michael McKimens, longtime Craig public works director and Alaska Conservation Foundation award winner, Jan. 22
Robert Galvin. 82, former ports and corrections worker, Jan. 23
Clarissa Killian, 85, longtime Marine Highway employee, Jan. 24
Mykeshia Henderson, 57, longtime Alaska Airlines and Ferry System worker, Jan. 26
Dorris Thomas, 95, former Ketchikan resident, Jan. 27
Michael Thompson, 70, former Ketchikan Superior Court Judge and Federal Magistrate Judge, Jan 29.
Eric "Gundi" Gundersen, 86, skilled craftsman, fisherman and co-owner of Kay's Kitchen, Jan 29
Shirley Kowalczyk Baker, 86, former local USFS employee, Feb. 2
Clayton Benner, 90, former resident and Ketchikan Pulp employee, Feb. 2
Sibyl Fosse Collins, 67, lifelong Ketchikan resident, artist and lover of all things basset hound, Feb. 4.
Clifford Bolton, 79, counted cross stitch master, Feb 5.
Barbara Anniskett, 62, longtime resident, Feb. 7
Janice Bass Swain, 70, former longtime Ketchikan resident, Feb. 8
George Olofson Sr. 65, lifelong Metlakatla resident, Feb. 13
Leman "Smitty" Smith, 81, longtime KPC millwright and tugboat mate, Feb. 14
Carolyn Hallman, 91, three-decade Ketchikan resident, Feb. 18
Thomas "Tom-Tom" Lang, 57, longtime Metlakatla fisherman and artist, Feb. 27
Louie Bartos, 83, longtime USFS hydrologist and sail making historian, Feb. 28
Daral Smith, 55, longtime fisherman, mechanic and master wheeler dealer, March 4
Ken Perry, 60, long time Ketchikan businessman and outdoorsman, March 4
Pat Cessnun, 72, former Ketchikan resident, March 9
Marjorie Young, 86, the grand doyenne of Craig, March 14
Jerry Welch, 78, retired pastor of the Whale Pass Bible Church, March 18
Robert "John" James, 78, lifelong resident of Metlakatla, Ketchikan and Prince of Wales Island, March 22
Lorraine Perry, 99, longtime owner of Grandma's Shop, March 24
Jerry Baker, 75, longtime Ketchikan bush pilot, March 25
Kaye King, 78, former Ketchikan Borough Assembly and School Board member, March 27
Misty Peters, 47, longtime Ketchikan cook, March 29
Vivian Spears Shull, 92, former Ketchikan resident, March 30
Frances Williams, 93, lifelong Ketchikan resident, April 1
Carolyn Bell, 92, longtime local resident, April 4
Donald Rhine, 80, longtime Southeast logger and millwright, April 4
Leander "Rocky" Kondzela, 95, 70-year Southeast resident, April 5
Manuel "Joey" Diaz, 55, former Ketchikan resident, April 7
Tami Linne Fontaine, 58, former longtime Ketchikan resident, April 8
Julie Ohashi, 79, 30-year Ketchikan resident, April 18
Bruce Dean, 64, 42-year Ketchikan resident, April 19
Olney Webb, 80, The Poet of The Potlatch, April 20
Judy Orbistondo Doran, 58, lifelong resident with brightest smile in Ketchikan, April 23
Eileen Luckey, 75, longtime Ketchikan beautician and ferry steward, April 28
Pat Guthrie Williams, 82, 30-year-member of the Cape Fox Board of Directors, May 1
Daniel "Digger Dan" Freuler, 60, saw blade artist and avid storyteller, May 1
Robert "Capt. Bob" Meyer, 77, research scientist and Whale Pass city councilman, May 6
Robert Johnson, 84, former Coast Guardsman and longtime Ketchikan resident, May 7
Amelia Cassell, 72, longtime Hollis, Craig and Ketchikan resident, May 11
Delores Stack Cogswell, 76, longtime Loring and Ketchikan resident, May 13
Charles "Tom" Beck, 75, longtime logger and Thorne Bay resident, May 14
Geri Kennedy, 96, lifelong Ketchikan and Sitka resident, May 15
Charles Hanson, 100, former resident and lighthouse keeper, May 15
Joseph "Kit" Kelsey, 86, Ketchikan Community College professor and mentor to a generation of Ketchikan teenagers. May 18
Coleen Kasheverof, 46, lifelong Hydaburg resident, May 19
Jean Craig, 89, member of the McLeod fishing family, May 19
John McKinley, Sr. 73, 40-year owner of the Craig Inn Bar, May 21
Lloyd Pike, 65, former Ketchikan resident, May 23
Eric Tyson, 67, one of the best outboard mechanics on the West Coast, May 27
Mary Cloudy Walton, 87, former Ketchikan resident, May 31
Verne Albright, 92, longtime Ketchikan and Metlakatla longshoreman, June 1
Paul Enright, 90, longtime Ketchikan resident, June 3
Gerald Wilks, 57, longtime Hyder and Ketchikan resident, June 4
Carolyn Stamm, 72, former Ketchikan Forest Service employee, June 5
Robert McNeill, 29, lifelong Klawock resident, June 14
Michael Curran, 71, former local regional state forrester, June 16
Dick Adams, 74, 69-year resident and owner of Dick's Body Shop, June 19
Lillian Greuter, 95, longtime Ketchikan resident and owner of Schallerer's, June 18
Clarence "Clancy" Price, 96, longtime pulp mill boom man and war hero, June 19
Amy Goffinet, 59, longtime Ketchikan teacher, June 26
Valerie Cooper, 63, local artist. "eccentric at large" and longtime KRBD radio voice, June 27.
Vernadine "Vernie" Singstad, 92, an eight-decade resident of Ketchikan, June 30
Gary Leask, 68, longtime resident, July 1
Charles Allen, 61, 30-year Tyler Rental employee, July 1
Doris Buster, 73, 50-year resident of Ketchikan July 3
Calvin Edwards, Sr, 60, longtime local resident, July 4
Cindy Murphy, 70, longtime Ketchikan resident, July 5
Maxine Edenshaw Paasche, 75, former Ketchikan resident, July 6
Peter A. Jensen, 43, lifelong Ketchikan resident, July 17
Hollis Hayes, 47, lifelong SE resident and longtime cook at Annabelle's, July 18
Greg Williams, 65, former Ketchikan ADOT employee, July 20
Mary Jones, 89. Alaska Native Sisterhood President Emeritus, July 21
Juanita Diaz Camilon, 90, daughter of the founders of Diaz Café, July 23
Pauline Krantz, 79, lifelong Hydaburg and Ketchikan resident, July 24
Harvey Houtary, 92, aircraft mechanic and 68-year resident, July 29
Betty Wilt, 55, former Ketchikan Forest Service employee and all-round good egg, July 31
Geraldine "Cherry" Booth, 89, lifelong Southeast resident, July 31
Mona "Kay" Pearson, 85, the first KEA Teacher of the Year, Aug. 1
Dennis Mann, 77, longtime area fisherman, Aug 1
Arthur Killian, 86, longtime local logging camp mechanic, Aug. 2
Vassa Robertson, 87, longtime Ketchikan pharmacist, Aug. 4
Ronda Farstad Sallup, 68, 35-year Ketchikan resident, Aug. 5
Harold Helfrich, 83, longtime local Coast Guardsman and fisherman, Aug. 6
John Urbania, 71, fisherman and Bayview Cemetery caretaker, Aug. 9
Alexander Karlson, 27, lifelong Ketchikan resident Aug. 15
Norman Williams, 71, longtime Metlakatla resident, Aug. 16
David Stevens, 69, former owner of the Canal Trading Post in Hyder, Aug. 18
Denise Shrum Metcalf, 82, longtime proprietor of Denise's Arctic Gold, Aug. 20
Marlene Holman 85, long time City of Ketchikan employee, Aug 21
William Reeve, 56, longtime resident, Aug. 22
Judie May Walker, 79, first class dog pamperer, Aug. 22
Beuford "Stretch" Chatham, 77, lifelong logger and boat captain, Aug. 28
Joseph Romero, 69, longtime Ketchikan resident, Aug. 29
Miles Kaste, 70, longtime local contractor and captain of the Westward, Aug 22.
Wilma Pattison, 65, 60-year Ketchikan resident, Sept. 3
Roger Goodall, Jr. 55, former Ketchikan resident and studio owner, Sept. 6
Darcy Makua, 36, lifelong Metlakatla resident and ferry system employee, Sept. 15
Bernice Modig Braun, 69, longtime Ketchikan resident, Sept. 15
Scott Helfrich, 61, former Ketchikan firefighter and first local paramedic, Sept. 16
Michael Lineker, 74, longtime Ketchikan and POW carpenter, Sept. 20
Bonnie Driscoll, 54, former Ketchikan resident, Sept. 24
Debbie Axelson Brown, 58, former Ketchikan resident, Sept. 29
Roy Guthrie, 69, former Ketchikan and Metlakatla resident, Oct. 10
Charles "Greg" Slagle, 37, longtime Ketchikan resident, Oct. 11
Margaret Antonsen, 89, lifelong Ketchikan resident, Oct. 14
Charles Williams, 32, lifelong Klawock resident, Oct. 16
Michael Morgan, 65, longtime Ketchikan painter, Oct. 22
Fran Harper, 89, longtime Ketchikan schoolteacher, Oct. 22
Carol Cooper, 78, longtime Ketchikan resident, Oct. 24
Nany Nurmi, 63, accomplished knitter, gardener and cook, Oct. 26
Paul Crowl, 72, longtime Ketchikan Forest Service employee, Oct. 27
Margaret "Tiny" Hall, 101, longtime Wrangell and Ketchikan resident, Oct. 30
Sandra Dillon Hepfer, 77, long time local teacher, Oct, 30
Leland Steele, 83, former Coast Guard and Marine highway worker, Nov 1
Nadine Orr, 87, a 65-year Ketchikan resident, Nov. 2
Barbara Johansen, 84, 60-year Ketchikan resident and lover of maple bars, Nov. 3
Donald "Sparky" Sparks, 58, 32-year Ketchikan resident, Nov. 4
Tandy Worrell, 43, longtime Ketchikan resident, Nov. 5
Randy Sharpe, 56, longtime Klawock resident, Nov. 12
Anna Ruaro, 100, 81-year Ketchikan resident, Nov, 12
Patsy Ninemire, 70, 40-year resident of Craig, Nov. 13
Allen Richter, 80, Naukati entrepreneur, Nov. 14
Kenneth Page, 62, owner of Cove Excavation in Coffman Cove, Nov. 17
Lee Skidmore, 76, longtime Houghtaling Elementary teacher and Ketchikan garden club president, Nov. 19
Wilfred Leask, 66, lifelong Metlakatla resident and fisherman, Nov. 26
Christian Albright, 17, longtime Ketchikan resident, Dec. 1
Julie Wasuli, 56, longtime Saxman resident, Dec. 11
Shirley Entwit, 70, longtime Marine Highway employee, Dec. 15
Ernestine Blair, 86, lifelong Saxman resident, Dec. 23
Michael Bucove, 76, longtime Ketchikan helicopter pilot, Dec. 28
Lee Farstad, 71, longtime Ketchikan resident, Dec. 29
WEATHER HIGHLIGHTS
The snowy and icy weather that began the first week of January lasted into February, causing a run on ice melt and rock salt, snarling traffic and causing numerous "closures."
A two-day hurricane blew into the region in mid-January with 80 mph winds recorded in Ketchikan and 109 mph winds recorded at the airport.
Ketchikan enjoyed several weeks of sunny, albeit chilly. weather from mid-March through April. The nice weather allowed many socially isolated residents to take long walks during the COVID 18 outbreak. Everyone was walking six feet apart, of course.
In late April, a windstorm with gusts up to 80 briefly shook things up.
A pre-season heat wave hit the First City on May 8-9-10th with temps of 70, 78, and 73 at Ketchikan International Airport. The 78 was an all time high for the date. NOAA also reported that a recording station at Mile 13 North Tongass had a temperature of 80 on May 9, the first 80-degree temperature in Southeast in 2020.
In celebration of upcoming summer solstice the skies opened on June 18 and more than 3.5 inches of rain, setting an all-time record for that date.
July 10 was also an unusually wet day with more than 2.76 inches of rain falling, it wasn't quite a record. Both June and July had rainfall amounts that were significantly above normal. But not records.
There was a brief respite to the rain the last week in July when temperatures reached into the upper 70s and even 80 on July 30. Then came August which was the wettest on record with more than 24 inches.
So, the summer of 2020 was wet. Very wet. How wet? The wettest in his recorded history with 47.99 inches of precipitation being recorded in June, July and August, exactly an inch more than the previous record in 2017.
Naturally, Ketchikan followed up a wet summer with a much drier than normal Fall, right up until Halloween weekend. On Halloween itself, Ketchikan got nearly 4 inches of rain, but then the deluge really arrived on the first of November. More than 6 inches of rain was recorded, breaking all the all-time Nov. 1 record of 3.94 inches. It could have been worse, a rain gauge at Silvis Lakes in the mountains behind Beaver Falls recorded more than 10 inches!
The rain continued through November with the month ending up north of 30 inches or twice normal. Ward Lake rose enough to flood the main shelters and almost completely submerge the ones at Grassy Point. The last week of the month, three different days recorded more than 4 inches of rain. The heavy rainfall in late November and early December raised local lakes to their spill level and there was concern about flooding along Ketchikan Creek but that didn't happen. From the last couple of days of November through the end of the first week of December, Ketchikan recorded more than 22 inches of rain in one eight-day period, the most in such a period since 1920.
For the record, Ketchikan ended up with just about 176 inches of rain in 2020. Much more than normal, but nowhere near the two highest years of 202 inches in 1949 and 196 inches in 2005.
The high temperature for the year was 80 degrees and the low was 2 degrees. There were 280 days with measurable precipitation in 2020.
On the Web: